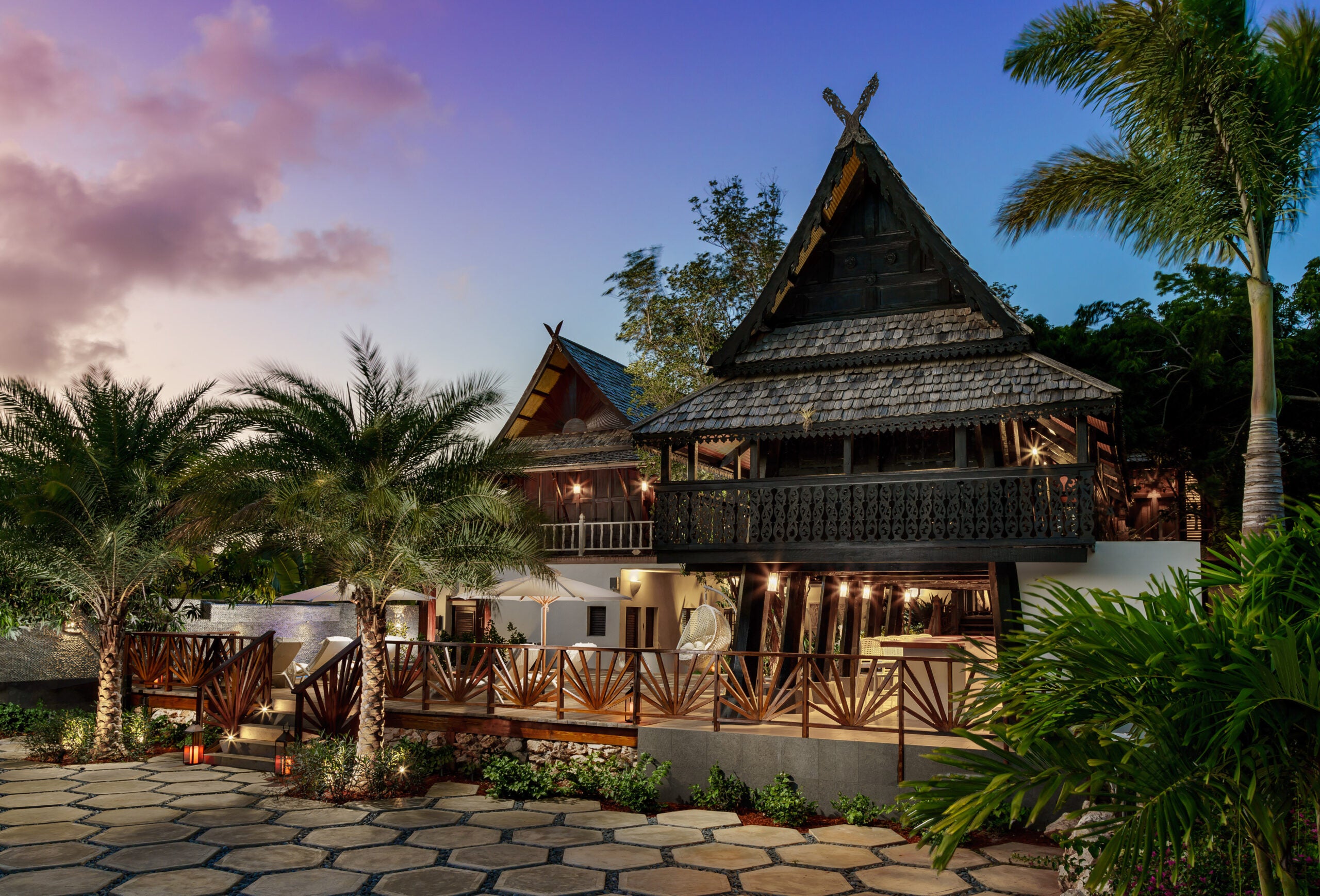 As the Caribbean begins to heal in the wake of fall's devastating hurricanes, Anguilla is slowly being restored to its former glory as a serene island paradise. Tucked into Shoal Bay Beach, the luxurious Zemi Beach House Hotel & Spa will welcome guests to relax and renew on Anguilla's shores once again beginning February 15, 2018.
What was once an authentic Thai rice barn now stands as Zemi Beach House's palatial spa with 300 years of history. The structure was brought over from Thailand (noticeable from its exquisite ancient architecture), but many elements of Zemi Thai House Spa take inspiration from the Taino people of Anguilla. The spa itself is named after the three-pointed zemi stone used in Taino culture, and the facility's rain showers, outdoor Bohique Mud Deck and Aty Vitality Pool reflect the indigenous group's focus on water for wellbeing.
The Taino influence is also evident in Zemi Thai House Spa's treatments, such as the signature Taino Bathing Ritual. Taken from Taino healing tradition, the ritual harkens to a time when the Taino layered their bodies with herbs, fruits, muds and salts to lay out under the Anguilla sun before washing it away. Or, opt for a Thai-inspired treatment with the 90-minute Thai Qi Fusion ritual of a therapeutic warming massage to release tension in your muscles for overall wellbeing.
Zemi Thai House Spa at Zemi Beach House Hotel features nine treatment rooms, including expansive private suites complete with carved mahogany walls, vaulted ceilings and hanging lanterns for an ambiance that recalls both Thailand and Anguilla. Relax at the hammam or Thai Tea House juice before choosing from a spa menu of massages, body treatments, facials and healing rituals. Post-treatment, unwind in the splendor of the orchid garden or find your center on the outdoor yoga deck.
Following Hurricane Irma, Zemi Beach House joined forces with local real estate owners and private employers to create Anguilla Stronger, a relief effort for the island. To date, the fund has helped raise over $1m for Anguilla and its residents. More updates on Anguilla's post-hurricane progress can be found on the central portal launched by The Anguilla Tourism Board, irma.ivisitanguilla.com.
Zemi Beach House is located at Shoal Bay East, Shoal Bay Village, West Indies, Anguilla. For more information, please visit zemibeach.com.