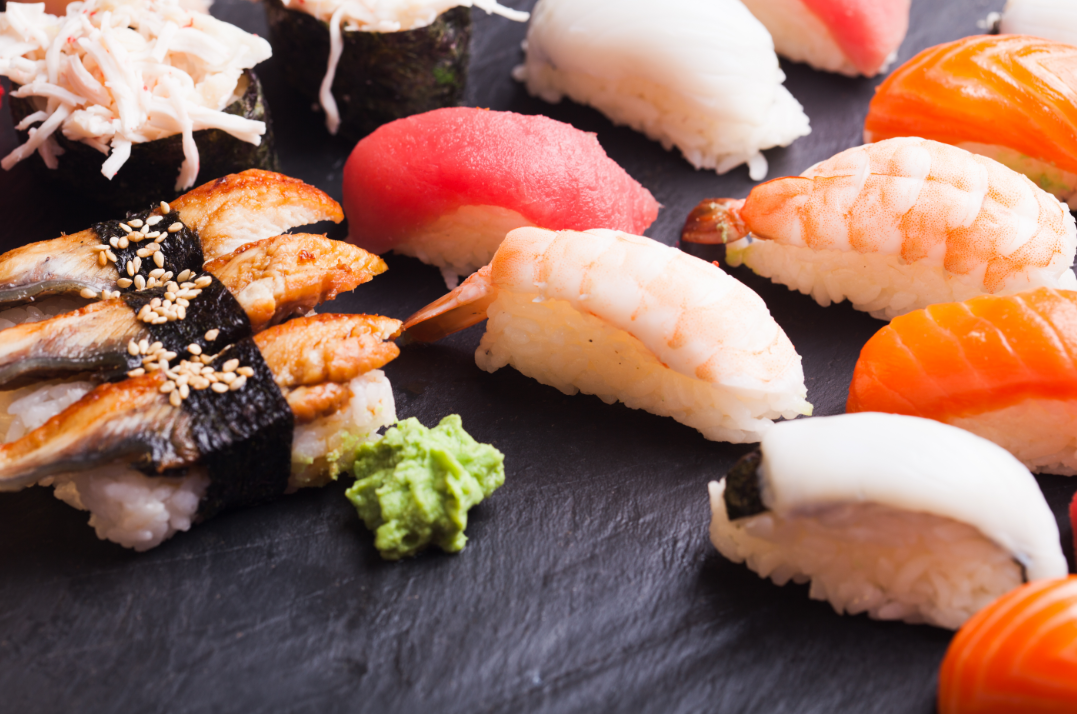 By Lauren Jade Hill
Along with Japan's varied landscape of pristine mountains, lush countryside and long stretches of coast, from Hokkaido in the north to the southern islands of Okinawa, comes a great diversity of produce. Even within each city, local specialties abound with each place offering its own variations of classic Japanese plates. The country's affluence of Michelin starred restaurants is testament to this culinary prestige, placing it among the best cuisines in the world. We took a look at the food of four cities in Japan, and the Michelin star restaurants to seek out within them.
Tokyo
Home to one of the world's best known seafood auctions, Tsukiji Market, Tokyo is considered one of the country's top regions for sushi. But this isn't the city's only signature fare. In the sumo wrestling district Ryōgoku, it's the hearty hot pot stew Chanko nabe that draws diners in, while the Tsukishima neighborhood serves up monjayaki, a grilled pancake with shredded cabbage, meat and seafood.
Where to Eat
The three Michelin starred restaurant Kohaku gives traditional Japanese kaiseki plates an innovative twist, combining Japan's celebrated produce and classic culinary techniques with non-native ingredients and plentiful creativity. Here, guests can expect to dine on dishes like beef shabu shabu with truffles and caviar. Again boasting three Michelin stars, Ishikawa has established itself as one of the city's most sought after restaurants. Located behind Bishamonten Zenkokuji temple in Kagurazaka, the restaurant specializes in kaiseki plates that showcase the season's ingredients.
Kyoto
Along with its exceptional richness of cultural sights and customs, Kyoto is revered for its culinary traditions and the intricacy of its cuisine, which displays a particular reverence for the seasons. While Kyoto is most commonly associated with kaiseki, Shojin Ryori – the refined vegetarian cuisine prepared by Buddhist monks – is also typical to the region.
Where to Eat
With an impressive 400-year history, Hyotei takes pride in its tea house origins, combining tradition with a forward-looking spirit. The restaurant serves up fine Kyoto cuisine, which has earned the eatery three Michelin stars, in a scenic tea house setting. Nakamura is another of the city's stand-out eateries, which, with three Michelin stars, takes the traditional delicacies of Kyoto and creates exciting new dishes with them.
Osaka
Celebrated countrywide for its lively restaurant and bar scene, Osaka is considered the boisterous sister to Tokyo. Casual meals such as takoyaki – balls of batter, with octopus, pickled ginger and green onion – and pancake-like okonomiyaki can be found citywide, along with the battered and deep-fried meat and vegetables, kushikatsu, and slices of meat and seafood cooked on a hot-plate, teppanyaki.
Where to Eat
Osaka's three Michelin starred restaurant Koryu is an intimate eatery specializing in multi-course traditional Japanese fare that showcases the season's premium ingredients. The three Michelin starred Fujiya 1935, meanwhile, is a family-run eatery that's transitioned from a noodle shop to a fine dining restaurant focusing on Japanese and modern Spanish fusion plates.
Hiroshima
Osaka is the city that's most closely associated with okonomiyaki, but Hiroshima has its own version of this popular dish. Here, the batter is combined with sliced cabbage before being poured over a layer of noodles and cooked on a hot plate. This is often topped with oysters and squid, which are two of Hiroshima's most celebrated ingredients; the local oysters are eaten raw, grilled or baked, and often served over rice.
Where to Eat
In Hiroshima, it's worth seeking out the three Michelin starred restaurant Nakashima, which prepares kaiseki-style, multi-course meals, with a focus on fresh local ingredients. With this coastal city's reputation for seafood, this produce is naturally what the restaurant places the greatest focus on.
Find more inspiration in our pick of the best restaurants in Tokyo, Kyoto and Osaka.