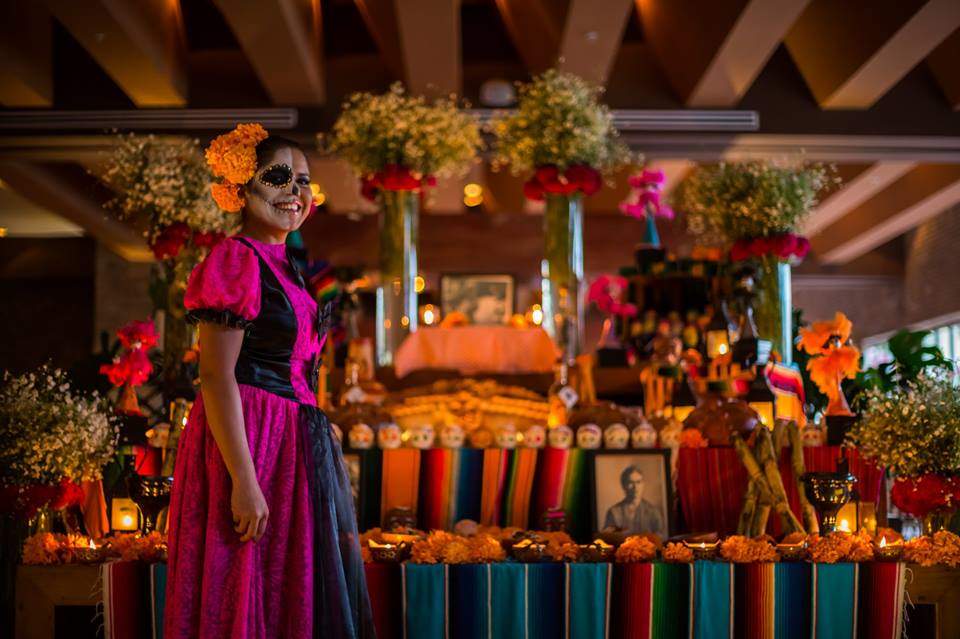 Celebrate Día de Los Muertos otherwise known as the Day of the Dead in Mexico's Velas Resorts.
From October 31st to November 4th, 2018, Mexico's luxurious Velas Resorts will be hosting their own Día de Los Muertos celebrations. Paying homage to what's considered to be one of the most representative holidays of Mexican culture, the resorts in Los Cabos, Puerto Vallarta, Riviera Nayarit and Riviera Maya will be marking the occasion with festival altars decorated with objects known as ofrendas, Day of the Dead decorations and traditional recipes interpreted into tasting menus.
What is Día de Los Muertos?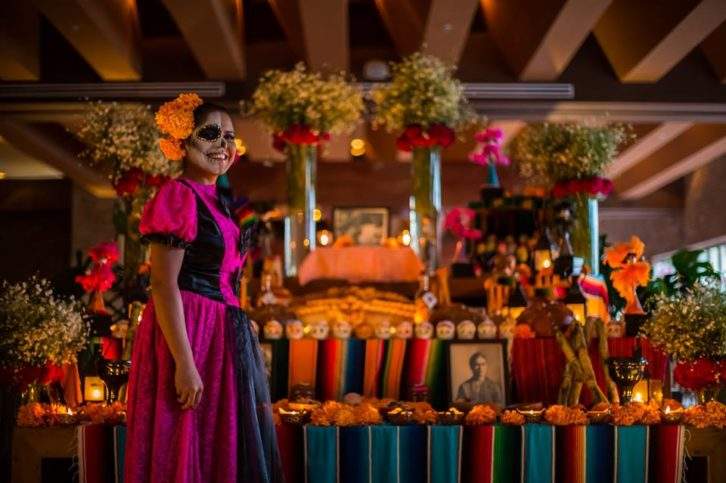 Día de los Muertos, or Day of the Dead, is a celebration of life and death. It takes place on November 1st and 2nd—All Saints' Day and All Souls' Day on the Catholic calendar—around the time of the fall maize harvest.
While the holiday originated in Mexico, it is celebrated all over Latin America with colorful calaveras (skulls) and calacas (skeletons). The festival demonstrates love and respect for deceased family members. In towns and cities throughout Mexico, revelers wear vibrant makeup and costumes, hold parades and parties, sing and dance, and make offerings to lost loved ones.
The festival rituals are rife with symbolic meaning. The more you understand about this feast for the senses, the more you will appreciate it.
History of Día de Los Muertos
Day of the Dead originated several thousand years ago with the Aztec, Toltec, and other Nahua people, who considered mourning the dead disrespectful. For these pre-Hispanic cultures, death was a natural phase in life's long continuum. The dead were still members of the community, kept alive in memory and spirit, and during Día de los Muertos they temporarily returned to Earth. Today's Día de los Muertos celebration is a mix of pre-Hispanic religious rites and Christian feasts.
Día de Los Muertos is recognized by Unesco
The United Nations Educational, Scientific and Cultural Organization, or Unesco recognized the importance of Día de los Muertos by adding the holiday to its list of Intangible Cultural Heritage of Humanity. Today Mexicans from all religious and ethnic backgrounds celebrate Día de los Muertos, but at its core the holiday is a reaffirmation of indigenous life.
Traditional Día de Los Muertos food
Some families place their dead loved one's favorite meal on the altar, the traditional belief being bringing the spirit world back to the realm of living works up a mighty hunger and thirst.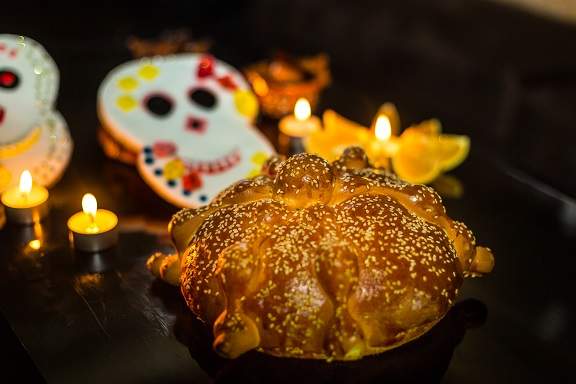 Traditional Día de Los Muertos food includes Pan de Muerto, or bread of the dead, a typical sweet bread (pan dulce), often featuring anise seeds and decorated with bones and skulls made from dough. The bones might be arranged in a circle, as in the circle of life. Tiny dough teardrops symbolize sorrow.
Sugar skulls are part of a sugar art tradition brought by 17th-century Italian missionaries. Pressed in molds and decorated with crystalline colors, they come in all sizes and levels of complexity.
Drinks include pulque, a sweet fermented beverage made from the agave sap; atole, a thin warm porridge made from corn flour, with unrefined cane sugar, cinnamon, and vanilla; and hot chocolate.
Grand Velas Los Cabos is hosting a special five-course menu at restaurant Frida during their Life and Dead Celebration. Indulge in delicious Mexican flavors and expect traditional specialties such as tamales, mole, candied pumpkin and buñuelo dough balls in a fine dining context.
Día de Los Muertos Altars
The centerpiece of the Day of the Dead celebration is an altar, or ofrenda, built in private homes and cemeteries. These aren't altars for worshiping; rather, they're meant to welcome spirits back to the realm of the living. As such, they're loaded with offerings such as water to quench thirst after the long journey, food, family photos, and a candle for each dead relative. If one of the spirits is a child, you might find small toys on the altar. Marigolds are the main flowers used to decorate the altar. Scattered from altar to grave-site, marigold petals guide wandering souls back to their place of rest. The smoke from copal incense, made from tree resin, transmits praise and prayers and purifies the area around the altar.
Staying true to festival tradition, each Velas resort is creating its own colorful Altar de Muerto decorated with the ornaments typically seen in this tribute to the dead, from ceramic Catrina skeleton dolls, sugar skulls, food and water, to salt, ash and marigolds. Of these, the Altar de Muerto at Velas Vallarta is set to be among the biggest in Marina Vallarta, standing at an impressive 40 sq ft. Staff dressed as Catrinas and decorations throughout the resorts will add to the celebratory feel.
Celebrating Día de Los Muertos and a special tribute to artist Frida Kahlo and Diego Rivera
Mexico's Grand Velas Riviera Maya will be paying tribute to one of the country's most iconic artists, Frida Kahlo, with a special Altar de Muertos dedicated to Kahlo and her partner Diego Rivera.
Grand Velas Riviera Nayarit will be hosting a Catrina fancy dress contest; boutique hotel Casa Velas in Puerto Vallarta will be delivering traditional Pan de Muertos to guests in their suites and serving Pan de Muerto with Mexican hot chocolate in Emiliano Restaurant; and finally, Velas Vallarta will be inviting guests to decorate their own La Catrina masks and sugar skulls for the resort's festival altar.
In addition to hosting their own celebrations, Velas Vallarta, Casa Velas and Grand Velas Riviera Nayarit are sponsoring the creation of giant Carinas along Puerto Vallarta Malecon, adding to the festivities taking over the streets at this time.
Read our ultimate luxury guide to Mexico City
Find out more about Velas Resorts