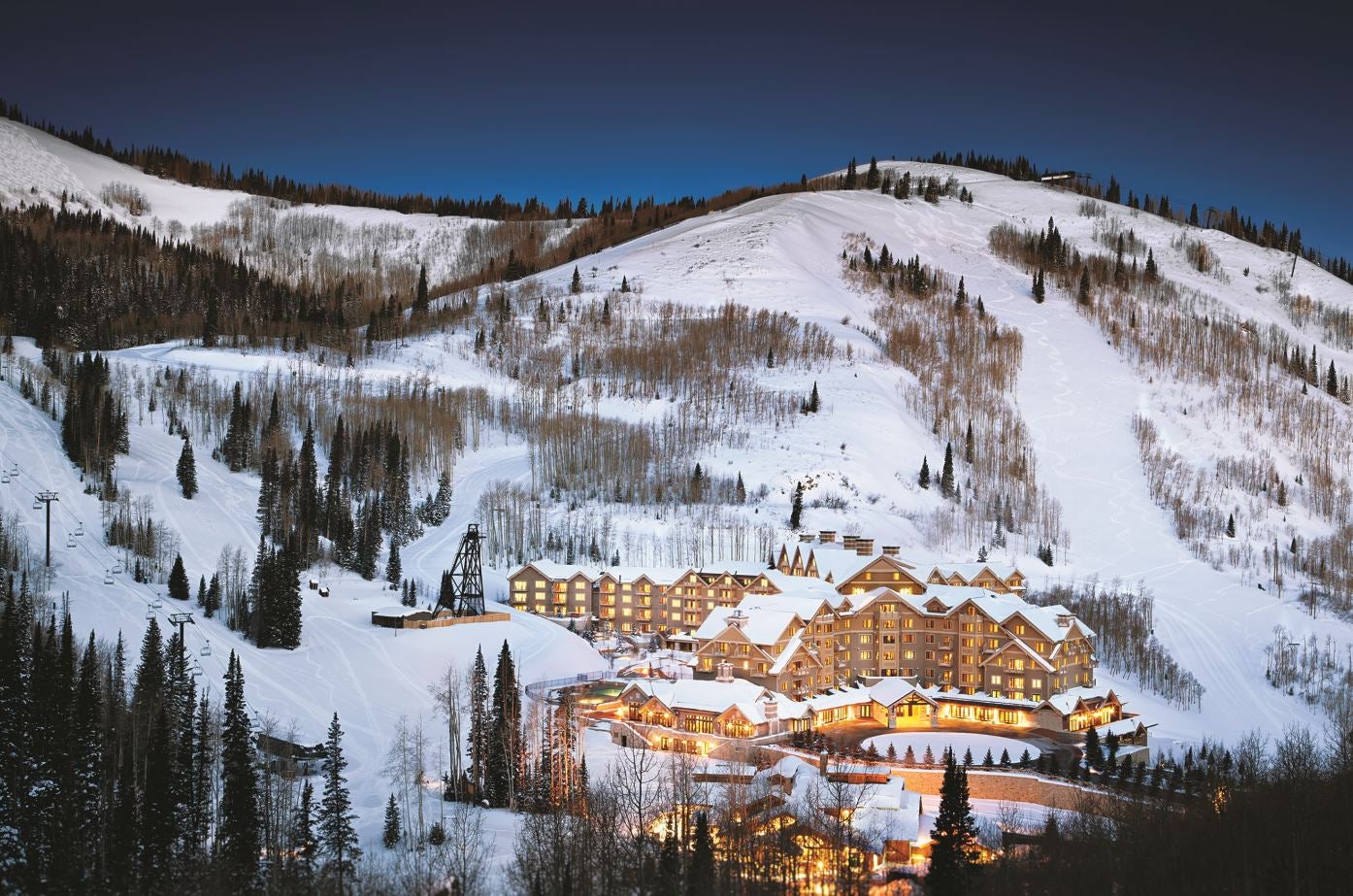 Skiing, heli-skiing, snowboarding or cross-country—whatever your preference, a beautiful, cozy place to unwind after a day on the slopes is a must. We've carefully selected the most sublime luxury ski hotels, chalets and lodges in the world, from the jagged peaks of the Dolomites to the fresh powders of British Columbia, with exclusive itineraries to delight both snow bunnies and those only interested in après ski.
Bighorn Revelstoke, British Columbia, Canada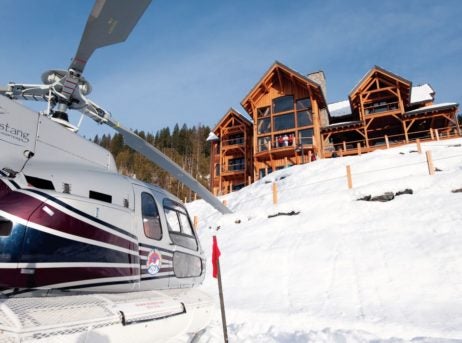 As Canada is the birthplace of heli-skiing, you'll need a lodge with its own helipad to explore all that gloriously fluffy powder. Bighorn has just that, in its backyard no less, as well as snowcat, backcountry and lift skiing. It's been named as the best chalet in the world four times by the World Ski Awards, and it's easy to see why. Located near the base of Revelstoke Mountain Resort, its views of the Monashee Mountains and mighty Columbia River are epic, and each of the eight bedrooms has a balcony for you to enjoy the scenery across the valley. Or, if you want to breathe in that fresh mountain air, take to the large outdoor hot tub with a cocktail from the fully stocked open spirit bar. All wellness needs are taken care of too, as there is an indoor current swimming pool, a fully equipped gym and massage rooms. The triple-height great room with roaring log fire is supremely welcoming and a divine place for an aperitif before heading into the dining room for a gourmet dinner prepared by your award-winning chef, paired with your choice of fine wine. Opt for the unforgettable 12-course teppanyaki experience, in which the food is cooked right in front of you.
Off piste 
The dedicated lodge manager can create a custom itinerary for your stay and give you an experience of a lifetime. In the past, they've even sculpted ice bars in the garden. For those who aren't so interested in heli-skiing, a dog-sleigh ride can take you to the top of a mountain where a private gourmet picnic awaits.
Rate from $65,000 per week, plus 15 percent tax
Contact Jo Cory, head of sales, jo@bighornrevelstoke.com, +1 778 786 8258, bighornrevelstoke.com
[See also: The Non-Skiers' Guide to Ski Vacations]
Clubhouse, Hotel Aurelio, Lech Amalberg, Austria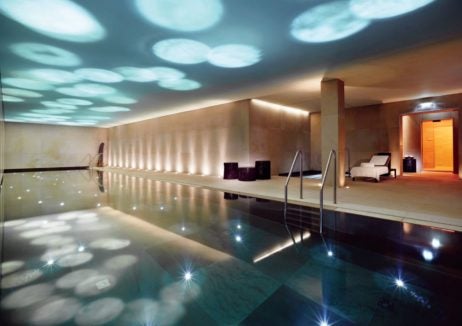 The incredibly attentive service at Aurelio in Lech, Austria, begins before you've even arrived—guests who are traveling by private plane can preorder delicious cuisine for their journey, which will be delivered to the aircraft by the hotel. Upon landing, a model from the hotel's fleet of cars will drive you to the resort—choose from a Bentley, Porsche, Tesla or Mercedes—or a helicopter transfer is available. The Clubhouse is exceptional—with six deluxe suites and two junior suites, it can sleep up to 16. The award-winning chalet is separate from the main hotel (but is connected by an underground tunnel should you require something quickly) and has an abundance of facilities so you never have to step foot outside if there's a whiteout—a private spa, dining room, cinema, fully equipped office, chef, butler and library with more than 2,000 books. The neutral palette is sheer elegance and complemented by the classic mountainous look with stone-clad fireplaces and smooth timber. The spa is seriously impressive with a 26-ft indoor pool, Jacuzzi, plunge pool, Finnish sauna, steam bath and massage rooms. Take in the views over Lech village, the surrounding mountains and famous Schlegelkopf slope from the two large balconies or the spacious terrace.
Off piste
Explore Lech in a different—and downright adorable—way. Three fluffy alpacas, named Hiero, Domingo and Yaki can take you on a tour through the surrounding area.
Rate from $147,000 per week
Contact Axel Pfefferkorn, general manager, office@aureliolech.com, +43 558 334 56, aureliolech.com
Four-bedroom and Den Resort Residence, Four Seasons Whistler, British Columbia, Canada
Whistler Blackcomb is the largest ski resort in North America at an enormous 8,170 acres, and is a must-visit on any serious skier's hit list. Set in the heart of the resort in the pedestrian-only village of Whistler is the Four Seasons Whistler, just an eight-minute walk to the base of Blackcomb Mountain. The Four-bedroom and Den Resort Residence can sleep eight and is spread over three floors with four spacious bedrooms and a den with a queen bed. There's a full kitchen and open-plan dining area for 10, and four furnished terraces with jaw-dropping views of the surrounding mountains, valleys and forests. The decor is classic and elegant in neutral tones of creams, caramels and chocolate shades, creating a warm and inviting ambience for the whole family—including pets, as amenities for your four-legged friends are available too. A ski concierge will take care of everything you might need and greet you with a hot chocolate after a day on the slopes.
Off piste
Whistler is just as beautiful in the summer months, and there's a whole host of family activities, including a junior golf program, kayaking, mountaineering, horseback riding and bear watching.
Elite Tip: Guests of the residence can pick up a tip or two from an Olympian. You and up to four guests can choose from either a ski or snowboard experience.
Rate from $1,650 per night
Contact Ali Osman, resort manager, reservations.whi@fourseasons.com, +1 604 935 3400, fourseasons.com
Four-bedroom Residence, Ultima Gstaad, Switzerland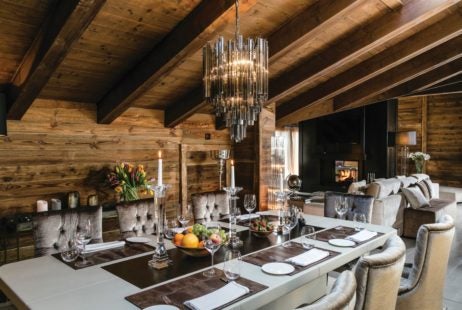 The Swiss village of Gstaad is famous for glitz and glamour. Ultima Gstaad is in the heart of the action, but has just 10 suites and seven residences to ensure complete privacy. The decor is supremely decadent with a few eccentric, fashionable touches— check out the lobby with enormous chandeliers; framed, oversized ace-of-spades artwork; and a graffiti-adorned piano. The Four-bedroom Residence is just as decadent, with plush velvet, supple leather and even more chandeliers. Each bedroom has a walk-in wardrobe, which will certainly come in handy as the slopes in Gstaad are like a snowy catwalk. There's a full kitchen and a dining room for up to 10—your butler can organize a private chef to cook for you and your guests. There's also a separate elevator so privacy is assured. A dedicated concierge is available 24 hours a day.
Off piste 
To make you feel right at home, Ultima Gstaad can embroider the pillows in the bedrooms with your (and your guests') initials. Every time you visit, they'll ensure these custom pillows are ready and waiting for you.
Rate from $12,375 per night
Contact Massimo Donada, general manager, massimo.donada@ultimagstaad.com, +41 337 480 550, ultimagstaad.com
Penthouse
Rosa Alpina, Dolomites, Italy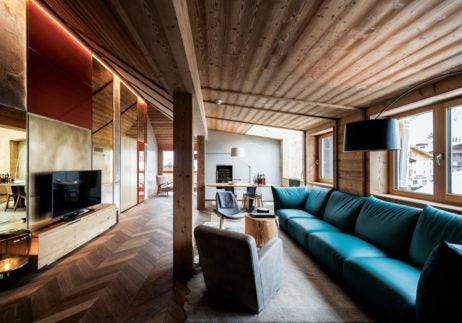 The new Penthouse at Rosa Alpina was unveiled earlier this year, with interior design by Italian studio Vudafieri Saverino Partners. The result is classic alpine chic with contemporary finishes—think rich fabrics, timber with gold accents and statement pieces. The Penthouse, accessed by private elevator, is on the fourth floor with views of San Cassiano and the surrounding peaks of the Unesco World Heritage Dolomites. We think the best place to enjoy the captivating view is in the suite's sauna with floor-to-ceiling windows. Within its 1,940 sq ft of space, you'll find three suites, a living room, dining area, bar, kitchen and fireplace.
Off piste 
For a unique and magical experience, spend one night in Rosa Alpina's Trugnei cabin. It is completely secluded at an altitude of 6,500 ft in the heart of the Dolomites. There's no Wi-Fi or cell reception, so you can truly disconnect and absorb the awe-inspiring surroundings. You can hike up to the cabin or be driven, and a barbeque is arranged for alfresco dining to watch the enrosadira, the Dolomites' famous pink sunset.
Elite Tip: If you're traveling with a bigger group, Chalet Zeno has one master suite, one large suite and one deluxe room, a large yet cozy living room with a fireplace, kitchen, dining area and bar. We love the private garden with outdoor Finnish sauna and Jacuzzi.
Rate from $6,035 per night
Contact Hugo Pizzinini, general manager, info@rosalpina.it, +39 047 184 9500, rosalpina.it
Summit View Four-bedroom Penthouse Residence, Montage Deer Valley, Utah, USA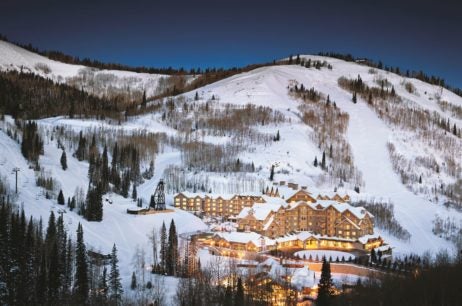 Surrounded by pine trees and rolling mountains, Montage Deer Valley is a picture-perfect alpine retreat. On the top floor of the resort, you'll find the Four-bedroom Penthouse. Overlooking the historic mining town of Park City, the views of the snowy mountains and valleys can be seen from every window—and are just as sublime in the summer months, when the snow is replaced by a verdant green landscape and pretty wildflowers. Enjoy the panoramic scenery from one of the three large private balconies.With over 5,300 sq ft of living space, the penthouse can sleep up to 10 guests. There are five marble bathrooms with heated floors and deep-soak tubs, perfect for soothing aching legs (or, if you need further relaxation, head to Spa Montage—at 35,000 sq ft, it's the largest spa in Utah).We are particularly enamored with the snug sitting area—a lovely spot to gather the family around the roaring fireplace and play old-fashioned games, read a book with a glass of wine or just unwind.
Off piste
Set up a private event in the après Vista Lounge when the resort has closed for a divine evening of caviar and champagne tasting.
Rate from $10,000 per night
Contact Jackson Marcus, general manager, +1 435 604 1300, montagehotels.com
Caldera House, Jackson Hole, Wyoming, USA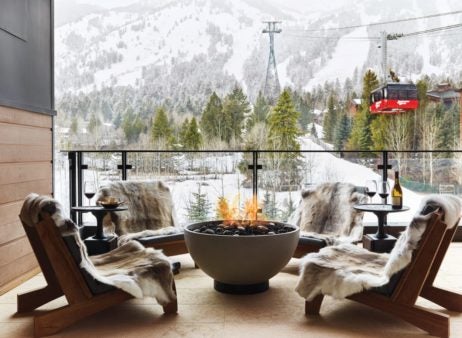 Primely located in the heart of Teton Village, this intimate all-suite hotel opened its doors in 2017. Just steps from the renowned Jackson Hole Mountain Resort, Caldera House is a ski-in, ski-out property and the slope-side location makes it a perfect après-ski spot. Each of the eight sprawling suites has multiple bedrooms plus a chef's kitchen, and has a sleek, minimalistic alpine chic — more laid-back luxe than some of its European counterparts, with smooth timber, stone fireplaces and quirky light fixtures. The house is available for exclusive use, which adds to the homey feel, but with the added amenities of a high-end hotel. The Mudroom is great for ski equipment rental and repair — you'll be fitted with the highest quality gear and can be walking out onto the slopes in minutes. Your dedicated concierge will help you and your group plan a fun-filled adventure in Jackson Hole, from dog sledding to white-water rafting in summer.
Off piste There's a number of experiences available that suit your interests, from a glider flight above the Tetons, a private climbing lesson with Exum Mountain Guides or a scenic river float on a private section of the Snake River.
Elite Tip: The house also serves as an exclusive alpine club. Members receive perks such as ski valet and ski tuning, as well as access to all the facilities, including concierge staff that will help plan bespoke itineraries.
Rate from $39,200 per night for exclusive use
Contact Jessica Rizzolo, director of sales, thehouse@calderahouse.com,+1 307 200 4220, calderahouse.com
Presidential Suite, The St. Regis Aspen, Colorado, USA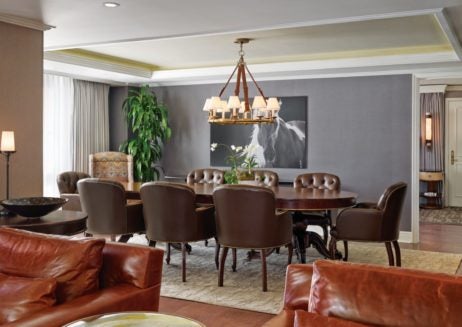 Tucked away at the base of Aspen Mountain, The St. Regis is all old-world charm with its red brick facade and turreted roofs. The Presidential Suite, located on the top floor of the resort, emulates a late-19th-century mountain manor, with warm shades of orange and tan, contrasting monochrome and sporadic Art Deco–style ornaments. The living area has a charming marble fireplace and a baby grand piano. There's also a dining room with space for eight guests. The 1,900-sq-ft suite has a huge master bedroom with a chic, fully appointed marble bathroom with deep soaking tub and walk-in closet. The romantic private balcony overlooks Aspen Mountain and the pretty fountain courtyard below — we recommend enjoying the views with a glass of wine from the suite's wine chiller. If you're skiing with a larger group, the Grand Deluxe Double guest room can be connected to enlarge the suite by 400 sq ft. The suite comes with butler service.
Off piste 
Soar over the Elk Mountains at dawn in a hot air balloon. Taking off from Snowmass, you'll watch the sun rise over Aspen and marvel at the panoramic bird's-eye views.
Elite Tip: Book Table 81 at Velvet Buck restaurant. The four-top table is named for the year that the town of Aspen was incorporated, and 81 percent of the table's check goes to a local Aspen organization, such as the Aspen Animal Center or the Basalt Education Foundation.
Rate from $3,000 per night
Contact Heather Steenge-Hart, general manager, aspen.reservations@stregis.com, +1 970 920 3300, stregisaspen.com
Chalet L'Amarante, L'Apogée Courchevel, France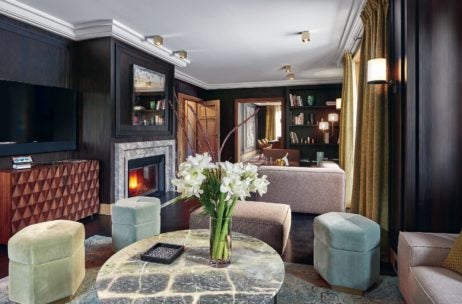 A chalet within a resort has the best of both—all the privacy of a remote lodge paired with world-class amenities. L'Armante at L'Apogée Courchevel has the inviting feel of a private home, with areas built for socializing, such as the elegant yet cozy living area with a fireplace, dining room and kitchen. But, as the five bedrooms are spread across different floors and separated by a private elevator, you still have plenty of space for alone time. The bedrooms all have stunning views of the mountains and snow-covered pine trees, and there's nothing more peaceful than lying in the king bed and watching the snow fall outside your window. Each room is slightly different, yet each one as gorgeous as the last with quirky patterns and deep green plush furnishings. Within the chalet's 5,920 sq ft and five floors, you'll find a large Jacuzzi and sauna, which is most welcome after a day on the slopes, plus a separate spa treatment room, expansive cinema and recording studio. The chalet comes with  butler service that is just a text away at any point of the day. The hotel itself has a cigar lounge, chic boutiques, La Prairie spa and fine dining, and as it is situated at the top of a former Olympic ski jump, it has exceptional views of the famous Trois Vallées.
Off piste 
Catch the end of the season with the ultimate après-ski party. The concierge team at L'Apogée will arrange a reservation at the highly sought-after (and très fun) La Folie Douce or Le Cap Horn with a welcome bottle of champagne, and organize a snowmobile adventure.
Rate from $80,500 per week
Contact Duarte Bon de Sousa, general manager, reservations.apg@oetkercollection.com, +33 479 040 104, oetkercollection.com
Photos by Dana Sohm, Blake Marvin / HKS, Inc., Barbara Kraft, Preschesmisky, Alex Filz