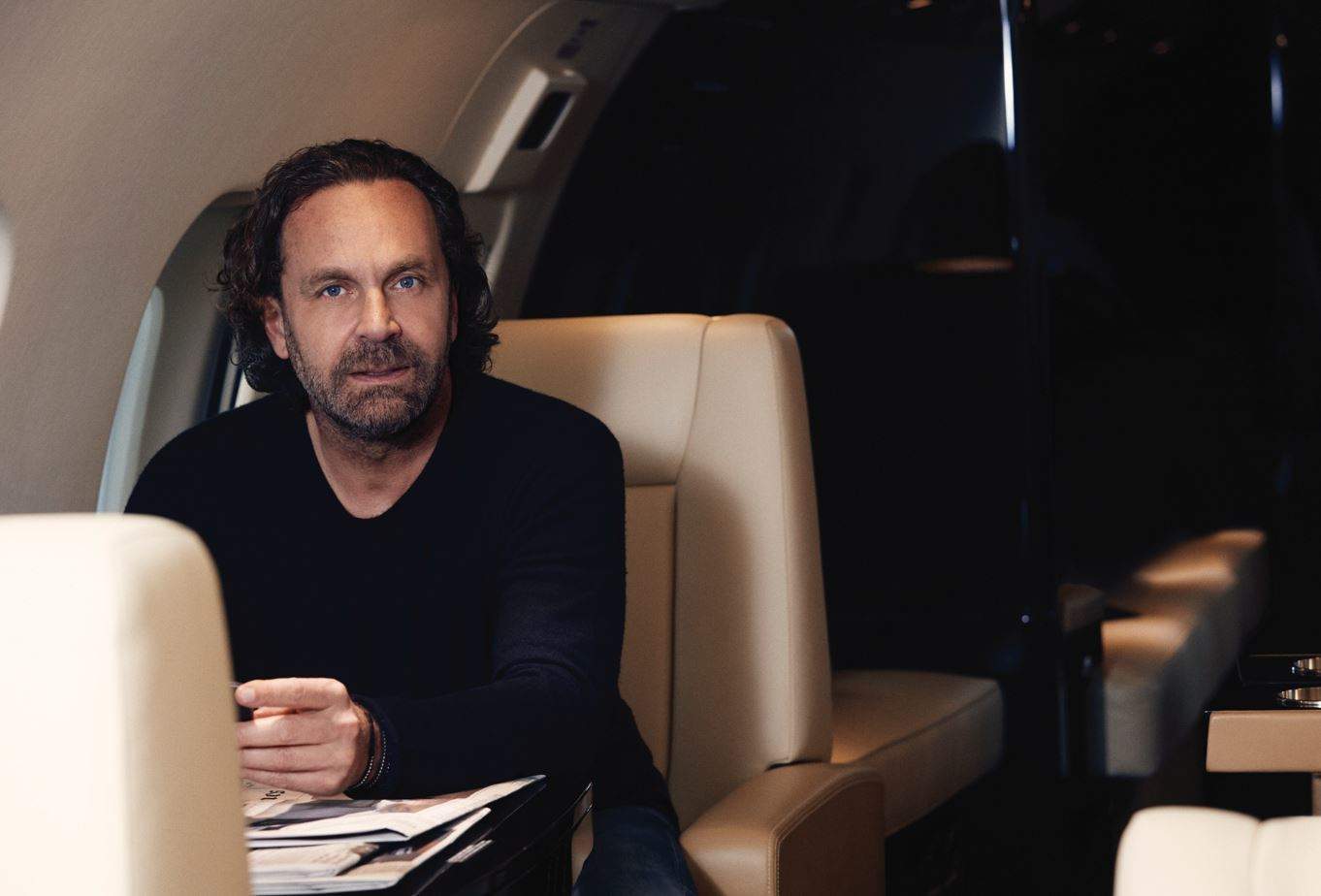 To celebrate the launch of our first annual Top Jets in the World feature, we are republishing the best aviation content from our archive. This story originally appeared in the May/June 2018 issue of Elite Traveler.
Rejecting private aviation's patchwork network of fractional ownership programs and charters, Thomas Flohr, founder and chairman of VistaJet, didn't initially set out to create a $2.5b global aviation company. But, as he tells Kristen Shirley, once he got started, his customers wouldn't let him stop.
Thomas Flohr wasn't the first person to complain about the lack of consistency in the private aviation market, and he certainly won't be the last. But he did set out to do something about it, and in the process changed the game. From one jet to over 70, from Europe to a global network, there seems to be nothing stopping the affable Swiss businessman in his continuing quest for world domination. "We have a three percent market share, and we have a very long way to go," he tells me in his loft-like offices in New York's SoHo neighborhood.
What is it that draws clients to VistaJet, leading flight hours to grow 38 percent year-on-year, and the number of flights to increase by nearly 50 percent overall? According to Flohr, it's consistency and his ability to offer an identical experience from Nairobi to Singapore as from San Francisco to Miami. And what an experience it is. As he says, "for them, it's mindboggling." The silver jets with red accents cut a striking profile on the tarmac, each with identical interiors and amenities, as do its British-butler-school-trained cabin hostesses who offer perfect service (Flohr notes the detail of their training, saying that they will hand you a pen in just the right way). "The overall concept of brands didn't really exist in this industry. I think what we have been seeing over the last 12 to 18 months is how much it resonates to have a truly, truly global brand in this industry. And the power of that brand, to expand that brand, is truly remarkable."
Perhaps most of all, it's safety and reliability that his clients prize the most, eliminating charter cancellations — Flohr loathes the concept of owner release — and promising safe, well-maintained planes with manufacturer-issued parts; in certain regions of the world, that's not easy to come by. While he has recently accepted some outside investment, Flohr will not cede control of his company any time soon. He believes that to maintain this consistency, flexibility and level of service, he must keep control and says, hitting the table with each word for added emphasis, "that's why I keep insisting that we own these airplanes. We can do with them what we think is right. And I think ultimately the customer benefits from that. From the interior design to the service, you cannot cut corners in the industry we are in. In the high-end, Elite Traveler world, there's not one little corner you can cut. And I think that's it. We don't see this as a problem. We love it. We rise above it. We excel with that opportunity."
But there's more to his success than just keeping control. It's his firm commitment to doing something the right way, to giving his staff room to be creative and think outside the box, and to providing exceptional customer service. Speaking about his management style, Flohr says, "I want entrepreneurs and successful people around me, and I give them the leeway to do what they think is right. And I think once you do that, they will hire other people with that philosophy."
He treats his clients the same way, personally flying over 750 hours a year to meet them anywhere in the world. "When you go to different cultures and different nations and different backgrounds, it is practically impossible to use the phone. It's still breaking bread together, it's still the confidence you have when dealing with someone, and that requires meeting them in person. There's a comfort factor in being able to click with that human being on the other side of the table."
When asked how this much travel has shaped his worldview, he responds, "It makes me a smarter person every day. I am so hungry to learn. I am so hungry to understand and to be in tune with exactly what's going on in any corner of the world. When I'm in France people say, 'Oh, it's different in France,' when I go to Mexico, they say it's different in Mexico. Let me tell you, the overall trends are fundamentally all the same."
He attributes his lack of a business development department to this face time. "You don't need a business development department if you listen to your clients. That's what I always say. Why have a business development department? What do they do? They sit in a corner trying to figure out what should be better. No. Go out and talk to 10 customers. They tell you what they want." And lately, they must have been
giving him some great ideas. Flohr declares, "We're only at the beginning. We're scratching the surface. There's a lot more to come — 2018 is going to be another game changer."