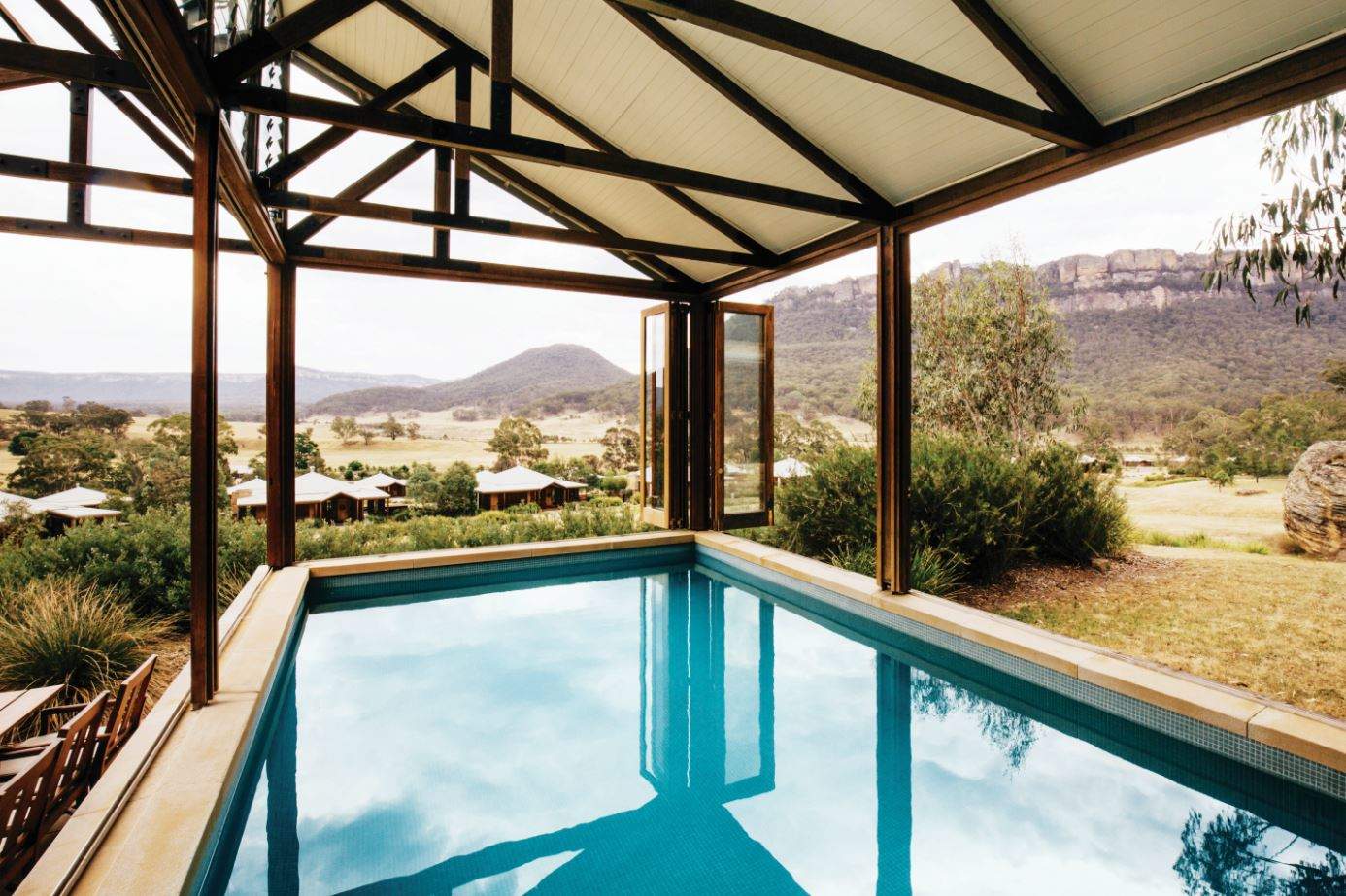 With an emphasis on seamless service and pampering, the high-end hospitality industry is generally not thought of as particularly eco-friendly. But for resorts whose draw is a magical wilderness environment, sustainability is an absolute must. We've put together a list of the top eco lodges and suites in the world where a commitment to luxury and a strong conservation ethos go hand in hand. Though each is unique in its approach, all of these properties have a minimal impact on their surroundings and actively give back to the local community, even as they provide an unforgettable vacation experience.
Wolgan Villa, Emirates One&Only Wolgan Valley, Australia
Sheltered within the raw natural beauty of the Gardens of Stone and Wollemi national parks, Emirates One&Only Wolgan Valley was the first hotel in the world to achieve carbon-neutral certification by CarbonZero, a status it has maintained for the past eight years. Located on former cattle-grazing land, the resort is also involved in ongoing revegetation efforts and the survey of endemic wildlife. In a remote corner of the 70-acre property lies the Wolgan Villa, which offers exceptional views of the Wolgan Valley and the Greater Blue Mountains, a double-sided fireplace, 23ft-long private pool, and terrace that's ideal for long evenings under the stars. During the day, join the resort's wildlife safaris and horseback-riding adventures. Special amenities: Private butler, gourmet kitchen, private staff quarters, mountain bikes to explore the valley.
Size 4,413 sq ft
Number of bedrooms Three
Nightly rate from $7,800
Contact general.manager@oneandonlywolganvalley.com, +61 293 080 550, oneandonlyresorts.com/australia
[See also: The Best Eco-Conscious Hotels for Earth Day]
Two-bedroom Ocean Beach Villa, Six Senses Laamu, The Maldives
Just five degrees north of the equator, in the Laamu Atoll, sit the 96 villas that comprise Six Senses Laamu. The resort was built with a noninterference approach, uses renewable energy wherever possible and focuses on waste reduction. The staff includes a resident horticulturist, a full-time sustainability officer and a resident marine biologist, who not only ensure the resort is sustainable but are also on hand to educate guests on the sensitive ecosystem. In 2016 the resort hosted Laamu's inaugural Save the Sea Turtles Festival and also implemented a code of conduct for dolphin watching. The Two-Bedroom Ocean Beach Villa has a 33ft-long private pool and private access to the beach. Head to the treetop deck to enjoy a spectacular equatorial sunset and dine with the best views over the island's lagoon. Special amenities: Private garden with daybeds, Bose entertainment system.
Size 7,860 sq ft
Number of bedrooms Two
Nightly rate from $4,770
Contact reservations-laamu@sixsenses.com, +960 680 0800, sixsenses.com
Tambopata Suite, Inkaterra Reserva Amazonica, Peru
Positioned next to the verdant Tambopata National Reserve on the banks of the Madre de Dios river, Inkaterra Reserva Amazonica is the creation of conservationist, filmmaker and entrepreneur José Koechlin. Since its inception in 1978, the resort has been instrumental in advancing scientific research, conducting studies and cataloging endemic flora, fauna and wildlife, and the proudly carbon neutral property sits lightly on 25,000 acres of virgin rain forest, thereby protecting the land from deforestation. Tour the 100ft-high Inkaterra Canopy Walkway, a system of hanging bridges built by the Inkaterra Asociación to observe Amazonian wildlife. Following a day exploring with one of the local guides, seek sanctuary under the fishtail-palm roof of the private terrace in the Tambopata Suite, where you'll find a plunge pool and an expansive chill-out area. Relax in a hammock in the siesta lounge, listening to the meditative sounds of the jungle.
Size 840 sq ft
Number of bedrooms Three
Nightly rate from $1,146 for minimum of two nights
Contact directsales@inkaterra.com, +51 161 004 00, inkaterra.com
[See also: The Brand New Eco-camp Launching in the Seychelles]
Yaku Suites, Mashpi Lodge, Ecuador
On the site of a one-time saw mill, in a 3,000-acre private reserve between lower montane rain forest and cloud forest, sits the magical Mashpi Lodge. Though it features luxury amenities such as a spa and fine-dining restaurant, the lodge takes its responsibility as an education center seriously. There's an on-site laboratory that conducts scientific studies into the surrounding wildlife, and a 20-minute walk takes you to the Life Center, where you can learn about the metamorphoses of the different species of butterflies living on the reserve. The three Yaku Suites are the premium rooms in Mashpi Lodge. The gorgeous modern spaces are bordered by floor-to-ceiling windows that make you feel part of the terrain. Special amenities: Philippe Starck–designed bathtubs with rain forest views.
Size 495 sq ft
Number of bedrooms One
Nightly rate from $1,650
Contact info@mashpilodge.com, +59 324 004 100, mashpilodge.com
Akorn Villa, Tongsai Bay, Thailand
One of the few hotels on the idyllic Thai island of Ko Samui that is still independently owned, Tongsai Bay is in a league of its own. Built in 1985 by Thai businessman Khun Akorn Hoontrakul on an off-the-beaten-track stretch of the island's northeastern coastline, it is set in its own picturesque bay. The hotel allows only non-motorized water sports on its 650ft beach, a rule that not only reinforces the tranquil vibe but also encourages exotic birds and other wildlife to make themselves at home on the property. The resort's organic garden is the centerpiece of its advanced recycling policy, wherein citrus peelings are converted into floor cleaner, vegetable peelings are turned into toilet cleaner, and other food waste is used as fertilizer. Even the indulgences are green, such as the Prana Spa, which has a wondrous range of all-natural treatments. The hotel's pièce de résistance is the Akorn Villa, named for the founder. Constructed from reclaimed dark teak, this exclusive two-bedroom villa offers a large L-shaped pool, a veranda with lots of space to lounge, dining area, bar and spectacular views over the bay, especially from the outdoor bathtub. Special amenities: Guests can arrange for a private dining experience—the chef's pad thai is to die for—or an in-room massage.
Size 2,840 sq ft
Number of bedrooms Two
Nightly rate from $680
Contact +66 779 137 50, tongsaibay.co.th
Private Pavilion, Saffire Freycinet, Tasmania, Australia
Built with environmental sustainability at its core, the stunning Saffire Freycinet — whose main building is shaped like a stingray — is both healing its site and offering visitors the time of their lives. The hotel has planted 30,000 native plants to restore the property, which was previously an RV campground in the Freycinet National Park, and also has programs for bushfire management and rainwater collection. Saffire runs a Tasmanian devil enclosure as part of the Save the Devils conservation effort (the marsupials have lost 80 percent of their population in the past decade to a facial tumor disease, and the resort is one of the key partners in studies to find a vaccine). Guests are invited to support the cause with the Adopt a Devil initiative. The Private Pavilions are the most spacious suites, featuring a lounge, private deck, two internal courtyards and a plunge pool. Special amenities: Complimentary champagne, dining room and kitchen facilities for one of Saffire Freycinet's highly acclaimed chefs to cook for you in-suite.
Size 1,500 sq ft
Number of bedrooms One
Nightly rate from $2,800
Contact host@saffire-freycinet.com.au, +61 362 567 888, saffire-freycinet.com.au
Presidential Villa, Jean-Michel Cousteau Resort, Fiji
This resort is as eco-conscious and fun as one would expect of explorer and environmentalist Jean-Michel Cousteau, son of the legendary Jacques Cousteau. The property is home to a naturalistic wastewater-cleaning lagoon system and is landscaped with plant species that naturally deter insects. A host of ongoing wildlife programs are spearheaded by the staff, notably the repopulating of giant clams, mangrove reforestation and the implementation of a coral farm. For families with children, the Bula Club offers youngsters an entertaining introduction to these programs as well as a trampoline, swimming pools, zip line and junior-chef cooking experience. Or take a glass-bottom-boat tour, play some tennis, attend a traditional Fijian storytelling or fish on Savusavu Bay. The resort's premier accommodation, the Presidential Villa, is housed within a walled garden for complete privacy and has its own infinity pool, outdoor shower and expansive decks. Its master suite has a sunken tub and Jacuzzi, perfect for romantic nights in. Special amenities: Guided snorkeling trips with the resident marine biologist, bottle of wine on arrival, hors d'oeuvres and a cocktail each evening, one 60-minute Bobo massage treatment for each adult.
Size 2,000 sq ft
Number of bedrooms One
Nightly rate from $3,000
Contact info@fijiresort.com, +1 415 788 5794, fijiresort.com
Deluxe Beach Suite, Bawah Island, Indonesia
Only accessible by seaplane, the private resort of Bawah Island is located in a marine conservation area between Malaysia and Borneo. The island has a zero-waste program, and implements strict bans on pesticides, fishing and anchoring, which can damage coral reefs. The resort was designed in indigenous materials by architects eco.id and built without earth-moving machines in order to avoid damaging the lush landscape.With 13 beaches and only 70 guests accommodated at any one time, the resort is ideal for those looking for peace and quiet. In the Deluxe Beach Suites, the largest accommodations, the bedroom can be opened to the elements, and the spacious terrace offers not only stunning views but also a perfect spot to dine alfresco. Special amenities: Unpacking service, direct access to the beach.
Size 1,240 sq ft
Number of bedrooms One
Nightly rate from $2,825
Contact +44 208 682 5060, bawahisland.com
Deluxe Room, Feynan Ecolodge, Jordan
Nestled in the heart of the mountainous Dana Biosphere Reserve, whose conservation the hotel helps fund, the Feynan Ecolodge is a pioneer of ecotourism. Leaving as little footprint as possible, the resort is completely solar powered, sources all its water from a local spring and uses composting facilities for its waste. When heating is required — which is only a few months of the year in Jordan — Feynan burns waste from olive pressing to provide heat. The perfect place for a digital detox, none of the rooms have electricity, and you'll have to head to the front desk to charge your cell or laptop. The largest rooms in the lodge are the Deluxe Rooms. These feature private balconies that offer spectacular views over the wild landscape and provide the ideal spot to enjoy morning coffee as you watch the wadi come to life. Special amenities: Environmentally friendly soap made by a women's project in northern Jordan.
Number of bedrooms One
Nightly rate from $325
Contact reservations.feynan@ecohotels.me, +962 646 455 80, ecohotels.me
Riverhouse, 1 Hotel Brooklyn Bridge, Brooklyn, New York, US
This LEED-certified hotel is set in an 85-acre beautification project along Brooklyn's East River waterfront. Many of the materials used to build the hotel were reclaimed, and the decor was largely created by local artisans. Run completely on wind power, the hotel also donates a percentage of sales from in-room dining and the minibar to the global humanitarian organization Action Against Hunger. We recommend the Riverhouse, a spacious suite offering exceptional views of the Brooklyn Bridge and the Manhattan skyline. The interior's abundant wood, stone, leather and other organic materials provide the perfect respite from New York's concrete jungle. Special amenities: River-view hammock, in-room yoga mat, dining area for 10 and curated minibar with house-made cocktail recipes.
Size 2,000 sq ft
Number of bedrooms Three
Nightly rate from $7,649
Contact +1 877 803 1111, 1hotels.com