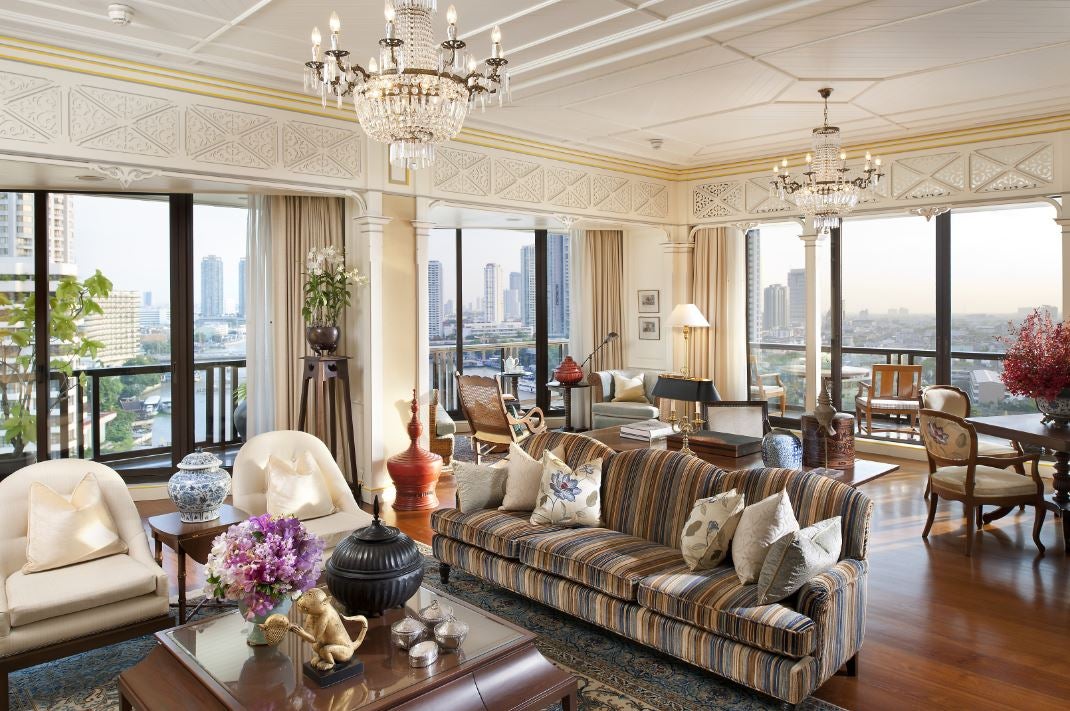 Bangkok is a city of contrasts where old meets new, and tradition and opportunity thrive. Whether you come to ride in tuk-tuks, haggle at the markets and try world-class street food or to visit important palaces and Buddhist sites, you'll find the perfect place to stay among our pick of the top hotel suites in Bangkok.
Grand Royal Suite, Mandarin Oriental
Last year, after completing an extensive renovation of the Authors' Wing, Mandarin Oriental, Bangkok, created the fabulous Grand Royal Suite. It spans the entire first floor and encompasses the Royal Suite, Ambassador Suite and three guest bedrooms. In addition to the Royal Suite's formal living room, there is another lounge, dining for 12, a study and a full kitchen and bar, all lavishly decorated in homage to The Oriental Hotel, the original property built in 1876. Thai silks, antiques and original art fill the suite and its 11.5 ft-high ceilings, all decorated with great detail. A beautiful highlight is the Victorian-inspired glass conservatory. The suite's open balcony offers views of the property's tropical gardens and the Chao Phraya River. Special amenities: Private butler service, powder room, butler's pantry, private elevator, in-suite fitness and spa facilities, separate private meeting room suitable for security monitoring.
Size 6,458 sq ft
Number of bedrooms Six
Nightly rate $9,420
Contact Amanda Hyndman, general manager, mobkk-reservations@mohg.com, +66 2 659 9000, mandarinoriental.com/bangkok
Anantara Presidential Suite, Anantara Siam


The Presidential Suite perfectly combines both the traditional and contemporary. Silk walls, locally designed carpets, antiques and contemporary art fill the space. The dining room seats 12 and has rich-red silk walls complemented by dark-wood furniture. The entertainment room is dark and seductive, with wood-paneled walls, bookcases and silk purple chairs; it also doubles as a study thanks to the inclusion of a writing desk. The luxurious master bedroom has a separate dressing room, massage suite, soaking tub and whirlpool. When traveling with a group, you may connect up to five additional guest rooms to the suite. Special amenities: Two powder rooms, dressing room, complimentary Handy smartphone pillow menu.
Size 3,595 sq ft
Number of bedrooms Six
Nightly rate from $5,125
Contact Patrick Both, general manager, pboth@anantara.com, +66 2 126 8866, siam-bangkok.anantara.com
Presidential Suite, Conrad Bangkok

This expansive suite high above the city on the 32nd floor is a haven for techies – or those waiting out the inevitable rainy days during monsoon season. The entertainment room has a Sony PlayStation, 40in television and Bang & Olufsen home-theater system. If you want to be more social, the large living room, dining room and kitchen are perfect for casual entertaining or relaxing. The bedroom has a writing desk overlooking the city, and in the master bathroom you'll find a whirlpool bath and steam shower. Special amenities: Powder room, pillow menu, Serta Suite Dreams bedding, access to Executive Lounge, dessert and fruit platter on arrival.
Size 2,561 sq ft
Number of bedrooms One
Nightly rate $3,000
Contact bkkci.reservations@conradhotels.com, conradhotels3.hilton.com
Royal Suite, The St. Regis Bangkok
Sleek, modern design and the famous St. Regis butler service await you in the Royal Suite. City views abound through the floor-to-ceiling windows in every room, including the marble bathroom. The spacious living room has a home-theater system and overlooks the Royal Bangkok Sports Club. The private dining room seats six, and the concierge can arrange tailor-made in-suite dining experiences. There is also a cozy reading room with work desk. Special amenities: 50in LCD television, home-theater system, Remède bathroom amenities, butler service.
Size 2,690 sq ft
Number of bedrooms One
Nightly rate $5,575
Contact Krister Svensson, general manager, krister.svensson@stregis.com, +66 2 207 7777, stregisbangkok.com
Have your butler draw you a luxurious bath, and you can enjoy the city lights from a unique vantage point.
Siam Suite, Shangri-La Hotel


A stay in the Siam Suite at Shangri-La Hotel, located on the Chao Phraya River, gives you the best elements of a resort while being right in the city. The property's multiple saltwater pools are surrounded by tropical gardens and are right on the riverbanks. Far above, the Siam Suite is well appointed in contemporary Thai style and has floor-to-ceiling windows and private balconies overlooking the river. The double living room includes multiple seating areas and leads to a separate dining room. In the bedroom, designed as a suite-within-a-suite, there is a private lounge with desk. Special amenities: Kitchenette, powder room, hi-fi sound system, pillow menu, limo transfer, access to the Horizon Club Lounge.
Size 2,529 sq ft
Number of bedrooms One
Nightly rate from $3,450
Contact Phillip Couvaras, general manager, phillip.couvaras@shangri-la.com, +66 2 206 8788, shangri-la.com/bangkok
Tower Club Hangover Suite, Tower Club at Lebua
Few hotels are as strongly associated with a movie as Tower Club at Lebua is to The Hangover Part II. While we are sure you won't lose a finger during your stay – as someone did in the movie (though if you do, there is a 24-hour on-call doctor) – you can party like a star in the Hangover Suite, which is where the cast stayed while filming. You are welcomed with a Hangovertini, a drink created in honor of the movie, either in your suite or at the fancy Sky Bar, 820ft above the city with panoramic views, where part of the movie was filmed. The suite has four balconies with city views, a large living room with dining area, and an open kitchenette with bar. Special amenities: Kitchenette with complementary minibar, Nespresso machine, pillow menu, in-suite washer and dryer, Hangovertini and fruit platter on arrival, access to Tower Club, available limo service.
Size 2,863 sq ft
Number of bedrooms Three
Nightly rate from $852
Contact Sven Brunssen, general manager, sven@lebua.com, +66 2624 9999 or book online at lebua.com
The Sukhothai Suite, The Sukhothai
Located on the top floor of The Sukhothai, an elegant sanctuary in the middle of the bustling capital, The Sukhothai Suite is a luxurious mix of Thai tradition and contemporary design. Jim Thompson silks adorn the walls, and custom furniture is found throughout the suite. It boasts a lounge, private dining room and fully equipped kitchen for entertaining, as well as a separate study. Guests can enjoy the views of the property's gardens and Sathorn Road. Special amenities: Large bathroom with whirlpool, walk-in closet, separate dressing area, powder room, grand piano, Bang & Olufsen sound system, Bose media center, in-room check-in.
Size 2,130 sq ft
Number of bedrooms One
Nightly rate from $2,285
Contact Thomas Schmitt-Glaeser, general manager, reservations@sukhothai.com, +66 2 344 8888, sukhothai.com
The Peninsula Suite, The Peninsula
For an elegant stay in classic Thai style, book The Peninsula Suite for your next trip to Bangkok. Sumptuous Thai silks and opulent furnishings are offset by dark-wood walls and teak floors. The opulent decor includes Murano glass chandeliers, antiques and Oriental carpets. For a memorable dinner party, host a soirée under the stars on the suite's landscaped terrace, which offers views of the city skyline and the Chao Phraya River. Special amenities: Butler service, butler's pantry, cloakroom, gym (with treadmill, bicycle, weights and bench), whirlpool with view, balconies, private study, Deutz Peninsula Champagne, fruit basket and cookies on arrival, helipad on property.
Size 3,885 sq ft
Number of bedrooms Two
Nightly rate $3,900
Contact Joseph Sampermans, general manager, pbk@peninsula.com, +66 2 020 2888, bangkok.peninsula.com
If you've always wanted to learn the art of Muay Thai, The Peninsula Academy offers a private lesson on the property with an expert instructor, followed by an 80-minute massage to soothe sore muscles.
The Royal Suite, Siam Kempinski Hotel
One of the largest in Bangkok, The Royal Suite is well equipped for entertaining, with everything you could ask for in a hotel room, making it ideal for long trips. On the 16th floor of the Royal Wing, it has views of the city from every room and a large outdoor terrace. For a party, host dinner in the separate dining room, then retire to the sleek private bar for cocktails. If you wanted to keep the elegant, antique-filled suite all to yourself, we wouldn't blame you. The stunning master bedroom has a four-poster bed and splendid white-marble bathroom with bathtub, rain shower, steam room, floor-to-ceiling windows and its own terrace. It's also easy to focus on wellness during your stay: The suite has its own gym and spa room, with two massage beds for in-suite services. Special amenities: 1,292 sq ft outdoor terrace with hot tub and sundeck, full kitchen, private study, powder room, chess table, entertainment center with Bang & Olufsen LED TV and sound system, Tencel bedding, pillow menu, security features for high-profile guests.
Size 3,230 sq ft
Number of bedrooms Three
Nightly rate from $7,400
Contact Samir RWildermann, general manager, reservations.siambangkok@kempinski.com, +66 2 162 9000, kempinski.com/bangkok
The Imperial Suite, Okura Prestige
Perched on the top level of the hotel, this modern suite with panoramic city views is almost Hollywood Regency in style, decorated in soothing neutral tones with silver accents. The apartment-style suite has a large living room, a study and a full private kitchen – perfect for extended stays or for the chef to prepare an intimate dinner. The dining room features a marble topped table that seats eight. The bedroom has not one but two king-size beds with Egyptian cotton bedding, and in the black marble bathroom you can have your own spa day in the steam room, sauna and sunken bathtub. Special amenities: Powder room, pantry, 55in LED television, Bose sound system, Bulgari bath amenities, two complimentary pieces of laundry daily, concierge service, access to private meeting room, access to Okura Club Lounge.
Size 3,250 sq ft
Number of bedrooms One
Nightly rate from $4,285
Contact Edward E Snoeks, general manager, reservations@okurabangkok.com, +66 2687 9000, okurabangkok.com