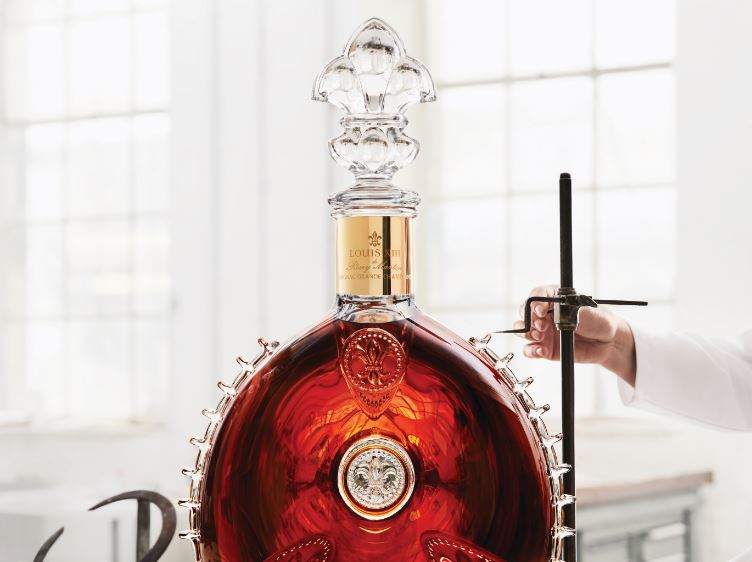 This story originally appeared in the March/April 2018 issue of Elite Traveler.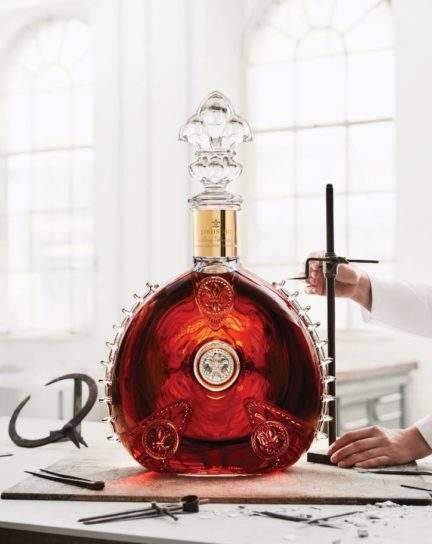 Thirty pounds of exquisite crystal and more than 20 remarkable artisans have come together to create one cherished cognac decanter to rule them all: the Louis XIII Le Salmanazar. This striking nine-liter bottle is the largest known crystal cognac decanter in the world and a beacon of French excellence, joining two revered maisons in a crystal masterpiece.
The house of Rémy Martin has once again summoned Baccarat, the designer of the original Louis XIII decanter, which was inspired by a 16th-century flask discovered on an old battlefield at Jarnac. A Baccarat master sculptor worked fastidiously alongside skilled craftsmen to mold the iconic dentelle (lace) motif, fleur-de-lis stopper and triumphant medallion that adorn the towering vessel. Imposing yet delicate, the decanter contains the beloved cognac selected by the cellar master from the finest eaux-de-vie in the Grande Champagne region.
Presented in an ornate display chest, the amber-colored cognac is accompanied by eight crystal glasses and a serving platter with spear. The tradition of drawing the spirit from the cask with a spear dates back to the celebratory tasting ritual performed by its original cellar master, which you can now recreate in your own wine cellar. Only through a private appointment at the Louis XIII boutique in Beijing can one lay eyes on Le Salmanazar. Inside the oak-walled Eternity Room, clients are immersed in cognac culture, experiencing expert-led tastings and food pairings as well as access to the complete collection of Louis XIII decanters and special editions.
$450,000, available by appointment at Louis XIII La Boutique in SKP, Beijing. Contact conciergerie@louis-xiii.com, louisxiii-cognac.com