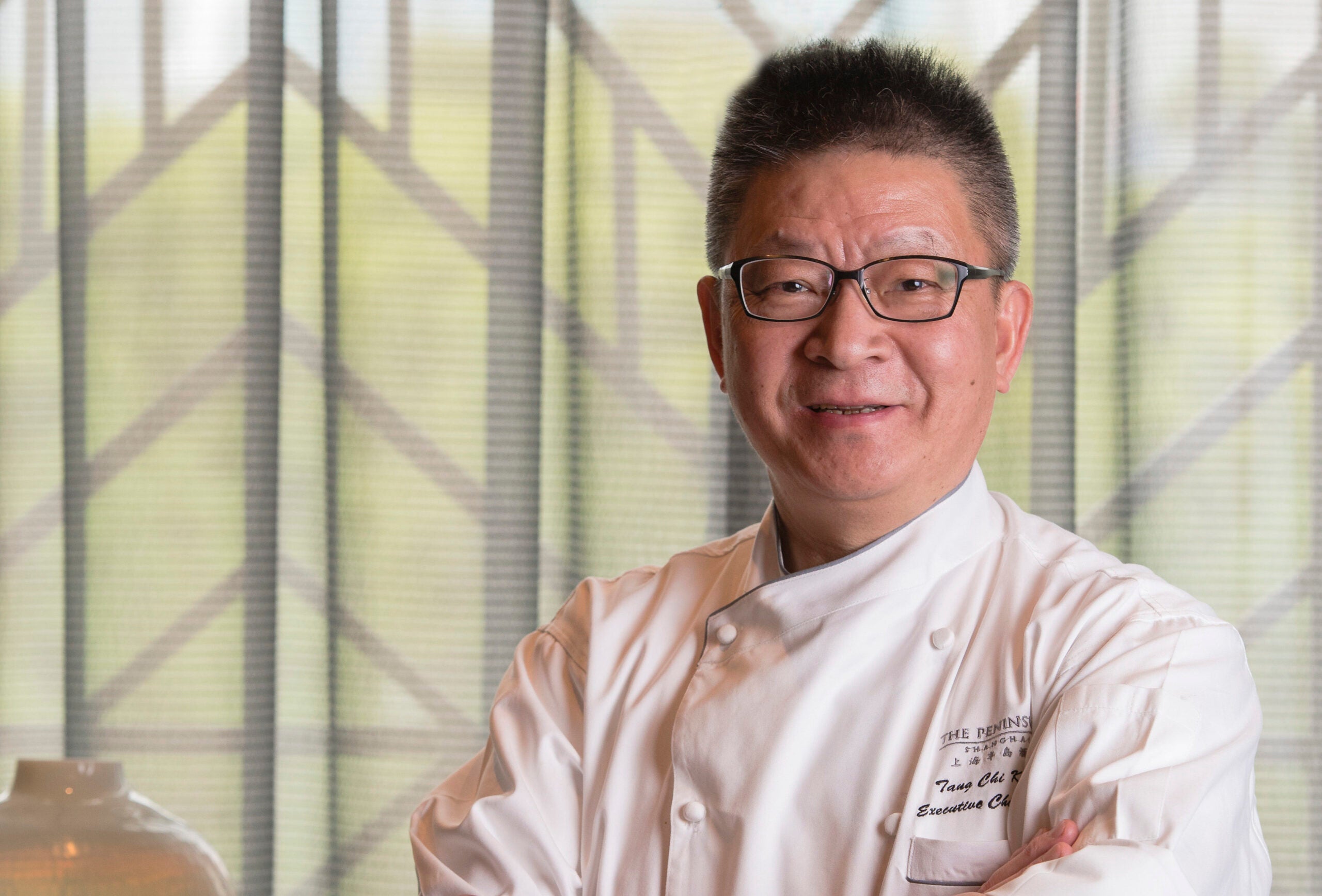 The release of the Michelin guide is one of the most important dates in any chef's diary, and this year The Peninsula Shanghai was lucky enough to win three stars across its two restaurants. Their flagship restaurant Yi Long Court was awarded two stars, and its sister restaurant Sir Elly's awarded one.
With The Peninsula winning a total of three stars it has become the only hotel in Mainland China to hold two Michelin-stars simultaneously. Both restaurants offer very different dining experiences as well, with Yi Long Court focusing more on refined Cantonese dining, while Sir Elly's offers a more modernized European menu.
To celebrate one of the greatest restaurants in the East, Elite Traveler were lucky enough to speak to the hotel's Executive Chinese Chef – Tang Chi Keung.
How does it feel to be awarded two Michelin Stars for the second year in a row?
I am very honored that Yi Long Court has been awarded two Michelin Stars for the second consecutive year. This marks a significant milestone for both The Peninsula Shanghai and also for the restaurant itself.
Yi Long Court has been described as mainland China's best restaurant, does that put pressure on you when deciding what to put on the menu?
Cooking is all about dedication and I always remind myself to cook with my heart. I am also blessed that I have an experienced team in the kitchen with seasoned culinary skills. I am very particular about the ingredients used in each dish as I am driven to deliver diners a unique gastronomic experience with new and unseen creations.
For example, inventive appetizers on offer include steamed lobster dumpling coated with squid ink flour and marinated fresh abalone with Chinese wine; Main courses feature Wok-fried wagyu beef in special chef's sauce, and Cantonese fried rice with snow crab and shrimp egg roe. Finally, a truly memorable meal is never complete without a delectable dessert such as our sweetened almond cream with rice dumplings, served with a mini egg tart bird's nest.
How would you describe the food at Yi Long Court and where did you get influence for it?
The menu at Yi Long Court is a combination of traditional Cantonese specialties, regional Chinese and dim sum favorites, alongside my own inventive creations that have been inspired by my international travel and experience in kitchens across the globe.
I began my culinary career at established restaurants and hotels in my home town of Hong Kong including Spring Moon at The Peninsula Hong Kong. I then ventured overseas to gain international experience in Japan and France, where I learned techniques behind cooking with quality ingredients such as caviar, foie gras, morel mushrooms, snow crab and steamed lobster. My cooking techniques and presentation of my dishes is today still influenced by my training and experience in France and Japan. Also, from time to time, I adopt traditional Chinese herbs to enhance the local yet unique flavor.
When did you decide to become a chef, and why?
I have been passionate about food since I was young. Back in those days, we had a very limited food supply and ingredients to cook with in Hong Kong. I remember how my father used to bring home a little cake for me after work and how excited I was for his return home each day. This helped ignite my enthusiasm for food.
When I grew older, I was lucky enough to get a job at a "cha chaan teng" (local Hong Kong restaurant) and I very much enjoyed being surrounded by delicious food each day at work and be able to learn how to prepare these delicacies. My career in food & beverage grew from there.
A lot of the food on your menu is very traditionally Cantonese, what have you done to give it a modern spin?
I am a firm believer in team work. I always encourage my team to create a working environment where they can share thoughts, discuss priorities and deliver great results collectively. With this in mind, it provides a perfect work setting where we can get creative and put a spin on the traditional dishes to enhance the dining experience.
If someone has never tried proper Cantonese food, what would you recommend they try?
I would suggest they taste Cantonese cuisine at an authentic Cantonese restaurant and would recommend fresh seafood, vegetables and dim sum. If you have the opportunity to visit Hong Kong, it is worth to go to the "cha chaan teng", where locals enjoy their "silk milk tea", pineapple bun and luncheon meat & egg instant noodles.
Your wine menu comprises of a lot of Chinese wine, which has only recently started to gain in popularity in the West, how does it compare to wines from Europe, the New World and the US?
Chinese wine has remained loyal to tradition in terms of ingredients used and brewing techniques. Its flavor is strong but has varied aromas and after tastes. Chinese wine is versatile and nowadays people are increasingly pairing Chinese wine and liquor with a range of different cuisines, that allows unique tasting experiences.
What would your last meal be?
A home cooked meal with my family
For more information please visit shanghair.peninsula.com