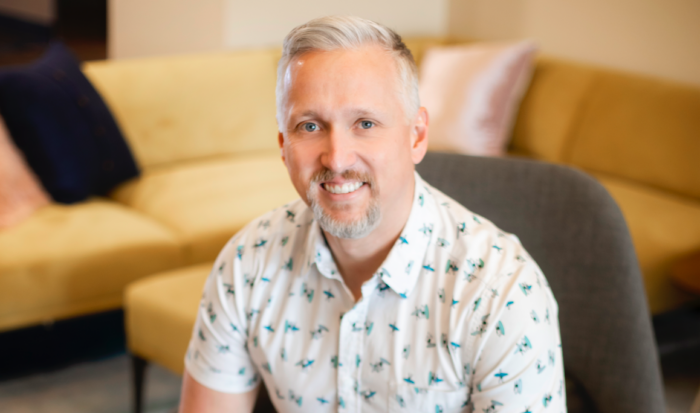 Despite decades of advancing technology, wealth management was one industry that has been slow and reluctant to move online. In a business reliant on trust, meetings in person were still seen as an essential ingredient across the industry. When Covid-19 made those face-to-face meetings impossible, many esteemed companies found themselves rushing to incorporate the kind of virtual system that Derek Notman had already spent years perfecting.
Notman, who has been in the industry since 2006 and founded Intrepid Wealth Partners in 2015, did not foresee the pandemic but was in the perfect position to ride the storm when it hit. He simply saw what many of his competitors failed to, that the world was moving online one way or another, and the benefits of doing so were undeniable to him and his clients.
Today, he is known as one of the world's first virtual financial advisors, having been at the forefront of a business model that eradicates the need for laborious face-to-face meetings and allows clients to get on with the most important thing: enjoying life. Here, we speak exclusively to the entrepreneur about his industry-shaking business model.
You founded Intrepid Wealth Partners back in 2015. Where did your initial inspiration come from and were you confident it was going to be a success?
My motivation and inspiration stemmed from my desire to be different and stand out.  A lot of advisors still focus on being a generalist and tend to use outdated strategies and tactics that have been taught for many decades. I simply did not want to be what used to be. To be intrepid is to be a leader, resolute and adventurous. My brand and company needed to speak directly to the type of people we serve, self-minted millionaires who travel the world in luxury that tend to be business owners, founders, and C-Suite executives.
It is my belief that the word "intrepid" not only accurately describes these people but also the way I have built my business to serve them, which is virtually. As with any business venture, there is a lot of risk involved so to say I was confident it was going to be as successful as it is would be a stretch. What I can say with 100% certainty is that I was confident in my ability and drive to give it my all.
Tell us a bit about the founding pillars that set Intrepid Wealth Partners apart from other financial advisors.
There are two pillars of equal importance that set us apart from the rest. First, we serve a very particular type of client. Given that I am a world traveler, especially in luxury, and a business owner, I wanted to serve those that I understood best. Second is the way we serve our clients. My firm is entirely virtual. My motivation and inspiration stemmed from my desire to be different and stand out. A lot of advisors still focus on being a generalist and tend to use outdated strategies and tactics that have been taught for many decades. I built it this way to embrace who our clients are instead of being something they consider an inconvenience.
The types of clients we serve want convenience, of course, but they also want a firm that understands them. Most firms say they work with such and such but when you drill down most of the time they only have a superficial understanding of a particular client set. By being exclusive in the types of people my firm serves and in the way we serve them we now stand in a position of strength that only enhances our clients' lives.
What has been your proudest achievement with the company to date?
Proving the virtual model is viable. When I went virtual in 2013 there were a lot of people in my industry who didn't think it would work. Well, seven years later I am now the example of what is possible. It also is what inspired me to create my education technology company, Conneqtor, to empower financial advisors around the world to also transition to a virtual or semi-virtual mode.
And what has been your biggest challenge?
The biggest challenge was actually in part what inspired Intrepid Wealth Partners. Back in 2014, I was threatened by an NYC hedge fund that claimed I was infringing upon their trademark name. I tried to fight it but could not compete with their $6 billion pockets and a large law firm on retainer. This was a major blow for me and took up a lot of time but through the fire, I ended up with an amazing business and brand. It was a nightmare at the time, but I look back and am grateful for the challenge.
How has Covid-19 affected the company? Did you have to make any changes or were you well placed due to your virtual infrastructure?
The pandemic has not affected my business at all. Given the investment in all things virtual for my firm, I was in a great position when Covid-19 hit the world and have been able to continue on with business as usual.
A financial advisor would typically use face-to-face meetings to build trust. How do you build that same level of rapport virtually?
The face-to-face meeting as a must is a common misconception stemming from how things used to be. People have been used to doing things like dating, banking, and even speaking with their doctor online for quite some time. Humans beings for the most part are more than comfortable building trust and working with a variety of sources virtually if the source has done a good job of building a robust digital infrastructure.
I love the quote "people don't care how much you know until they know how much you care." I spent considerable time and resources in my efforts to create an online environment where people could get to know me before ever speaking with me. Everything from great social media content to clean and relevant websites is vitally important to let people get to know who you are, what you do, who you serve, what your prices, are, etc.
Once they are comfortable and reach out to you it is imperative that they experience an amazing virtual experience that continues on the theme of what they thought you were all about from your digital footprint. The virtual model simply replaces the boardroom and kitchen table with a screen. When done right it is clear there is no issue in building trust and rapport.
What changes have you seen amongst your clients following the pandemic? Are their priorities shifting?
The only thing I have seen with some of my clients is that the pandemic has given them the opportunity to take a step back and refocus on what is truly important to them. Also, I think like me, a lot of them are experiencing some "travitude", attitude since we can't travel like we are accustomed to.
Your firm appears to put a lot of emphasis on enjoying life today. Why is that?
One of my pet peeves with the financial advice industry is that so many advisors put too much focus on "planning for the future". Now, don't get me wrong, planning for the future is very important but I firmly believe that enjoying life today is equally important. None of us knows when "our time" will come and I for one certainly don't want my last thoughts to be of regret because I "didn't do something".
At my firm, we make it a priority to find balance between enjoying life today while still planning for tomorrow. We know how hard our clients have worked for their money and how important it is for them to live the life of their dreams. We focus on that while also guiding them to maintain this indefinitely for them and future generations to come. And let's face it, planning for "retirement" can be really boring. There is no reason we cannot enjoy life today while making sure we can also enjoy it tomorrow.
There is a large emphasis on making time to travel within your service. How do you specifically help your clients to realize their travel dreams?
It is not so much about making time to travel but understanding that travel is important to my clients, and me and my family, and that we make it a priority to cater to this. Just because we love to travel to this luxurious place or that hidden gem doesn't mean our financial lives can/should be put on hold. My firm understands this and makes it a point to be available to our clients regardless of their physical location or ours.
And you yourself love to travel. Tell us about the one place you have been to that has inspired you the most.
I have been fortunate to have traveled extensively to many amazing places around the world yet the one place that is not only special but inspiring is Bushman's Kloof in South Africa. We recently (right before lockdown) took a helicopter from Cape Town to this remote and private oasis. Bushman's is unlike any other place I have been. Exclusive, luxurious, yet relaxed with very friendly staff. Whether you are looking for total relaxation and pampering (they have three staff for every one guest and cap their guests around 35 at any given time), explore the wildlife, get some exercise or enjoy a candlelit dinner with your feet in the river, you won't be disappointed. I can say with ease that it is my favorite place on Earth.
And where is the one place you would absolutely love to go on your next adventure?
Top of my list is Xigera Safari Lodge in Botswana. One can only get there via private helicopter or charted light aircraft. It is ultra-exclusive and only caters to a small number of guests at any one time. Like their website says it is "utterly out of the ordinary" which is exactly what I am looking for!
Derek Notman is registered as an Investment Adviser Representative, with Eagle Strategies LLC, a Registered Investment Adviser. Derek Notman is also a Registered Representative of NYLIFE Securities LLC, Member FINRA/SIPC, a licensed insurance agency, 999 Fourier Drive, Madison, WI 53717 (608) 827-2104.
Intrepid Wealth Partners, LLC is not owned or operated by NYLIFE Securities LLC or its affiliates. 
Neither Eagle Strategies, LLC, its affiliates nor Intrepid Wealth Partners or its employees provide tax, legal, or accounting advice.  Please consult your own tax, legal, or accounting professionals.