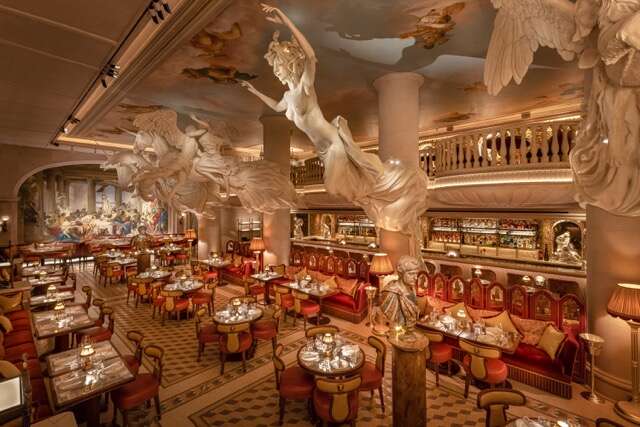 Toga-clad waiters gliding through the room, neo-classical Damien Hirst sculptures hanging above diners, and a wine list the size of a small novel: Bacchanalia's reputation as the new hotspot in town preceded its late 2022 opening, when adverts for a 'grape feeder' with 'gorgeous hands' hit the internet.
Tucked in the heart of Mayfair, Bacchanalia takes its name from the mystery religion-cult of Ancient Rome, in which men and women freely mingled in an environment of joyful revelry, sponsored by wine and loud music. Today, London's Bacchanalia pays homage to its namesake through establishing a dining experience of similar ilk.
This is a restaurant establishment that leans into great decadence and tongue-in-cheek fun, to huge triumph on both fronts. The ever-present murals and millennia-old Grecian sculptures drive the theme home, whilst the dimmed lighting and drifting music are successfully utilized to prevent the effect from spilling into kitsch.
With Richard Caring at the helm, it's no wonder the Mediterranean restaurant has the elegant intimacy of nearby Harry's Bar, and the big-night ambiance of next-door Annabel's. Bacchanalia may be as fresh on the scene as its bespoke Hirst sculptures – but like the long-gone era it's taken its cue from, the restaurant already feels like a classic.
[See also: Sahbi Sahbi Lifts the Lid on Moroccan Cuisine]
Interiors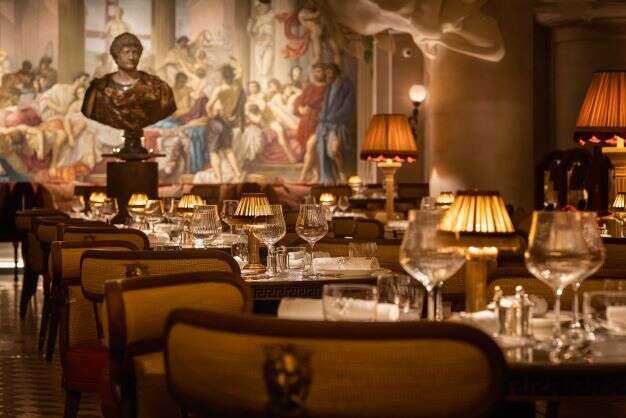 Let us make one thing clear: You are coming to Bacchanalia to experience the interior. Whether it be the entrance, where a hand-painted fresco depicts cocktail-drinking fauns or even before, when you exchange pleasantries with the Nutcracker uniformed doormen, Bacchanalia is a visual treat in which it can feel like the word 'no' was not once used in the design process.
In today's age, it serves as a Marie Antionette-esque display of opulence for the love of opulence, a sensory extravaganza for the modern-day aesthete. A collection of 2,000-year-old Greek and Roman art bobs merrily amongst diners, and all is framed by artist Gary Myatt's floor-to-ceiling modern interpretation of Thomas Couture's 1847 Romans In Their Decadence.
Burnt gold and plush burgundy serve as the color palette, and the black and white checkered tiling of the floor establishes an Art Deco presence that comes into full form at the bar, where the amber lighting and intimate bar stools feel pretty Gatsby speakeasy.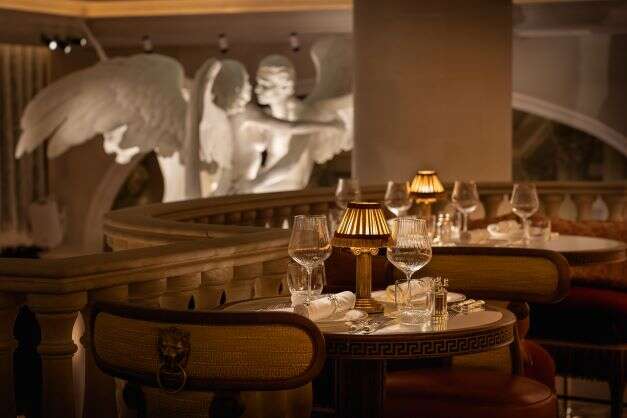 Not a single stone is left unturned in interior architect Martin Brudnizki's pursuit of beauty. The men's restrooms take cue from Hades' underworld, immersing the visitor in scenes of snakes and bulls, whereas the ladies' restroom is a glorious immersion inspired by the Garden of Hesperides, a wonderful concoction of nymphs and mosaics, orchard greenery and springtime flowers.
"My daughter insisted I go see the toilets…I can't resist," a woman with bright-white hair told me as she took a mirror selfie. "I don't usually do this."
"Well I do!" a teenage girl next to us said cheerfully. "And you're doing it all wrong." The girl later told me she came to Bacchanalia after seeing how nice the toilets were on Instagram. Fun for all the family, as they say.
[See also: The 15 Best Luxury Hotels in London]
Chef
Internationally celebrated chef Athinagoras Kostakos has a CV that will be familiar to many of the diners drawn to Bacchanalia, with highlights including a stint as executive chef at Scorpios and Branco in Mykonos, and Mazi in Notting Hill.
A winner of Greece's Top Chef, where Kostakos hails from, Kostakos had a difficult task ahead of him; does he offer a toned-down offering to let the interior shine, or does he attempt to establish a menu that matches Bacchanalia's extravagance? Luckily for us, he went with the latter, to great success.
[See also: Flore: A Sustainable Fine Dining Success in Amsterdam]
Menu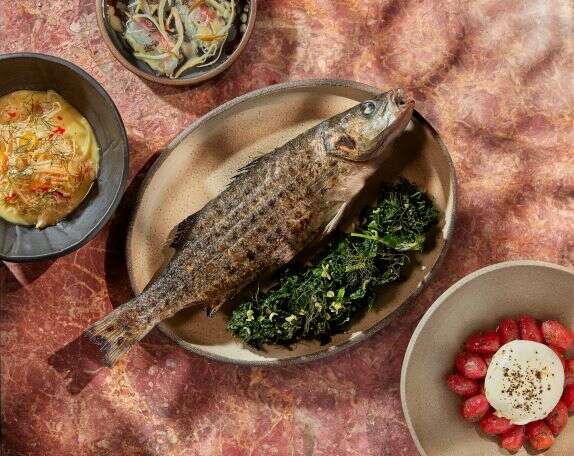 Inspired by Greek and Italian cuisine, Kostakos' imagination takes the wheel here, for a presentation – both on and off the menu – that adds the right notes of fun and flair to an already fabulous dining experience. The party starts the very second a toga-draped waiter hands you three gorgeously designed menus (food, wine and cocktails) and is wickedly executed throughout.
Dishes are presented with all the theatrics expected of the interior, and the waiters seem to genuinely love the novelty of a performance that, right on theme, feels like a modern update of an illicit party in Ancient Rome.
The crab risotto, for example, is presented within something akin to a large shell; the salt crust sea bass is such an excessive portion that instead of placing it upon your table, it is instead cut up beside you. The freshly mixed beef tartare is a delight, and the locally sourced fresh burrata upon Danterrini tomato is utterly ripe with flavor and freshness.
The lobster paccheri is predictably rich, and not one for a sensitive stomach. That isn't to say it is bad. On the contrary, the truffle flavors and creamy bisque sauce are so delightful that the pure, unapologetic indulgence of it stands as a perfect metaphor for Bacchanalia. Other highlights include Bacchanalia-branded caviar and grilled jumbo prawns.
Last but not least is the restaurant's wine list. Individually selected by Caprice Holdings' group wine director, Terry Kandylis, the list features over 650 references from Greece, Italy and France. Bacchanalia is notable for being the only destination in the city to offer 25 Italian 100-point wines: A wonderful, triumphant, glorious tribute to Bacchus himself, Roman god of wine and festivity.