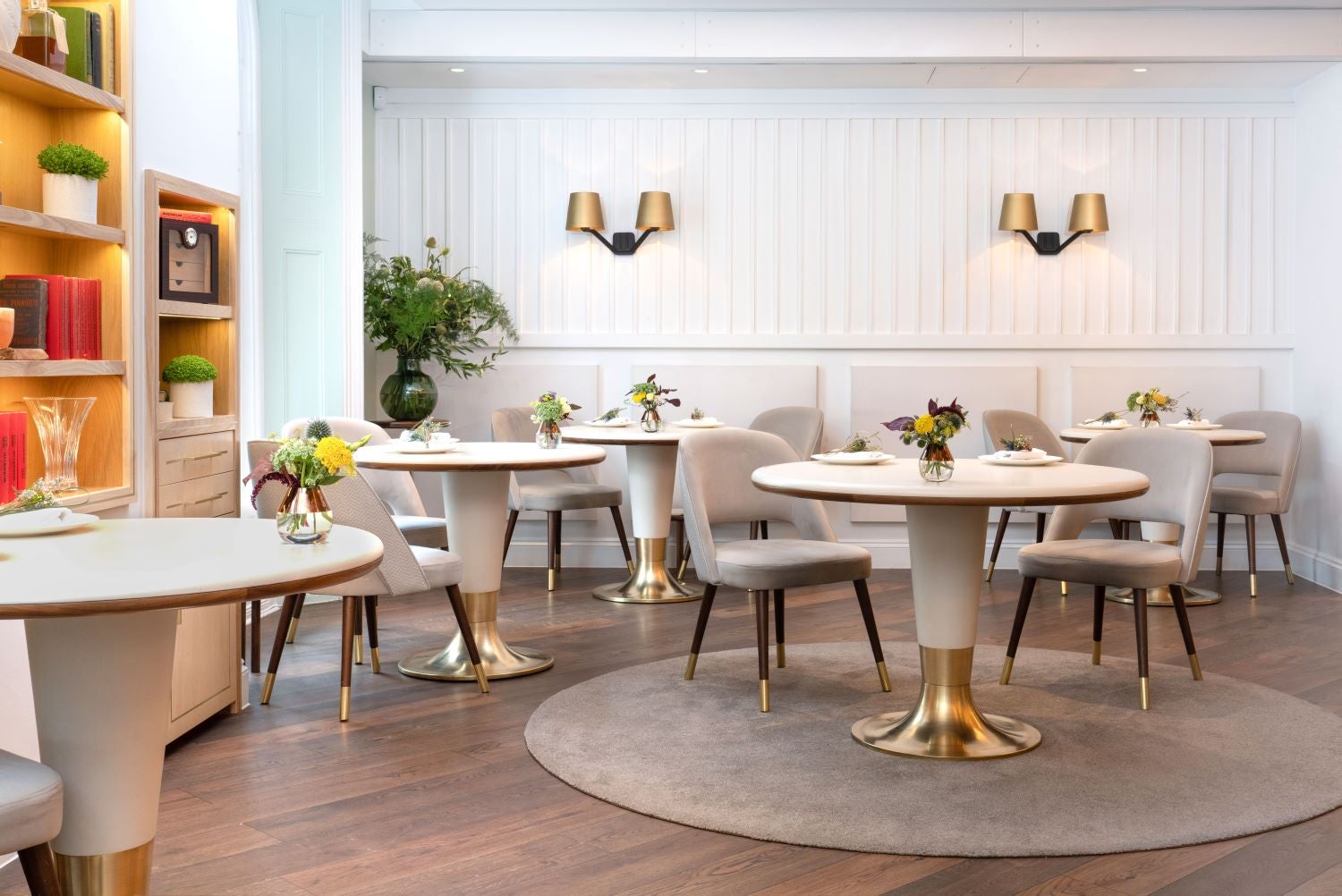 Whatever your taste or budget, it's easy to find world-class dining destinations in London. Just take a look at the latest Michelin Guide. The capital boasts 74 starred restaurants, including five with the coveted three-star accolade, 12 with two stars and 57 with one star. We've chosen to focus our roundup of the best restaurants in London on the eateries that made it to the very top of the list.
Although a Michelin star isn't the only indicator of what makes a restaurant stand out, it remains the award that most chefs strive for. The dining establishments that scooped a spot in the guide cover an array of different cuisines representing London's vibrant multicultural food scene.
While all 74 restaurants are well worth a visit, to make things a bit more manageable we've curated a list of the 13 best eateries in London that are, in our opinion, the best of the best.
[See also: The 15 Best Luxury Hotels in London]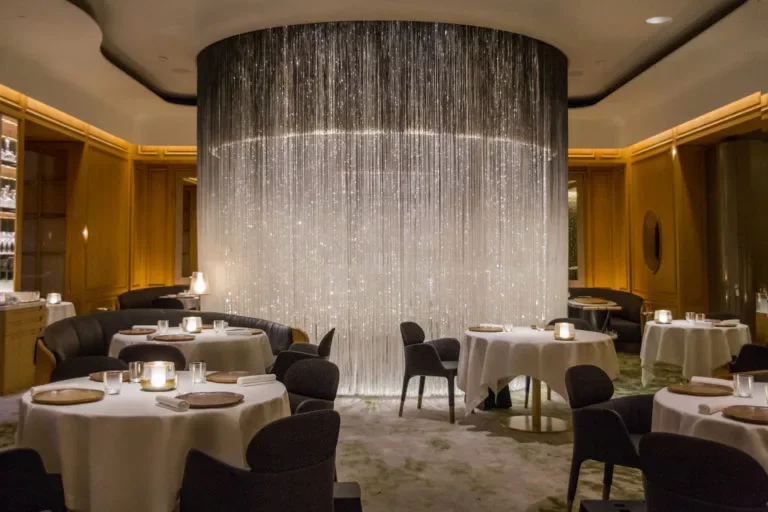 One of just five London restaurants with three Michelin stars, Alain Ducasse at The Dorchester has long been regarded as the city's ultimate fine-dining destination, having held all three since 2010. Ducasse's career has been laden with Michelin stars, currently holding 18 and at one stage having as many as 21.
Alain Ducasse at The Dorchester offers contemporary French cuisine in modern and elegant décor along with professional and friendly service. The seasonal menu changes frequently, but diners can expect a mix of British ingredients and French techniques. There is also a vegetarian menu (Jardin) in an ode to the changing habits of diners.
The restaurant also houses the most famous dining table in London. Located in the center of the dining room, the Table Lumière is surrounded by 4,500 shimmering optical fibers which drop dramatically from the ceiling cleverly allowing guests to enjoy the ambiance and buzz of the restaurant whilst being nearly screened from view. Guests also dine off of stunning Hermès china sets and Puiforcat silverware and drink from Saint-Louis crystal glasses.
You can read our exclusive interview with the head chef Jean-Philippe Blondet here.
This three-Michelin-starred restaurant showcases the talents of renowned French chef Hélène Darroze. Celebrating its 10th anniversary in 2019, the restaurant closed for two months to undergo a total refurbishment. Parisian design team Pierre Yovanovitch Architecture d'Intérieur were brought in to give the restaurant a fresh look, brightening the interiors and adding a spectacular pink marble chef's table overlooking the pass and the kitchen.
Not only were the interiors modernized, but the menu as well. It reopened with a new a la carte offering that put a greater emphasis on British producers but still retains odes to her classic French training. The British-themed offerings include 'caviar with langoustine, oyster and runner beans' and 'Denbighshire pigeon with beetroot, wild blueberry and Mexican molé.
the-connaught.co.uk/helene-darroze/
Alex Dilling at Hotel Cafe Royal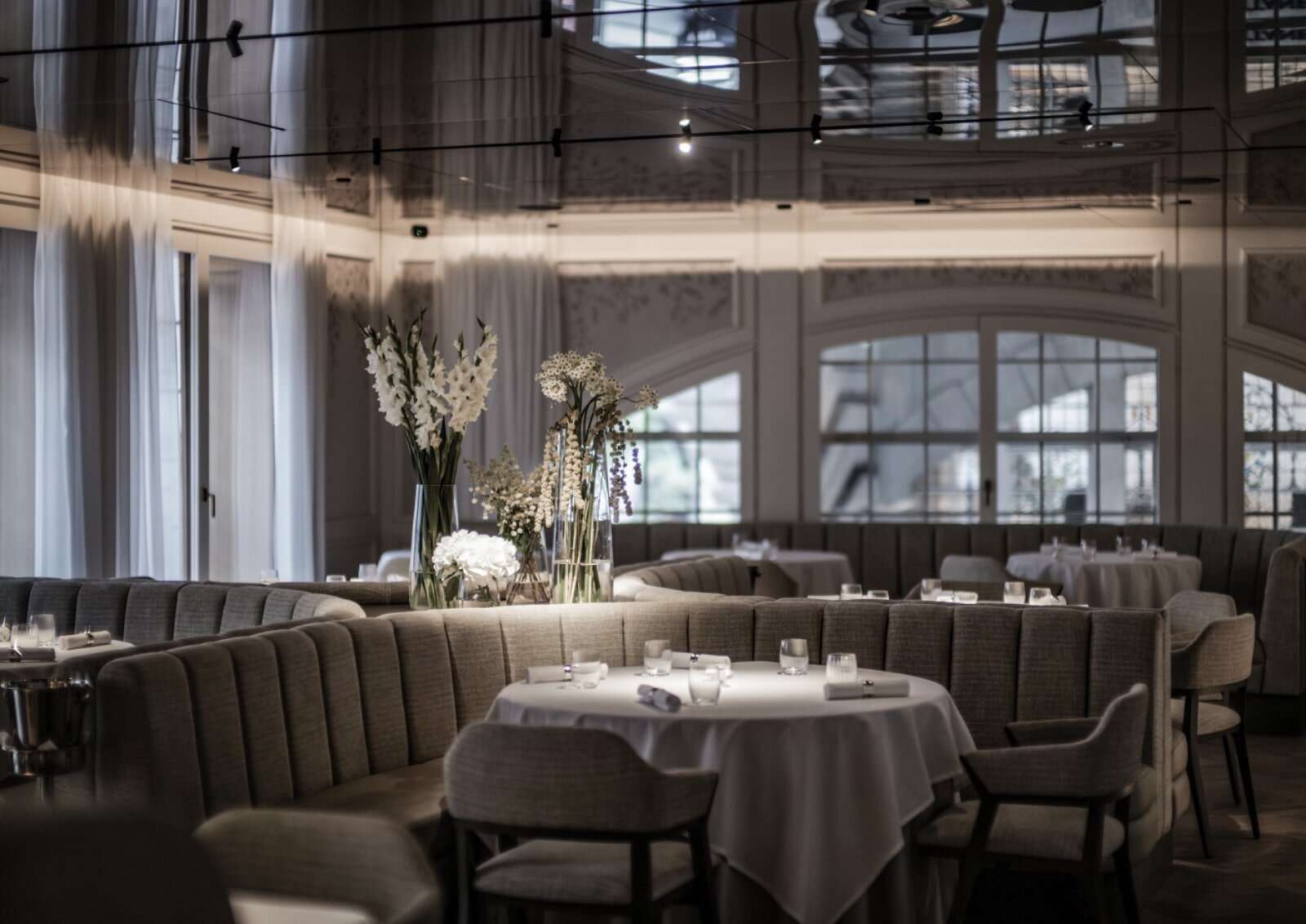 As a disciple of Hélène Darroze, Alex Dilling's latest venture is a fitting restaurant to follow. Dilling worked with Darroze at the Connaught as executive corporate chef. He then earned two Michelin stars at The Greenhouse, a revered restaurant among London's elite before the Covid-19 pandemic put paid to it. Dilling wasn't down for long, however, opening his first solo venture at the five-star Hotel Cafe Royal in Piccadilly in September 2022.
The food at Alex Dilling at Hotel Cafe Royal is a continuation of his fine work at The Greenhouse. His philosophy is one that is tried and tested: the finest ingredients and classic French techniques. It took just six months for the restaurant to be recognized by the Michelin Guide, achieving the rare feat of earning two stars at the first time of asking.
The restaurant itself is stylishly minimalist with an abundance of natural light. The fact that it's situated in one of London's best hotels, is an added bonus.
[See also: Alex Dilling on the Trials and Tribulations of the Michelin Guide]
Da Terra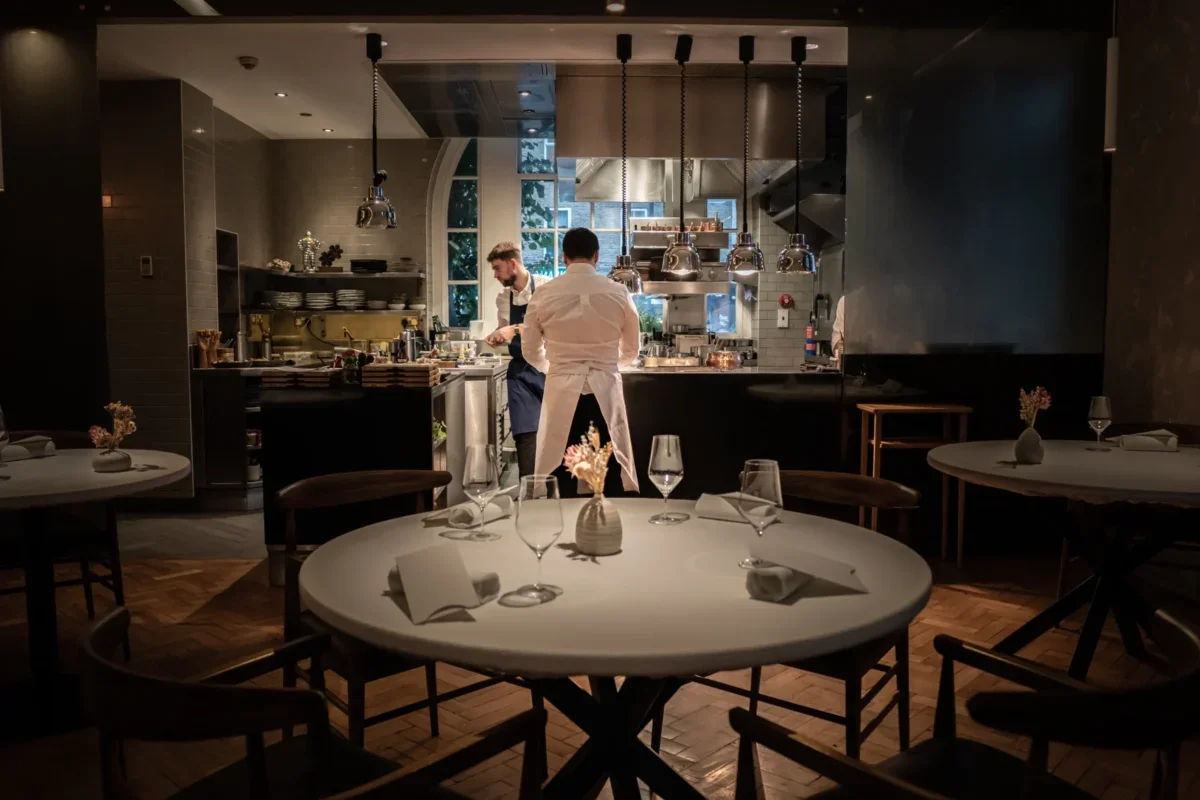 Located in Bethnal Green Town Hall, the Brazilian-inspired Da Terra has made culinary waves since opening in early 2019. Head chef and co-owner Rafael Cagali, who has experience at several Michelin star restaurants including The Fat Duck, won his first Michelin star within just nine months of opening, making Da Terra the first starred restaurant in East London.
The first star turned Da Terra into a novelty for committed foodies. Their charming 40-cover restaurant started to fill out on Friday and Saturday evenings. However, interest exploded when it was awarded a second star in the very next Michelin Guide, becoming one of only 15 restaurants in the city to boast two or more. That turned it into a destination in its own right and now you'll have to wait weeks to get a prime table in front of Cagali's open kitchen.
Da Terra is a tasting menu-only restaurant, offering an 11-course menu (including canapes and petit fours). While all courses are accomplished in their own right (read our review here), it is Moqueca that takes your breath away. Moqueca is a Brazilian fish stew taken from the northeast of the country. Presented at first in a big copper pot complete with langoustines, turbot and okra, it is then refined and re-presented in two-star form. The finished article is a wonderful sauce served with brown butter, wild turbot, toasted cassava flour and hen of the woods mushrooms.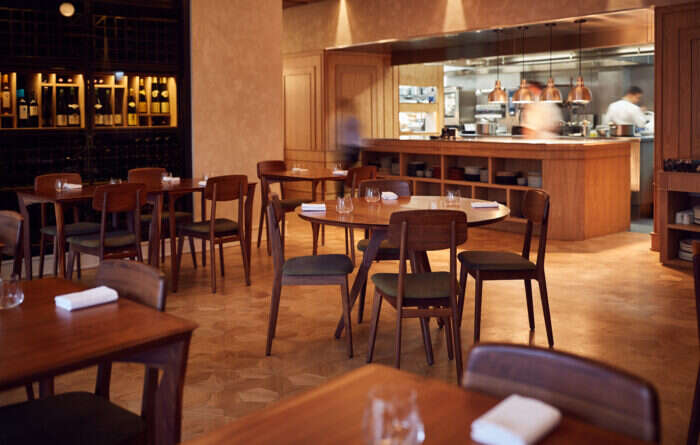 Trivet was first opened in October 2019 by Fat Duck alumni Jonny Lake. Although, alumni doesn't quite cut it when it comes to Jonny. He was the executive head chef for Heston Blumenthal restaurant group for 12 years, including when it was crowned the best restaurant in the world by the World 50 Best. So it was no surprise that foodie pulses were sent racing when he stepped back behind the pass as the head chef of a new venture in London Bridge.
After surviving a tempestuous 18 months, Trivet is now thriving (read our review here). It was not only awarded its first Michelin star in 2022, but Lake's founding partner, Isa Bal, received the highly-regarded Michelin Sommelier Award.
Trivet is deconstructed fine dining. There is no tasting menu, only a la carte. Diners are welcome to stay for one, two or three courses or simply enjoy a cocktail at the chic bar. Apart from some delicate crackers, there are no canapes. Instead, Trivet prides itself on hearty portions of perfectly-prepared high-quality ingredients.
The 450-label wine list is presented in chronological order according to the earliest mentions of wine in literature. While France and Italy dominate the lists of most fine dining restaurants, Bal has instead championed those countries with the longest history of winemaking. Diners are encouraged to expand their horizons by trying lesser-known grape varieties from Georgina, Turkey and Greece.
The food menu is not so much seasonal as it is adaptable. Instead of changing dishes completely, Lake adapts the individual ingredients according to what can be sourced. By shunning constant change, Lake has perfected certain dishes by leaving room for refinement.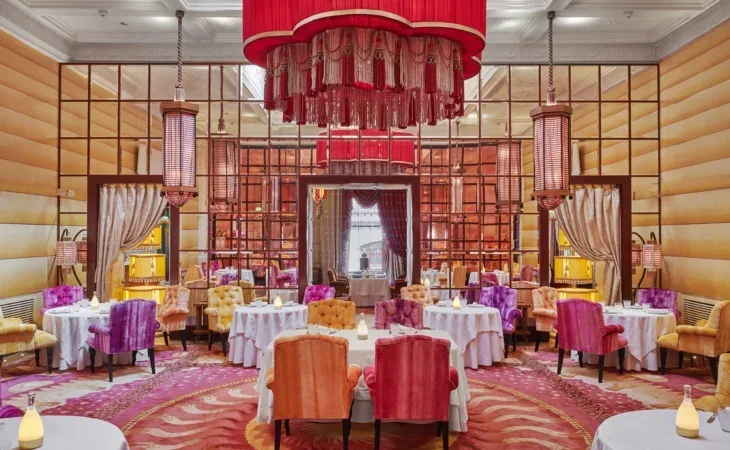 Occupying what used to be the headquarters of Christian Dior, Sketch is chic, glamorous and trendy. It has held the maximum three stars since 2020, putting it in an elite group alongside Restaurant Gordon Ramsay, Alain Ducasse at The Dorchester, Core by Clare Smyth and Hélène Darroze at The Connaught.
[See also: Sketch Reveals Redesign of Iconic Pink Dining Room]
The Lecture Room & Library, at the top of the Grade II listed building, offers haute-cuisine by the extraordinary chef Pierre Gagnaire in a plush setting of studded ivory leather walls, ornate plasterwork ceilings, and rich furnishings in purple and crimson. Gagnaire has a global empire to run, so he entrusts Johannes Nuding to run the kitchen in his place.
Diners can choose between a seven-course tasting menu (vegetarian available) or a full a la carte menu. There is also a vast wine list containing some impressively expensive vintages on offer. An added bonus here is the guest bathrooms, which look like something out of a Stanley Kubrick film and are without doubt the most Instagrammable toilets (if there is such a thing) in London.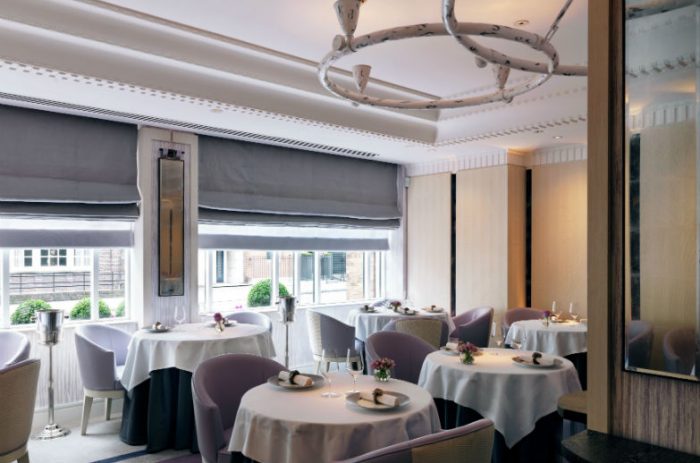 Combining contemporary elegance, an intimate ambiance and unparalleled service, Restaurant Gordon Ramsay is a must for the culinary connoisseur. It has retained three Michelin stars since 2001, making it one of the longest-standing three-Michelin-starred restaurants in the world.
Since its opening, it has continually wowed diners with its consistent devotion to quality. The menu prides itself on superb ingredients and sublime flavor combinations, whilst the size of the restaurant – only 14 tables – ensures every diner receives an exceptional degree of attention.
The restaurant has retained its high standards despite losing the incredibly talented Clare Smyth, who left her position as head chef in 2016 to open her own London restaurant, Core, which also features on this list. Today, Chef de Cuisine Matt Abé, who worked under Smyth, is responsible for the kitchen.
The first London venture of UK culinary master Heston Blumenthal, Dinner was one of the city's most anticipated openings. It has since gone on to justify the excitement and is now widely considered to be one of the best restaurants in the country.
Paying homage to historical British cooking, the menu reclaims traditional dishes dating back to the 16th century, reinventing them for the modern day. The menu lists dishes with the year they were first cooked, and Heston's trademark wit is on top form with clever hints of antiquity and lights that resemble classic jelly molds.
Fans of Heston's molecular gastronomy will enjoy the signature 'Meat Fruit' while the crowd-pleasing triple-cooked chips retain a place on the menu almost three decades after he first pioneered the dish.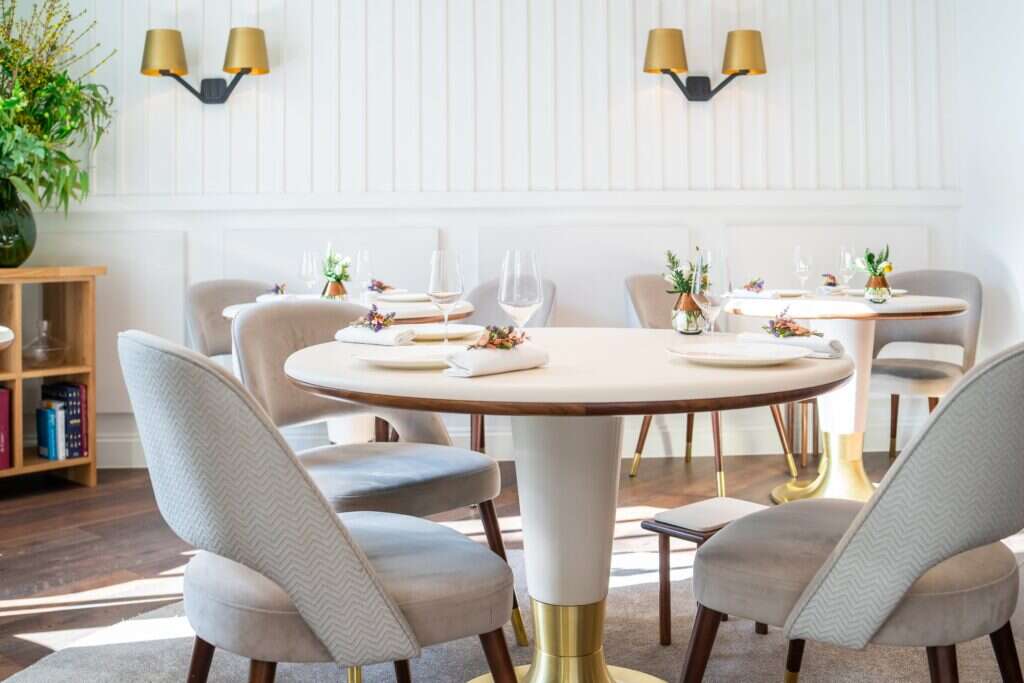 Previously head chef at Restaurant Gordon Ramsay, Clare Smyth struck out on her own and has since established one of the best restaurants in London. Core was widely tipped to gain a coveted third star in the 2020 Michelin Guide but was instead held on two stars to the surprise of industry experts. It only took one more year for Smyth to achieve the pinnacle of fine dining, earning that third star in 2021.
The vibe at Core is different to what you might expect; Smyth calls it "casual luxury," taking humble ingredients like the potato or carrot (the Lamb Carrot, a dish of braised lamb but with the carrot taking center stage, is one of Core's signatures) and "flipping it on its head" to create sustainable haute cuisine.
The blend of high-end and casual is in a refreshing twist that adds to Core's atmosphere. Smyth wants everyone who comes in to have a good time and to make sure diners relax enjoy themselves, something that she thinks is more important than winning awards.
Set within Ten Trinity Square, the former Port of London Authority HQ that was recently re-masked into a breath-taking Four Seasons Hotel, La Dame de Pic is the work of internationally acclaimed chef – Anne-Sophie Pic. Coming from a family of successful chefs (Pic's father and grandfather both attained three Michelin stars at the family restaurant in Valence), Pic's decision to open a London outpost was met with huge fanfare across the capital.
[See also: The Chefs Fighting to Make Fine Dining Sustainable]
With a relaxed feel, the restaurant's pared-back interior focuses on offering guests a completely unpretentious experience, giving full attention to Pic's beautifully presented cuisine. Offering a menu that flits between British and French cuisine, the majority of the ingredients are British produce. Pic's ability to merge these two neighboring nations is what makes La Dame de Pic so spectacular and shows why she is widely regarded as a legend in the restaurant world.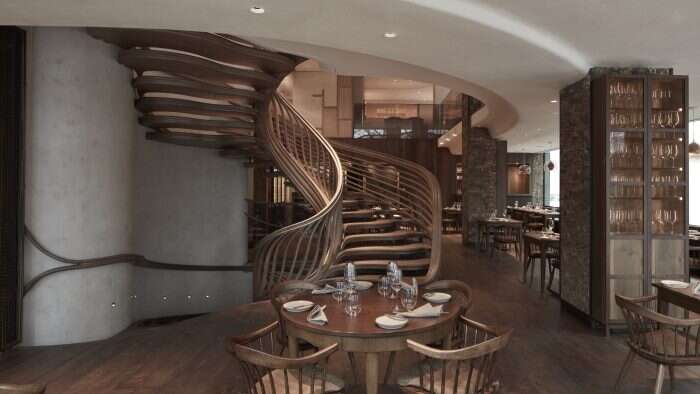 The imposing HIDE Restaurant opened in London's upscale Mayfair last year and has, without a doubt, become one of the best restaurants in London. It sealed this reputation when it earned its first Michelin star just six months after opening its doors. The restaurant's early success is due to a number of factors, including its incredible wine list, the beautiful Instagram-worthy interiors and the ingenious food from one of Britain's most talented chefs, Ollie Dabbous.
The restaurant is an innovative concept and is split into three distinct areas – Above, Ground and Below – and a selection of stunning private dining rooms. It is at HIDE Above that Dabbous displays the pinnacle of his culinary ability but until recently the only way to experience it in the evening was in the form of a five or eight-course tasting menu.
HIDE Above's menu changes often but the signature dish is the Nest Egg, an eggshell filled with a concoction of egg yolk, smoked butter, toasted mushrooms and cream – is an ingenious little dish and worthy of its reputation.
The Ritz
Although The Ritz is the epitome of old-school luxury, its restaurant continues to lead the charge with innovative and ingenious haute cuisine. The kitchen, run by head chef John Williams, holds one Michelin star although industry experts will tell you it deserves at least one more. The dining room is an experience in itself with Louis XVI-inspired décor, towering marble columns and rows of chandeliers. The sense of luxury is maintained with an old-fashioned dress code: Gentlemen are required to wear a jacket and tie at all times whilst in the restaurant.
Head chef Williams is passionate about British produce and champions it wherever possible. The seven-course Epicurean Menu takes diners on a journey around the British Isles, from the Cornish moors to the Scottish Highlands. The service also stands out here with the staff adhering to the highest standards of traditional values.
Australian chef/patron Brett Graham has been wowing diners at The Ledbury since 2005. It earned its first Michelin star just a year later and added a second in 2010, which it retains to this day. The restaurant has benefitted from Graham's continued presence and continues to win the hearts and minds of well-heeled Londoners.
Diners can order à la carte from a spectacular array of expertly prepared dishes or, if they are feeling bold, experiment with an eight-course tasting menu, particularly fun in larger groups. The menu champions seasonal ingredients and comes with an excellent wine pairing.
[See also: The Chefs with the Most Michelin Starred Restaurants]