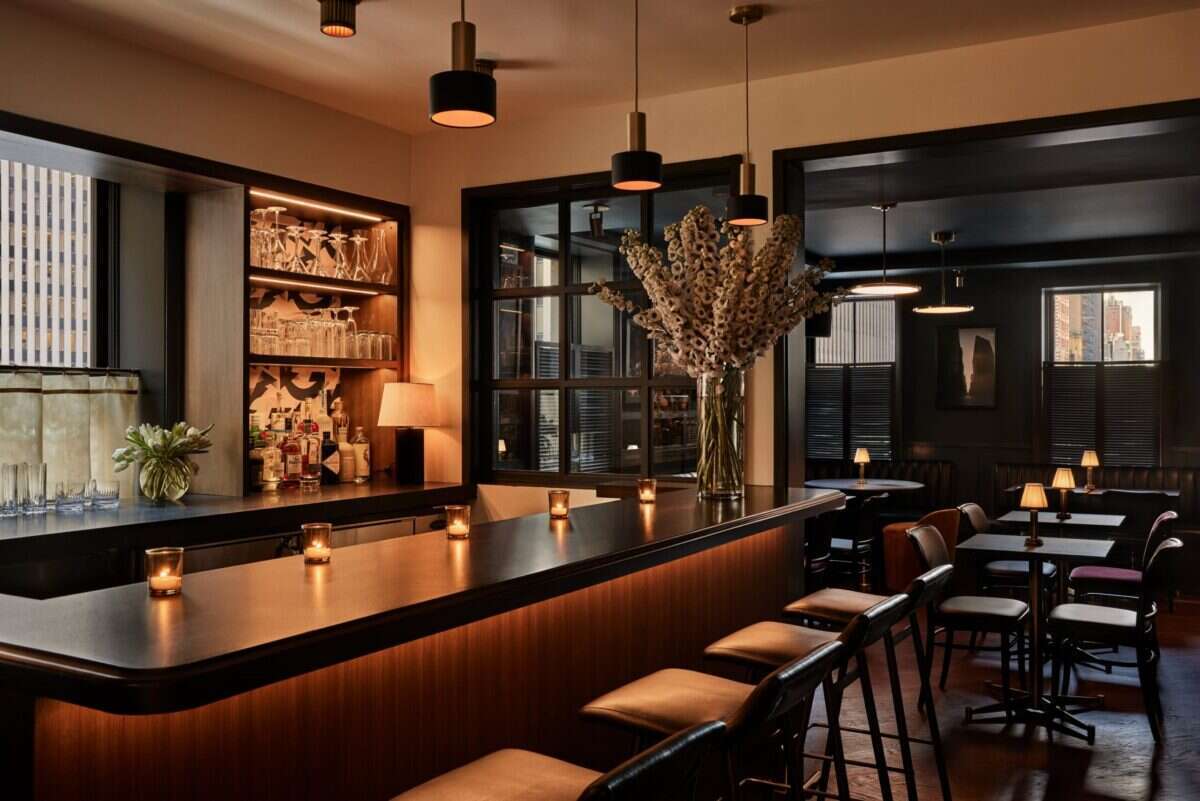 Over two decades ago New York City mourned the loss of Hurley's bar. Situated at Rockefeller Center in the heart of Midtown Manhattan, the legendary watering hole counted Jack Kerouac, David Letterman and Johnny Carson among its eclectic clientele. Now, the storied townhouse has reopened its doors as Pebble Bar – a stylish new hotspot backed by a slew of celebrity investors including Justin Theroux and Mark Ronson.
If the opening party is anything to go by, the new bar and restaurant looks set to become the go-to hangout for well-heeled New Yorkers. It's a fitting revamp for a building with such a rich history.
Constructed in the 1870s, Irish bartenders John and Daniel Hurley first opened the pub in 1892. When Prohibition arrived the brothers transformed the front of the establishment into a flower shop to hide the speakeasy upstairs accessed via an unmarked side entrance on 49th street. Years later, they successfully fought eviction when demolition of the Rockefeller Center began, forcing the new 62-story RCA building to be constructed around the townhouse.
[See more: The Best Luxury Rooftop Bars in NYC]
Having weathered these storms, Hurley's became a popular haunt both with locals and workers from the surrounding broadcast networks, newspapers and publishing houses. But the beloved bar finally closed its doors in 2000.
Over two decades later, the brownstone has been transformed into a brand new drinking and dining destination. The owners of Pebble Bar certainly know a thing or two about what it takes to succeed in New York's competitive culinary scene. Noah Bernamoff, Julian Brizzi, Matt Kliegman, Carlos Quirarte and Matthew Charles are the talented names behind some of the city's hottest eateries and bars including Ray's, The Jane Hotel Ballroom & Rooftop, The Georgia Room and Grand Army.
As you would expect, Pebble Bar is seriously luxurious. Designed by John and Christine Gachot (founders of Gachot Studios) the cozy Art Deco interiors are filled with thoughtful touches that reference the building's history. From the moment you step through the glossy black doors into the warm oak-paneled lobby you know you're in for a treat.
[See more: Gucci Opens Stylish Cocktail Bar in Florence]
On the second floor, you'll find a back-lit glass and brass bar overlooking 6th Avenue – the ideal spot for whiling away an evening. It's walk-in only so you'll need to get there early to secure a spot.
Needless to say, when it comes to drinks you're spoilt for choice. Be sure to sample the signature Carousel cocktail (named after the fabled Jazz club on 52nd Street) made with El Silencio Mezcal, pineapple, Campari and lime. There's also an extensive selection of beers from New York's most exciting breweries and a lengthy wine list dominated by sustainable, family-owned producers.
And if you're looking to enjoy a bite to eat, head up to the striking dark blue dining room and bar on the third floor. Perhaps the most impressive setting in the building, the moodily lit space is dotted with stone tables, brass lamps and black-and-white photographs of the city.
[See more: The Best Hotels in New York]
Helmed by executive chef Carlos Barrera (previously of The Lobster Club), the menu features plenty of seafood culinary delights. Highlights include the east and west coast oysters lightly dressed with an apple mignonette and, of course, the indulgent whole Maine lobster served with horseradish cream and a pear and habanero relish. As for bar snacks, the addictive pretzel bites with creole mustard are not to be missed.
Finally, up on the fourth floor overlooking 6th Avenue, you'll find Johnny's – an event space that hosts up to 50 guests. Taking its name from TV host Johnny Carson (who famously had his own personal back entrance to Hurley's), the space features beautiful bespoke furnishings, stone coffee tables, a bar and a shiny black piano. With attentive staff on hand to cater to your every whim donning uniforms designed by J.Crew's creative director, you'll be hard-pressed to find a hotter party spot in the city.
Pebble Bar is open 5pm to midnight Sunday to Wednesday, and 5pm to 2am Thursday to Saturday.
[See more: The Best Restaurants in New York]