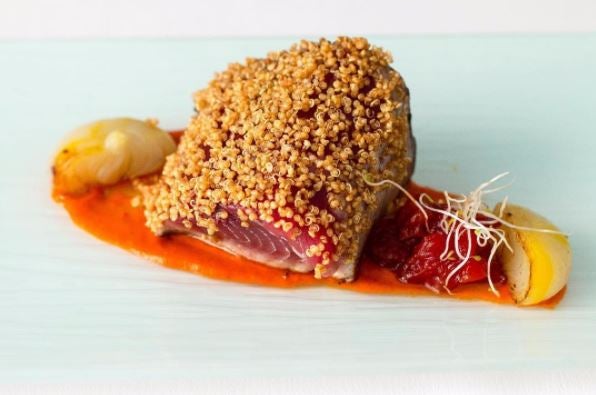 Across this enticing coastal region, each individual town proves its own culinary worth as chefs combine local ingredients and Sicilian tradition with contemporary cooking techniques and a wealth of passion and creativity. While outstanding dining spots are in abundance, here's our pick of the five best restaurants in Sicily.
The Principe Cerami
One of the great draws of Taormina's former monastery turned luxury hotel San Domenico Palace is its two Michelin starred restaurant, the Principe Cermani, which overlooks the Ionian Sea. Run by chef Massimo Mantarro, the restaurant showcases haute cuisine with Sicilian roots, featuring dishes such as homemade ravioli with saffron, ewe's ricotta cheese, wild fennel, pine nuts and anchovies tartare, and Mediterranean red mullet stuffed with vegetable caponata, accompanied by tomato terrine, rocket and mayonnaise of almonds aromatized with Iblei capers. Two different tasting menus provide the ideal introduction to the restaurant's celebrated cuisine.
La Madia
At two Michelin starred La Madia in Licata by lauded chef Pino Cuttaia the focus is placed on sustainable cuisine based on a love for the surrounding land and the craft of cooking at this level. Flavors and aromas are created to reflect Sicilian tradition, with three multi-course menus to choose between—for the scale of Sicily, illusion and the beautiful sea—and a number of a la carte options. Dishes could include Nebrodi black pig, pizziola with shellfish and cod, and Sikano fish tataki. The contemporary dining room is also representative of the region with light wood walls and quotes from the chef that are integrated into the decor.
Restaurant Vicari
Tucked into the small historic town of Noto, Restaurant Vicari combines a light modern interior with food that pays respect to nature, the seasons and the region. Owing to his passion, connection to Sicily and experimentation with texture, color, aromas and taste, chef Salvatore Vicari creates beautifully presented dishes, from black cuttlefish risotto to roasted scallops with red prawns, carrot, zucchini, apple, peppers, onion and rice chips, followed by an indulgent tasting dessert encompassing all of the chef's sweets. In the same way ingredients are sourced from local farmers and producers, the wine comes from boutique wineries in Sicily and others parts of Europe.
Ristorante Regina Lucia
It's in the fresco filled Borgia del Casale palace on Piazza Duomo in Siracusa that this atmospheric restaurant lies. Stone arches and chandeliers create an opulent backdrop for dining on authentic Sicilian cuisine, or you can choose to sit outside on Duomo Square. The season's best ingredients are brought together by chef Salvo Calleri to create a sea and mountain 'taste journey'. The wine is then chosen to represent Sicily and the terroir this region takes pride in.
La Capinera
Shining a light on Taormina's connection to the sea, La Capinera overlooks the water with an open-fronted terrace to make the most of the view. The Michelin starred cuisine of chef Pietro D'Agostino then combines the seafood that's in such abundance here with the season's locally grown vegetables and fine Sicilian oils. In this way, Sicilian tradition is fused with contemporary gastronomy in dishes that are perhaps best experienced through the chef's tasting menu. If a la carte is preferable, choose between seasonal plates such as roasted octopus, stuffed red mullet, black taglioni pasta with sea bass ragout and oven roasted amber jack.
pietrodagostino.it/la-capinera