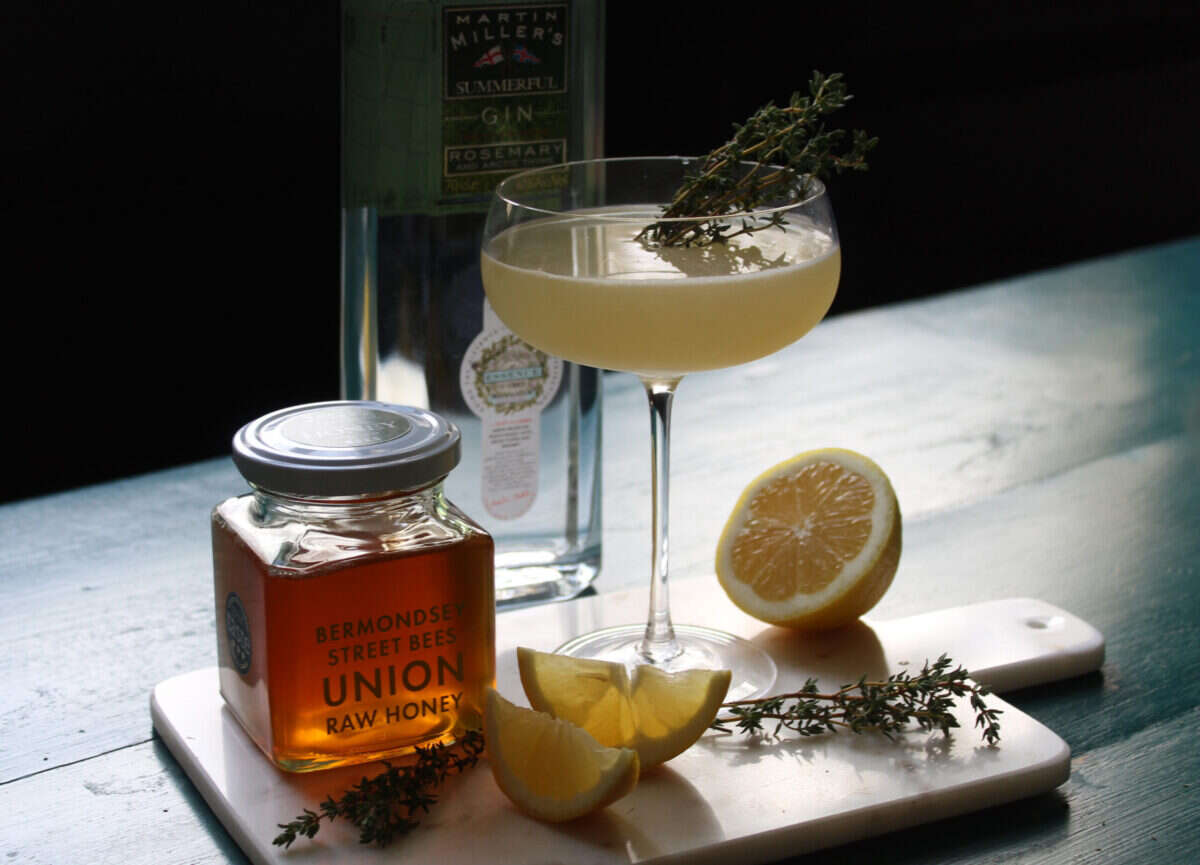 This year, The United Nations has named May 20 as World Bee Day. The purpose is to shine a spotlight on the important role that pollinators play — and the threats they face.
As is well-documented, those fuzzy bees are vital to our planet's ecosystems. The pollinators have a crucial role in both food supply and biodiversity. Of the 25,000 species of bee on Earth, only seven are honey bee species. The honeybee species is the most efficient and successful pollinator and it is of vital importance to protect the species. 
So, to promote World Bee Day and World Bee Week, Martin Miller's Gin and Bermondsey Street Bees (a honey farm that produces sustainable, raw English honey) have partnered to celebrate by creating the Bee's Knees cocktail. 
[See also: Victoria Blamey Goes Solo at Mena in New York City]
If you happen to visit some of London's buzziest (pun intended) bars from May 16-23, you'll receive complimentary thyme seeds with your Bee's Knees cocktail to plant at home and start your own thriving bee community. Venues include the Duchess of Dalston, Callooh Callay Chelsea, Islington's Little Bat, Gold in Notting Hill and Wild Tavern in Chelsea. 
Since its launch in 1999, Martin Miller's Gin has consistently won awards for its excellence. It was born from a 'mad' idea to create the world's best gin, and has since held the title of the world's most awarded gin brand for the last 15 years. 
The gin turns conventional gin production on its head, instead favoring a unique dual distillation process. Liquid is distilled in England using botanicals — first, it is distilled with juniper and earth botanicals and dried lime peel. Then a separate distillation takes place for the citrus botanicals, before combining both distillates. The combined distillates are then blended with pure Icelandic water, giving an Arctic quality to the final result. 
Martin Miller's Summerful Gin, as used in the Bee's Knees recipe, adds an extra distillation of Rosemary from England and Arctic Thyme from Iceland. The result is fresh and crisp which brings a lovely balance with the raw honey.
Ingredients:
50ml Martin Miller's Summerful Gin
25ml fresh lemon juice
20ml Bermondsey Street Bees Exmoor Honey
Method
Add the gin, lemon juice and honey to a shaker with some cubed ice. Shake until chilled. Strain into a cocktail glass.