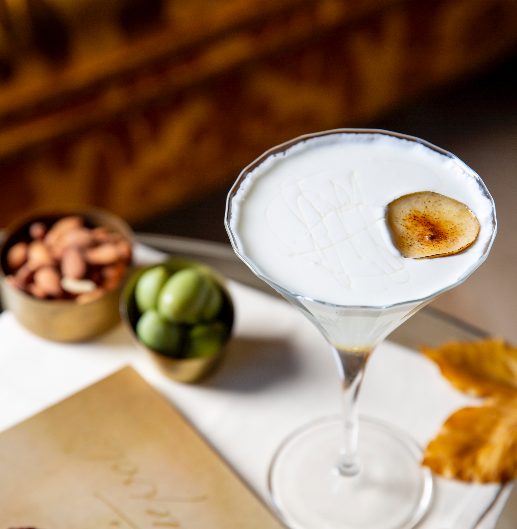 CH-estnut Cocktail at the Tiepolo Lounge & Terrace at Rome Cavalieri, a Waldorf Astoria Resort
1 ½ OZ Grey Goose Le Poire Vodka
1 ½ OZ White Cacao Cream
Top with chestnut whipped cream
To make, add vodka and cacao liqueur in a shaker with ice. Shake and stir in a martini cup. Top with chestnut whipped cream.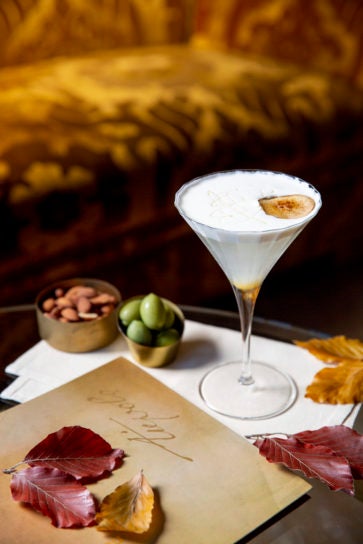 There's no better way to celebrate the fall and winter seasons than with a delicious cocktail. Head to Rome Cavalieri, a Waldorf Astoria Resort, and have a drink at the Tiepolo Lounge & Terrace. Forget about the dwindling temperatures and order the CH-estnut Cocktail, a perfect combination of pear-flavored vodka, white cacao cream and chestnut whipped cream that is all about comfort and indulgence.
If weather permits, the outdoor terrace is absolutely stunning, surrounded by greenery, fall foliage and stunning pools. Inside, the bar pays homage to Venetian art at every turn. The distinctly modern restaurant has a unique curved ceilings, quilted leather couches and lounge chairs and a stone, curved bar – all surrounded by centuries-old paintings and sculptures. The open-plan space is ideal for an evening cocktail, whether it's after work or before a weekend show.
If afternoon tea is more your style, the restaurant hosts incredible tea time. Indulge yourself in finger sandwiches, scones, pastris and fruit sushi on exquisite vermeil tea sets. Exotic tea blends from China and Japan are on the menu, including Yin Zhen, a rare, white tea and Budda Ama-Cha, an exotic green tea grown near Kyoto.
At night, the hotel's in-house pianist, Jaffa, plays jazz beneath an 18th-century work of art. Spend a night enjoying the best music, art and culture all in one room. Small bites are also served.
The resort in Rome is in close proximity to some of the Italy's best cultural and entertainment attractions, and the hotel has incredible views overlooking the entire city. Make sure to book the Penthouse Suite or Planetarium Suite, each with its own private terrace and hot tub.
For more information, visit romecavalieri.com