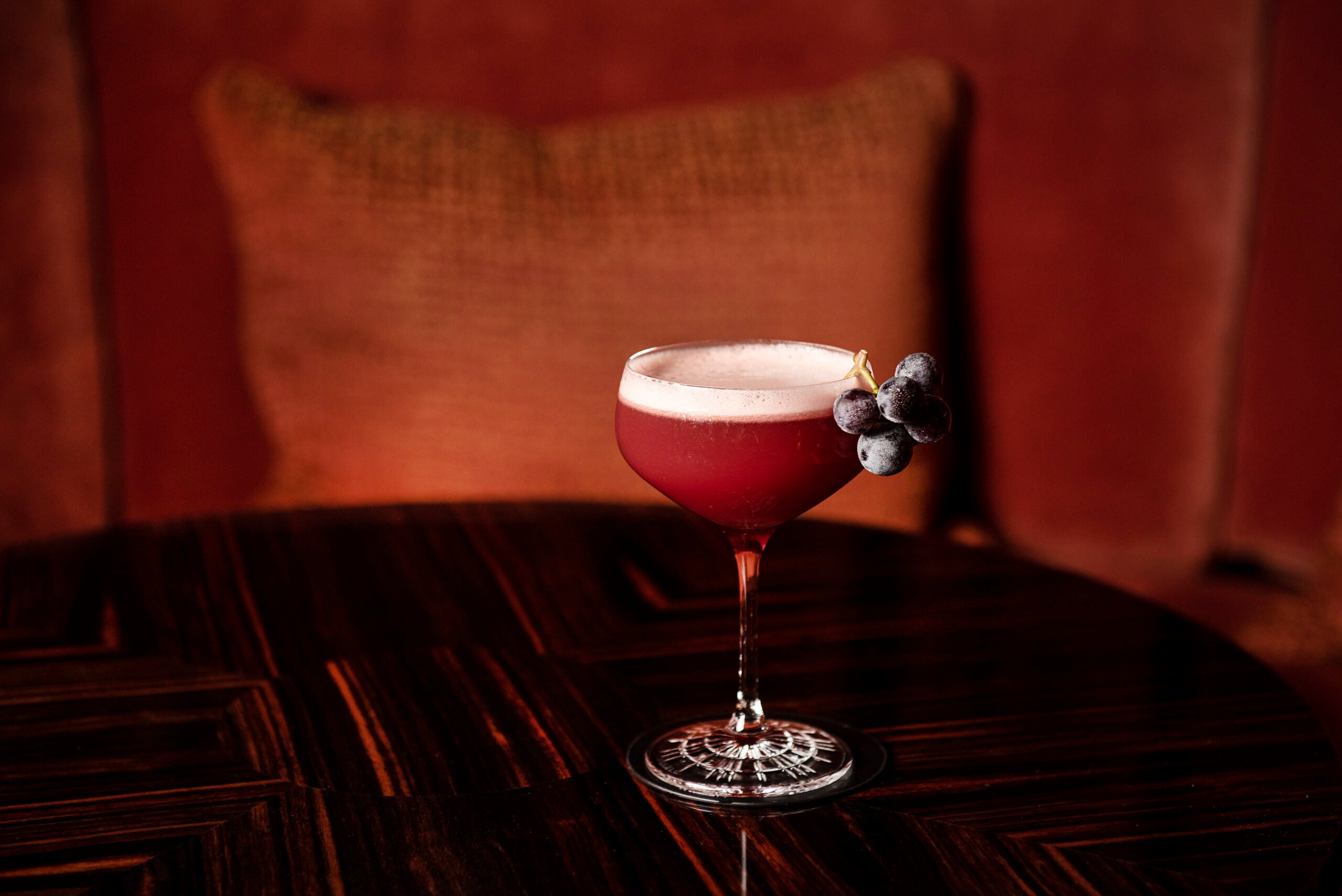 The Gilberto at Le Club in New York City
2 dashes Dale Degroff Pimiento Dram
1oz concord syrup
1oz lemon juice
1oz Cuvasion Chardonnay
1.5oz Miguel Torres Pisco Gobernador
To make, shake all ingredients with ice and strain into a coupe glass. Garnish with frozen grapes. To make the concord syrup, use 1 quart concord grape juice, 1 quart domino sugar and 1 cup seedless black grapes. Combine in a blender and blend on high. Strain through a chinois.
Le Club is the ultimate New York nightlife experience for those who love a swanky atmosphere and the perfect craft cocktails to match. Located in the front part of two-Michelin-starred L'Atelier de Joël Robuchon in the city's Meatpacking District, Le Club is the spot's sister restaurant and is a buzzing spot for those who love Manhattan's nightlife. It was once in the spot that Le Grill de Joël Robuchon occupied, but in summer 2019 was revitalized as a closed-off cocktail venue.
Le Club has weekly daiquiri specials and all wines are served from magnums. Fresh cocktails are crafted weekly and are ever-changing on the menu. The creative drinks include The Gilberto, but also drinks such as the Yellow Jacket, with Peleton of the Muerte Mezcal, elderflower, yellow chartreuse, Lustau Manzanilla Sherry and bitters – a delicious concotion of only the finest ingredients. Mocktails, signature drinks and wine by the glass in magnums are always on the menu. The impressive wine and champagne selection will delight even the finest connoisseurs.
If you're not heading to a delicious dinner at L'Atelier after, stay for some French-inspired bites, including foie gras crème brûlée with green apple foam, tarte flambée flatbread with veal bacon and truffles or beef sliders with onion confit.
On Wednesdays and Fridays, a DJ lights up the room with an energetic music vibe.
For more information, visit leclub-newyork.com