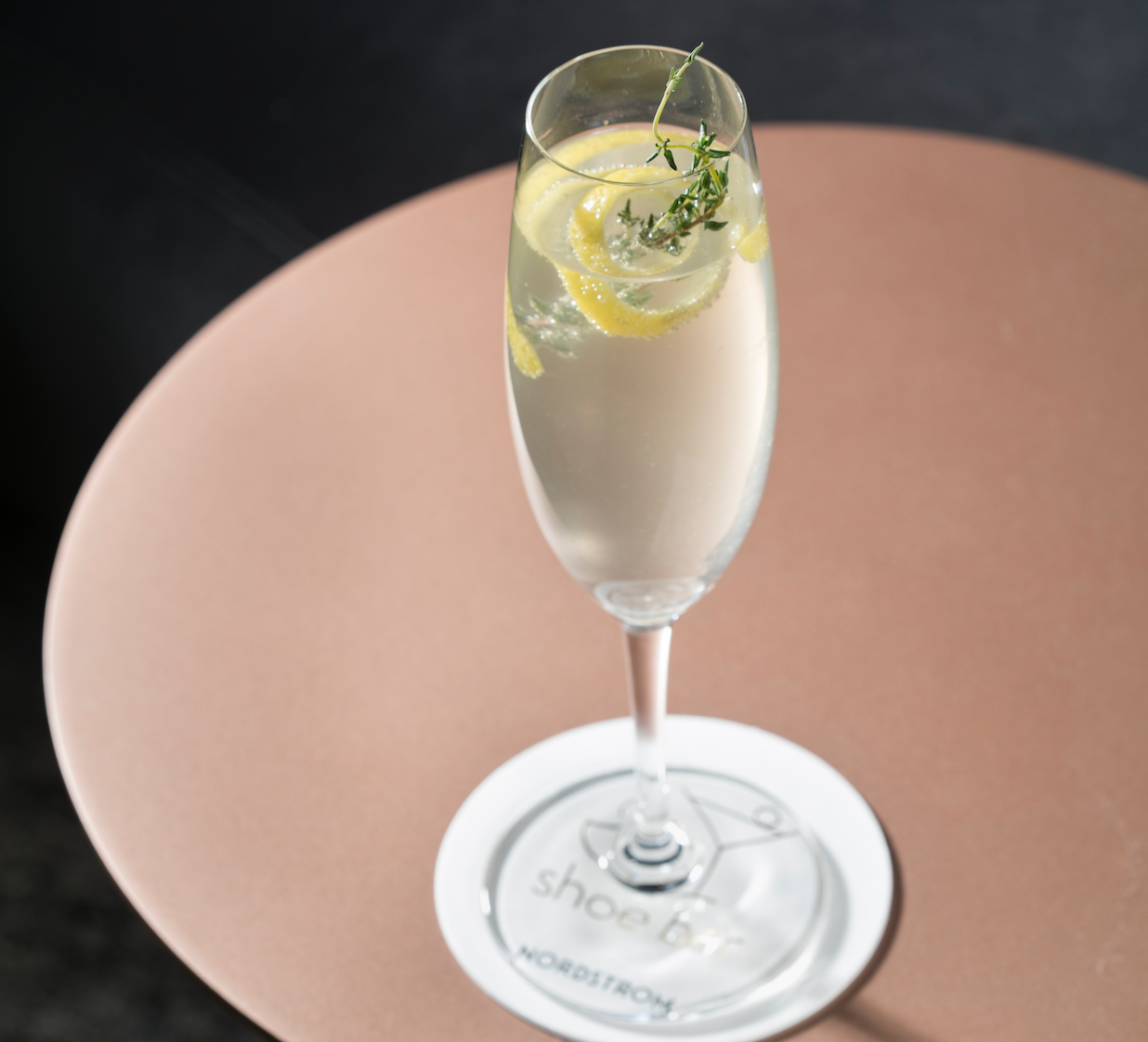 Greenwich Village cocktail at Shoe Bar at Nordstrom in New York
.5 fl oz pear brandy
.5 fl oz Domaine de Canton liqueur
1 scoop ice
5 fl oz prosecco
1 twisted lemon peel
1 sprig of fresh thyme
To make Greenwich Village, add pear brandy, Domaine de Canton liqueur and ice to a pint glass. Cap and shake vigorously 20 times. Strain the cocktail into a champagne flute, top off with prosecco and garnish with a twisted lemon peel and sprig of fresh thyme. While you might not be shopping (or leaving your house) anytime soon, you can absolutely whip up this delicious cocktail at home.
Late last year, Nordstrom's Manhattan flagship opened on 57th and Broadway with an onslaught of exciting concepts, including Nordstrom Beauty Haven, including Face Gym center that gives facials and several restaurants and bars, including Shoe Bar.
Located in the, well, shoe department, Shoe Bar is a full-service bar on the floor where shoppers can order a cocktail or beverage before, during or after they shop. The chic bar has creative cocktails named after New York neighborhoods, like Greenwich Village, and there are high-top seating at a gray marble bar. It's not separated in its own room, so you can see the buzz of shoppers while you are sipping. There are also several cafes on this floor, whether you're craving mochi doughnuts, gelato or freshly baked pastries and coffee.
Nordstrom's flagship store has so many additional draws (some liken it to a retail amusement park), including a dedicated Nordstrom x Nike boutique; pop-ups (when the store first opened, there was a Burberry store pop-up and cafe); phenomenal art pieces hanging throughout the department store; dedicated brand-specific shops, like Comme des Garçons; creative displays (like a conveyor belt of children's shoes); and a Dirty Lemon water vending machine.
For more information, visit nordstrom.com