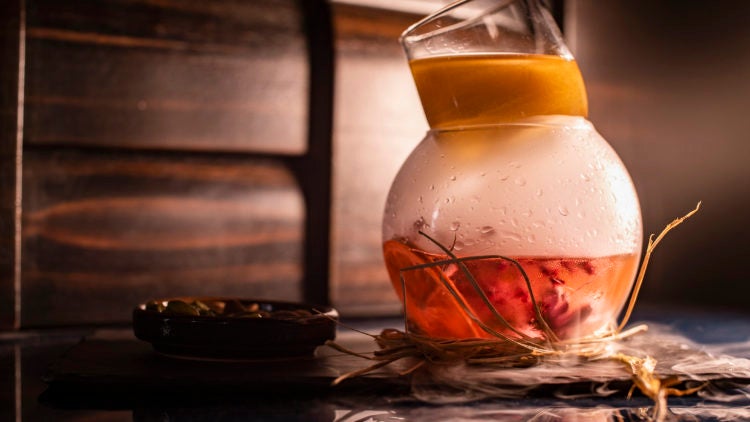 Secret Garden at Shangri-La Bosphorus, Istanbul
Top glass:
100ml orange juice
50ml Hennessy VS
20ml honey
1ml Disaronno liqueur
Bottom glass:
200ml hot water
2 dried orange slices
2.5g dried rose leaves
2.5g rose hip
To make the Secret Garden cocktail, first stir all ingredients into a fishbowl-shaped container that will be the bottom glass. Then, in a mixing glass with ice, mix together orange juice, Hennessy, honey and Disaronno. Drain the mixing glass into the smaller glass. Smoke bottom glass with the dry herbs and put the small glass on top of the big glass. You can either drink the top glass on its own or drink the bottom as a tea – and for extra flavor, you can mix both drinks together and enjoy.
The Secret Garden cocktail at Shangri-La Bosphorus, Istanbul isn't just a beautiful and eye-catching drink; it's inspired by historical homemade medicines used to cure the flu. Natural herbs (such as the dried rose leaves and rose hip) have traditionally been used to cure myriad ailments.
At Shangri-La Bosphorus Istanbul, right along the Bosphorus River, you can enjoy drinks and small plates at either The Lobby Bar or Le Bar. Le Bar is a chic, contemporary-styled lounge that serves tapas and cocktails, while The Lobby Bar is the ideal spot for afternoon tea overlooking the water in an elegant, refined space. Both spots garner seriously incredible views over the resort's grounds.
Retreat to the 3,940-sq-ft Shangri-La Suite on the highest level. There's an expansive private terrace with a lounge area and dining table, an elegant living room awash in delicate fabrics and neutral hues and a gorgeous dining room with a large circular table for large parties. The two-bedroom suite has separate living and dining areas for the utmost privacy within the suite.
For more information, visit shangri-la.com