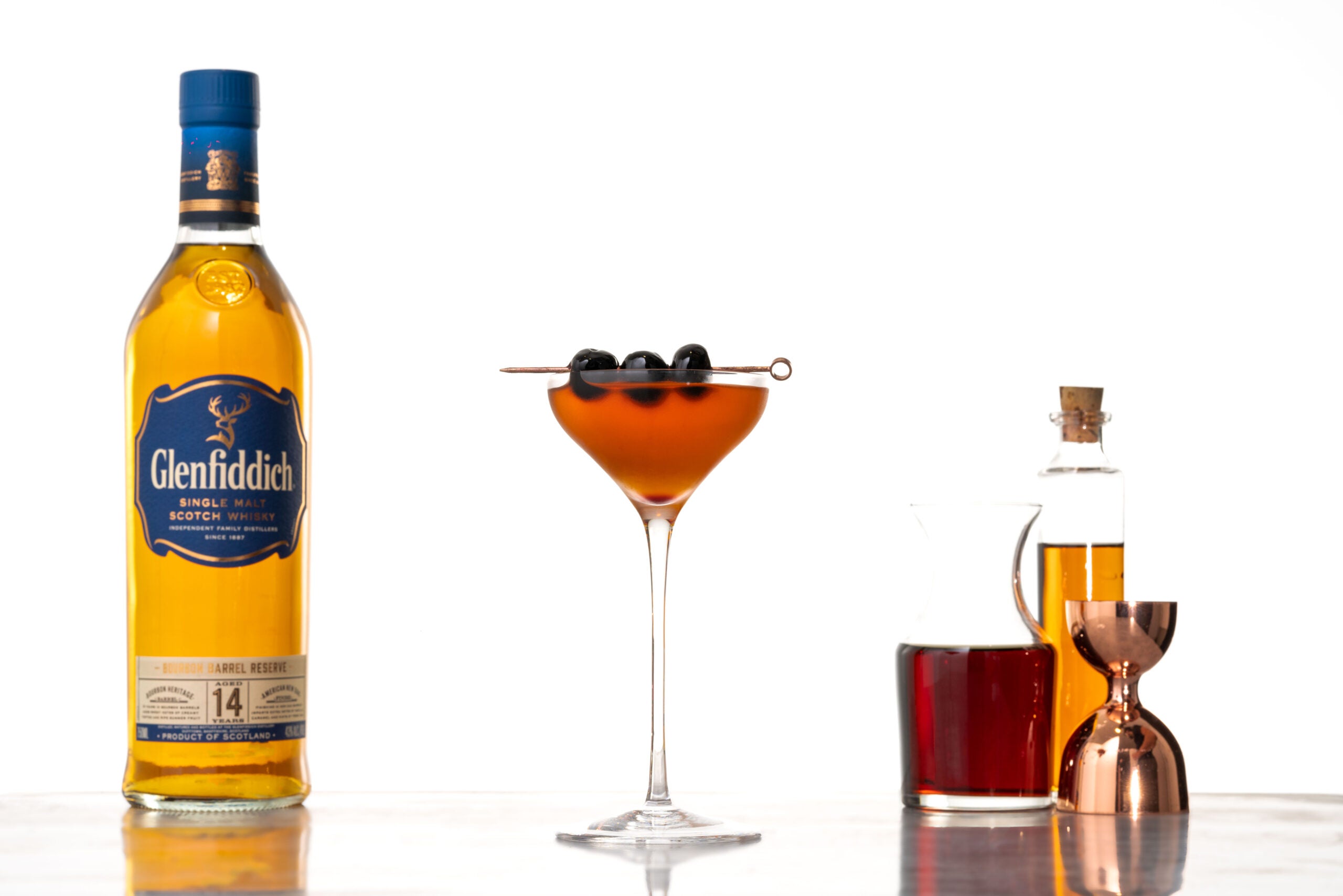 Glenfiddich Rob Roy
2 parts Glenfiddich 14 Year Bourbon Barrel Reserve
3/4 part sweet vermouth
1/4 part oloroso sherry
1 bar spoon Bénédectine
Brandied cherries
Combine all ingredients in a mixing glass and stir over ice. Strain into a coupe and garnish with brandied cherries.
Happy National Scotch Day! Scotch whisky dates back to the 1400s and is defined by using only malted barley to make and, of course, made in Scotland, and Glenfiddich is no exception to this. Founded in 1887 by William Grant, Glenfiddich (meaning Valley of the Deer in Gaelic) is still today a family-owned business that produces exceptional single malt whisky. In honor of National Scotch Day, pour a dram of one of your prized bottles of Glenfiddich (there are more than 35 bottles ranging in taste, color and age) or create a Scotch cocktail made using one of your favorite everyday expressions, such as the 14 Year Bourbon Barrel Reserve.
Sweet vermouth, oloroso sherry and Bénédectine work together to bring out the sweet notes of the 14 Year Bourbon Barrel Reserve, which have notes of vanilla, caramel, creamy toffee, brown sugar, fresh pear and apple. The spirit matures in ex-bourbon American Oak casks and then charred in new American Oak barrels, pairing the differing tastes of bourbon and Scotch in one unique blend. Sweeter and more vibrant than Glenfiddich's other expressions, it's perfectly rich, sweet and woody.
If you're more of a sipping whisky person than a whisky cocktail person, try the Glenfiddich 1973 Rare Collection. There are only 98 bottles of this 44-year-old expression in the world – good luck getting your hands on one. If you do, you will certainly pay the upmarket price (bottles can set you back more than $6,000), though it's oaky and smooth finish will be worth the cost of a velvety sip.
For more information, visit glenfiddich.com