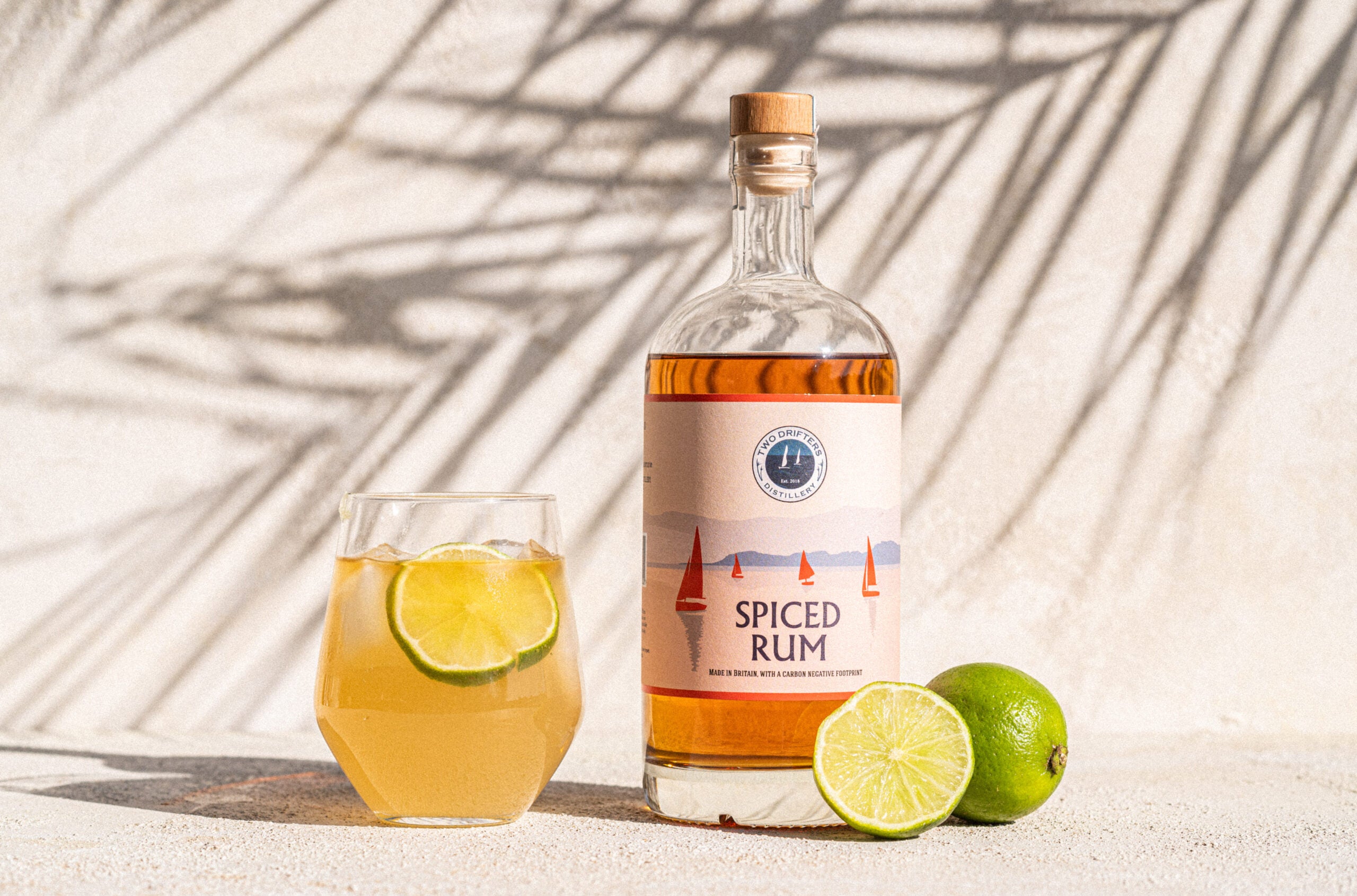 This week's cocktail, the Devon Stormy, is a spicy take on an old classic and uses the world's first carbon-neutral rum.
Two Drifters Rum is the passion project of husband-and-wife duo, Russ and Gemma Wakeham. The pair had a goal to create a well-rounded rum with a minimal impact on the planet. And they certainly delivered just that: The rum is the first to be made with a carbon-negative footprint. Russ, who has a PhD in organic chemistry, has spent a number of years working on carbon capture and utilization technologies with the desire and ability to make the business about more than just an eco-friendly product. The brand was recently recognized for removing another 1.832 tonnes of CO2 from the air, which is more than the business has created. 
The family-run operation is based in Devon, UK,  and produces the award-winning (Food and Drink Devon Gold 2020, and Double Gold at the China White and Spirit Awards 2020) rum in its bespoke warehouse. 
The White Rum is made from 100% fermented molasses and twice distilled in pot stills before a further distillation in a column still. The popular Overproof Proof Pineapple Rum adds pineapple and salted caramel to the award-winning Spiced Rum recipe. 
[See also: The Most Expensive Whisky Ever Sold at Auction]
The Spiced Rum has super-smooth white rum with a blend of signature spices and natural flavors that are added 24 hours before filtering and bottling. The Spiced Rum is used for this fresh and spicy take on a Dark N' Stormy: the Devon Stormy. 
The Spiced Rum has a smooth, hearty flavor, and while the brand's signature blend is considered the sipping rum, this spiced variety also goes down a treat. With vanilla and star anise notes, it has a subtle, slightly tingly aftertaste. The ginger beer brings a fiery sweetness. Opt for a Luscombe ginger beer (also from Devon) and enjoy this cocktail just the way that co-founder Gemma Wakeham does — it's her favorite drink. 
Devon Stormy
Ingredients:
3 tbsp Two Drifters Distillery Spiced Rum 

Ginger beer

Wedge of lime, wedge of orange and 2 slices of root ginger to garnish
Method:
Measure the three tablespoons of spiced rum into a tumbler with ice. Fill with ginger beer. Garnish with a wedge of lime, wedge of orange and 2 slices of root ginger.