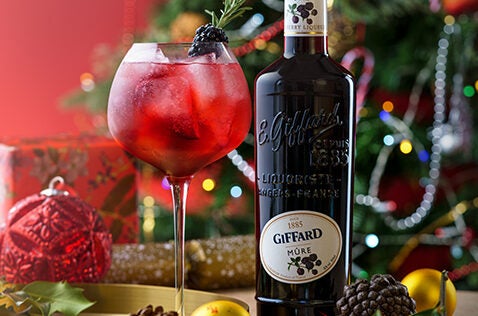 The festive season is well and truly upon us. And with it comes holiday gatherings and family reunions, so what better time to up your cocktail game? 
An oft-forgotten component of many cocktails is a decent liqueur. A liqueur can elevate a cocktail to the next level and is a quick (and easy) way to make a remarkable addition to an old favorite. 
Known as 'the encyclopedia of authentic French liqueurs,' Giffard is a French liqueur brand that dates all the way back to 1885. During an especially hot summer in Angers, a medieval town in the Loire Valley area of France, Émile Giffard — who was a dispensing chemist at the time —  was inspired by both the digestive and refreshing properties of fresh mint. He created a white mint liqueur which he offered to guests at the Grand Hotel in order to provide some much-needed relief from the heatwave. 
An instant hit, Émile turned his pharmacy into a distillery and thus Giffard was born. Five generations later, the brand is still a family business and all liqueurs are made in France using fruits and plants that are mostly from the region. Fruits are macerated in alcohol for anywhere from 48 hours to three months, and this infusion is then filtered and sweetened. The result is sweet and sharp with a tangy taste of blackberry and hints of black pepper. 
This recipe, a wintery take on a G&T, uses Giffard Créme de Mure liqueur and is spruced up with a sprig of rosemary and some fresh blackberries to bring out the liqueur's profile.
[See also: The Distillers One of One Whisky Auction Totals $4.1m]
Ingredients 
15ml Giffard Créme de Mure liqueur

40ml London Dry Gin 

Indian tonic water 

Sprig of rosemary 

2 – 3 blackberries
Method
Build 40ml of London Dry Gin, 15ml of Créme de Mure liqueur and 75ml of Indian tonic water. Pour into a copa glass, and serve with cubed ice, garnish with a rosemary sprig and blackberries.