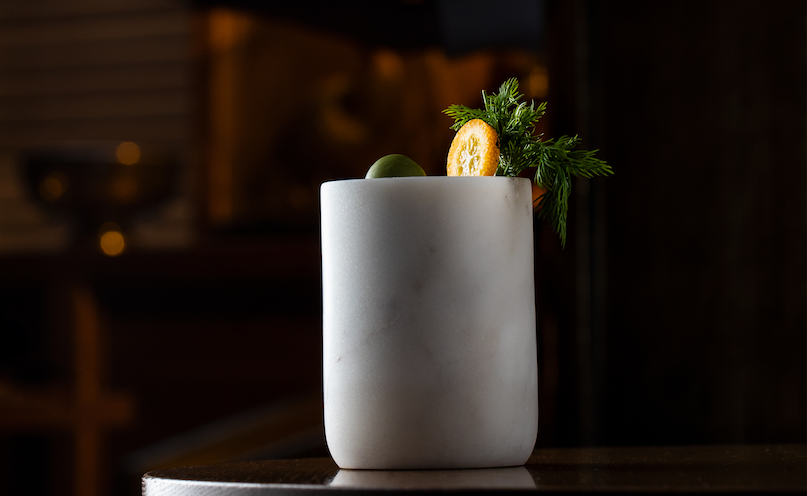 Philosopher's Punch at Punch Room, London, UK
35ml Hendrick's Gin
2.5ml Ouzo 12
15ml Roots Rakomelo
25ml salted kumquat sherbert
25ml lemon juice
25ml lemon verbena tea
Kumquat sherbert:
250g kumquat
500g clementine juice
1kg caster sugar
2.5g salt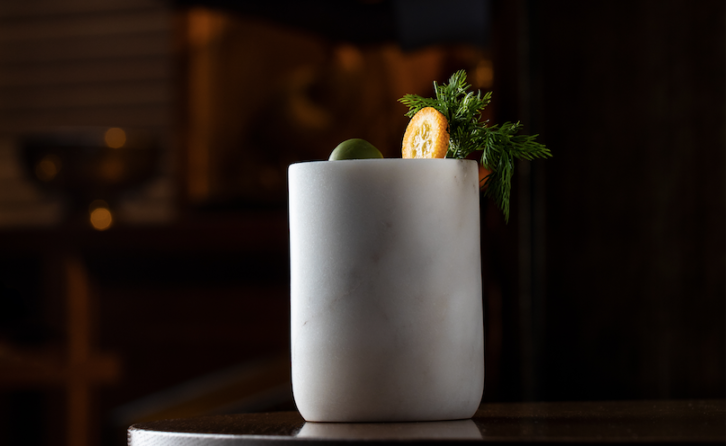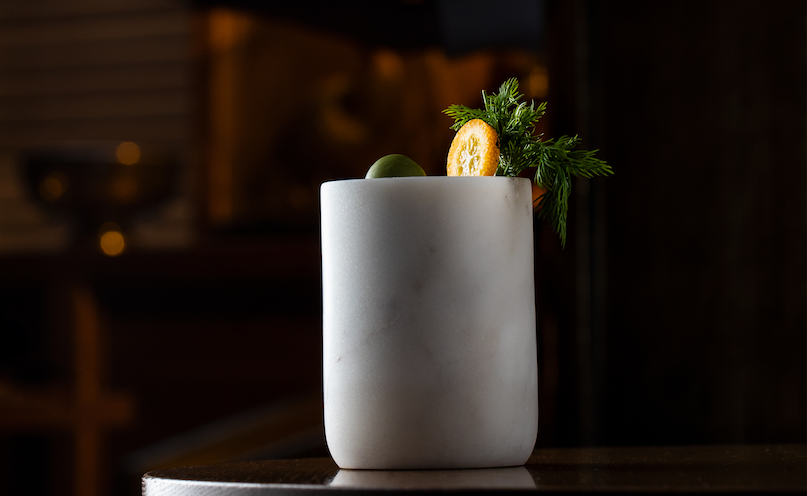 Pour spirits, kumquat sherbert, lemon juice and lemon verbena tea in a tumbler. To make the kumquat sherbert, slice the fruit in half and combine with sugar and salt in a container. Muddle kumquat until all the pulp and juice are released. Mix well and leave in the fridge overnight. The next day, add clementine juice and pour contents in a pan and reduce until the liquid becomes thick. Strain when hot. Let cool, bottle and store in the fridge for a month. Once your sherbert is finally ready, garnish with 1 kumquat, 1 olive and dill leaves. If it's a quicker cocktail you prefer, kumquat liqueur works just as well.
The Punch Room at The London Edition hotel in the city's Fitzrovia neighborhood wouldn't look out of place on Mad Men — it's a wood-paneled room with a sensuous ambience (your main source of light comes from a crackling fire and candles on each table)  and recalls a 19th-century countryside manor with an updated urban feel. The hotel bar recently unveiled its next installment of 'The Five' series of cocktail menus called 'The Five: Volume III,' which celebrated the five classical elements. Each cocktail on the menu has a specific tie to each. 
Inspired by Aristotle's theory that there are five elements that make up our world, bar manager Andy Shannon and the talented mixologists at The Punch Room have inventive cocktails under the categories Earth, Water, Fire, Air, Aether and the Classics (featuring The Punch Room's most famous cocktails). Philosopher's Punch under the 'Earth' menu is inspired by our connection to the earth featuring ingredients that relate to roots, grass, wood and soil. 
We love this cocktail menu because you could spend days trying extremely unique cocktails — you'll never have the same thing twice. Come for the cocktails but stay all night for the live performances and jazz music. 
Photo credit: Nikolas Koenig