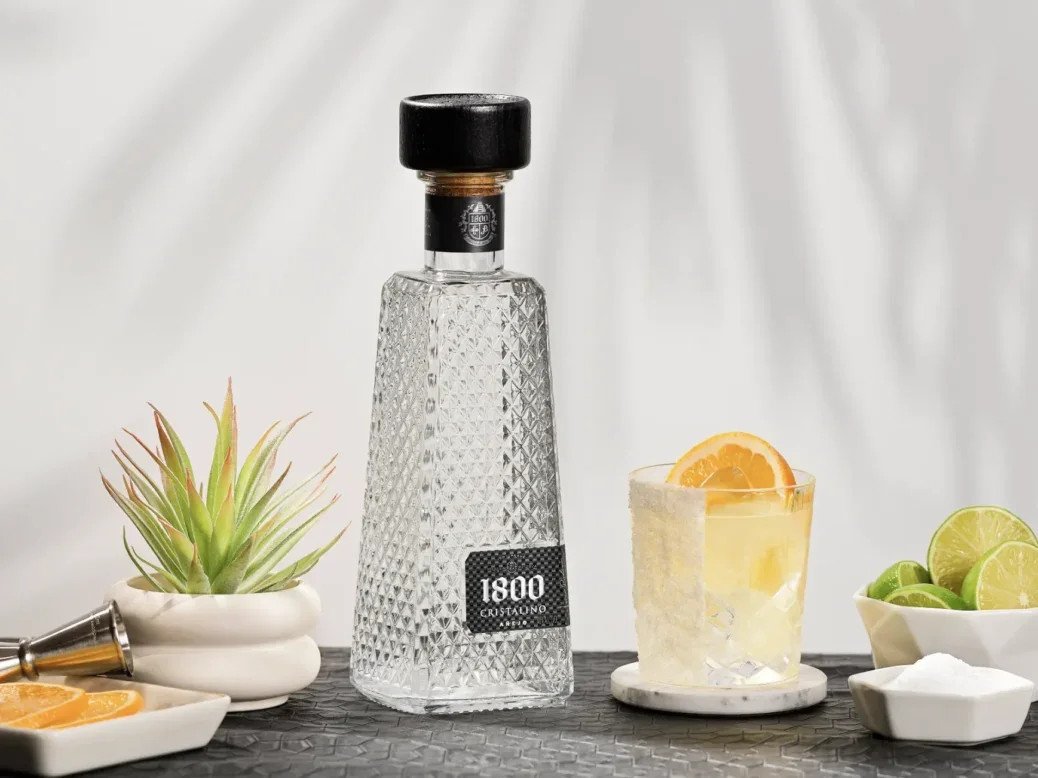 What is the difference between a regular margarita and a Cadillac Margarita, you might be asking yourself (as I did when this recipe landed in my inbox). Well, the difference is in the ingredients, but not in the way you might think. A classic margarita uses tequila, triple sec, orange liquor, and lime juice. A Cadillac Margarita, however, is the premium version (hence the 'Cadillac') and uses top-shelf tequila and usually Grand Marnier.
This week's cocktail uses 1800, a brand that creates tequila from a 220-year-old recipe. (The name is a nod to when the tequila was first crafted.) The Cristalino is an añejo expression aged in French and American oak barrels and finished in port wine casks. 
[See also: The Best Tequila Sipping Brands in the World]
The crystal-clear result has a subtle oak aroma, a slightly citrusy flavor and a smooth, silky finish. The bottle in which it is housed is quite something, too. The crystalline bottle's trapezoid shape is a salute to the Mayan pyramids — and would make a handsome addition to any home bar.
The 1800 Cristalino is delicious to sip on the rocks, but also lends itself well to many cocktails. While this recipe doesn't use Grand Marnier like the traditional Cadillac Margarita, it does use Agavero Orange which is a blend of 100% blue agave tequila, infused with orange essence and pure agave nectar.
Ingredients:

1 ¾ oz. 1800 Cristalino 
½ oz. fresh lime juice
½ oz. Agave syrup
½ oz. Agavero orange
Rock salt
Orange wheel
Method: 

Wet the side of a rocks glass with lime juice and coat in rock salt. Combine 1800 Cristalino, fresh lime juice, agave syrup, and Agavero Orange in a shaker filled with ice. Shake vigorously and strain into the rocks glass with ice. Garnish with orange wheel.