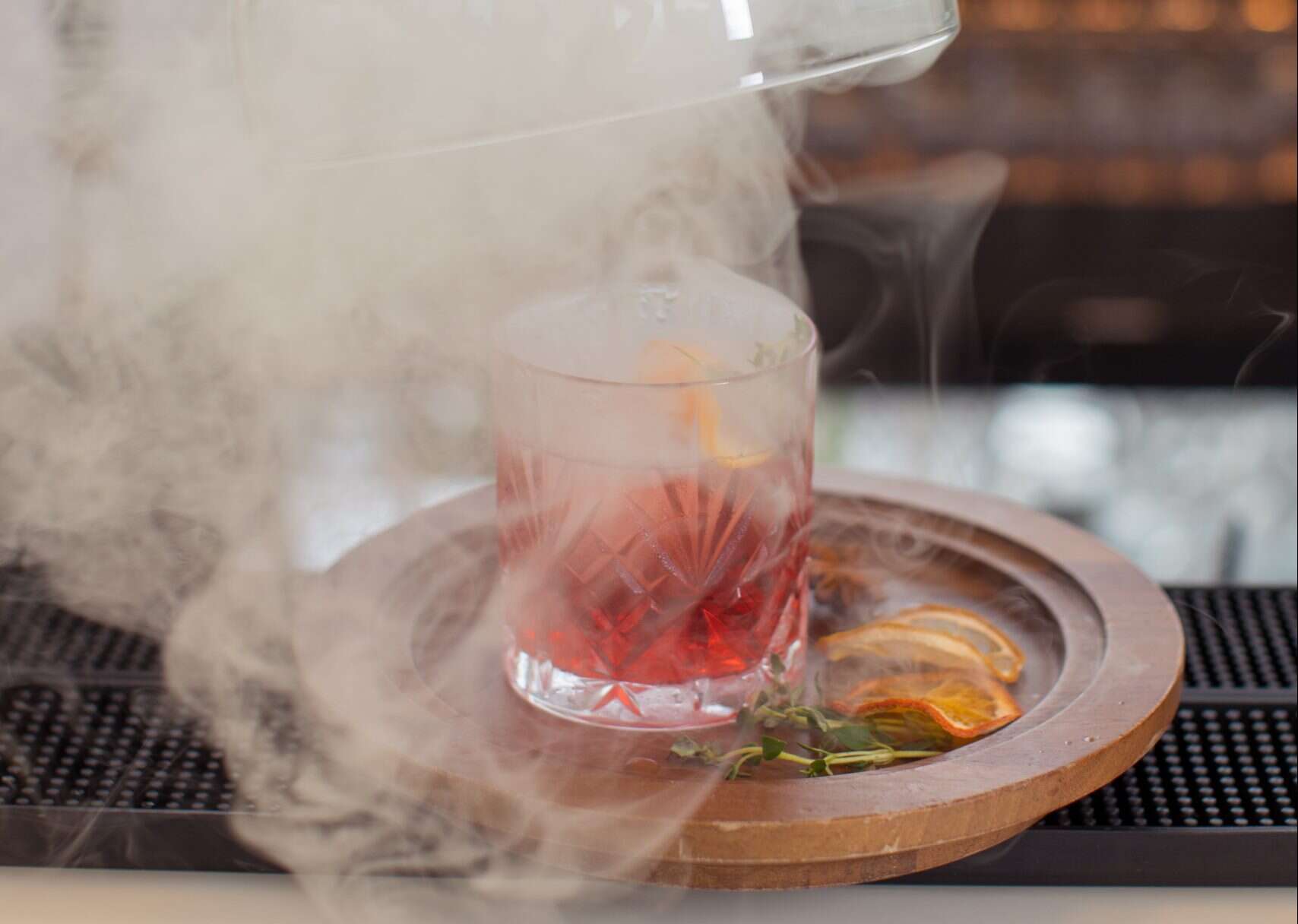 With far-reaching, panoramic views over Lake Como and the mountains beyond, Hilton Lake Como is in a very coveted spot. Views over the lake can be enjoyed from most of the guest rooms, suites, or from the restaurant in the hotel thanks to plenty of floor-to-ceiling windows. But the rooftop bar quite literally tops them all. The sky-high bar, called Terrazza 241, is the hotel's main attraction. Enjoy the dreamy panoramas with a glass of Italian wine or an inventive cocktail. 
This week's cocktail recipe, the Smoked Negroni, was created by the hotel's resident mixologist Vincenzo Sulmona. The Negroni's origins trace back to the early 20th century. The cocktail is thought to have been invented in Florence, about four hours south of Lake Como, by the Italian Count Camillo Negroni. While at a bar in Florence, the count insisted that the bartender strengthened his favorite cocktail, the Americano, by swapping soda water with gin. The bartender also switched the usual lemon peel with orange peel, and thus the Negroni was born. It has been a widely popular cocktail and has seen many reinterpretations. 
The Smoked Negroni adds a touch of theatrics to cocktail making. Taking the bittersweet classic, this cocktail is sure to impress guests at your next dinner party, but is relatively straight-forward to create at home. While not crucial, Sulmona recommends infusing thyme to the gin for 48 hours. 
[See also: Elite Traveler's 2021 Top Adventures]
Ingredients:
30ml Vermouth Rosso

30ml

Campari bitter

30ml Gin

Orange peel

Dried thyme

Ice
Method:
Pour all of the ingredients into a rock glass filled with ice. Stir the cocktail for 15 seconds until it is well chilled. Garnish with a strip of orange peel. Burn the dried thyme and add to the glass. Cover with a glass bell, or any glass container that is large enough to cover the glass.
See more Cocktail of the Week recipes here.