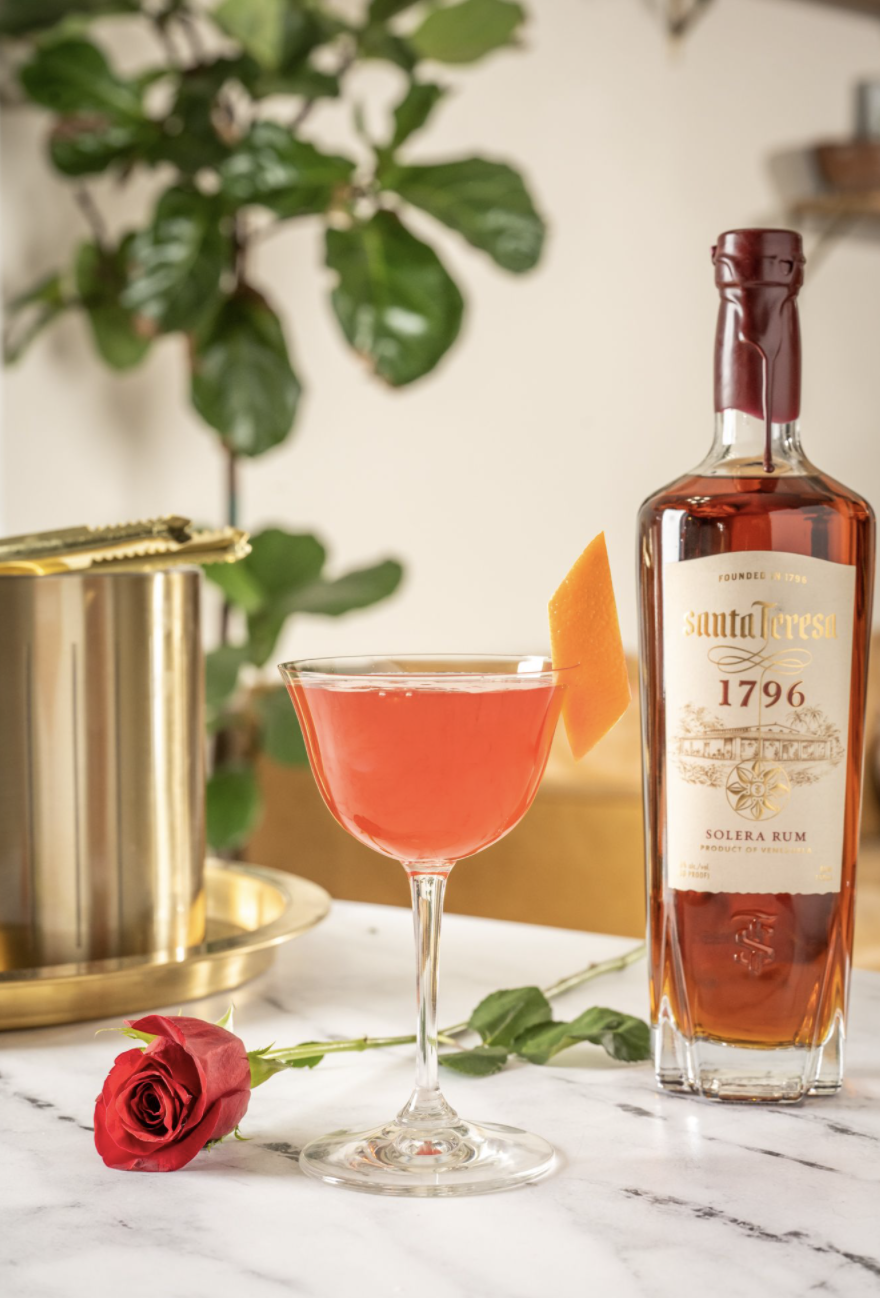 It's finally February — we made it! And if you successfully completed dry January, hats off to you. Now that the month of love is upon us, Valentine's Day cocktail recipes are coming hard and fast (ahem) into the Elite Traveler inbox. This pretty pink creation uses Santa Teresa 1796.
The single-estate Venezuelan rum is created using the solera method which is most well-known in the production of Spanish Sherry and brandy. Santa Teresa 1796 is the first rum in the world to use this method. 
The solera process is when liquids are aged by fractional blending so that the final product is a combination of ages. The average age therefore gradually increases over time and no barrel ever runs dry — so the process can continue for generations. It's a labor-intensive process that yields a high-quality, artisanal result. 
This means that every bottle of Santa Teresa 1796 has some of the very first cask from 1796 flowing through it, also known as "the mother rum." Each time a bottle is drawn, the cask is topped with a younger rum — a process that is repeated with every bottle. Each bottle is then sealed with blood-red wax, so no two bottles are the same. 
The result is a plethora of tasting notes: dark chocolate,  leather, vanilla, banana, prune and black pepper. It also has significantly less sugar than other runs (less than 3g per liter; premium runs have an average of 12g per liter). 
Ideal for sipping on the rocks, it also lends itself extremely well to an old fashioned and a number of other cocktails.
[See also: Sustainable Whisky and Spirits for Eco-Conscious Drinkers]
Ingredients:
1 ½ oz Santa Teresa 1796

¾ oz lemon juice

.5oz Orange Curacao

.5oz Martini Aperitivo

1 dash angostura

Sparkling wine
Orange twist (for garnish)
Method:
Directions: Add all ingredients into shaker tin, add ice, shake and double strain into coupe glass. Top with Sparkling wine and garnish with an orange twist
See more Cocktail of the Week recipes here.