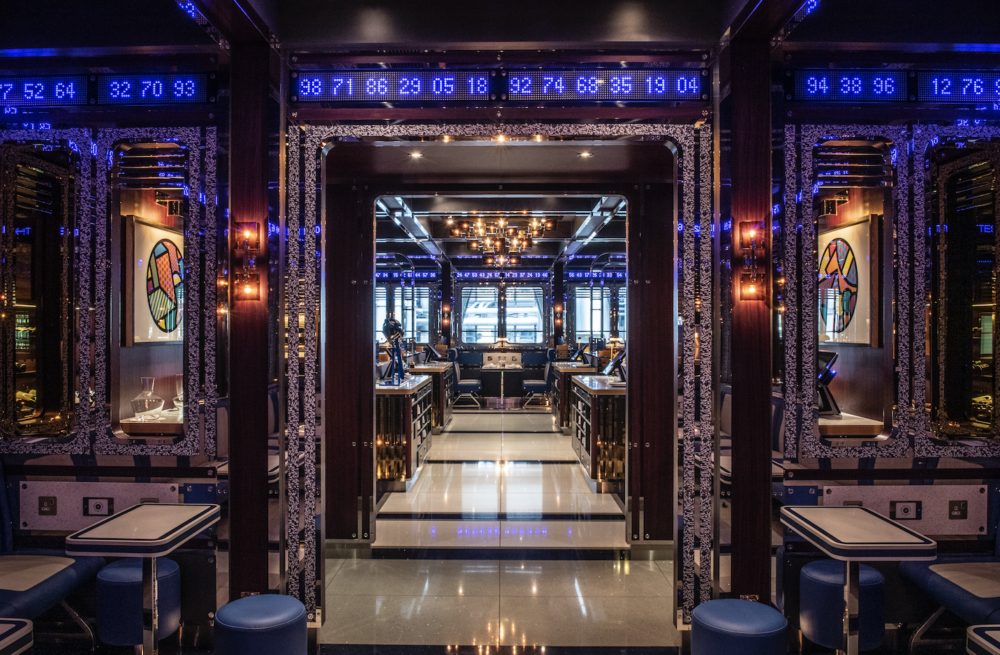 New restaurants rarely open on time and within budget, but as with everything else about it, Bob Bob Cité took this time-honored tradition to the extreme. Determined in his vision to create something unique, owner Leonid Shutov bankrolled his ambitious project without so much as a second thought throughout its 16-month delay. He wanted everything to be perfect and did not care how long it took.
The project never lost the attention of London gourmands, however; which can be attributed to the fact that Shutov's first project, Bob Bob Ricard, has become one of the city's most iconic restaurants.
Despite the success of that first site, Shutov decided to break with convention and strove to create something completely different. Designers have shunned Bob Bob Ricard's instragrammable art deco styling in favor of an ultra-modern decor – think spaceship meets the Orient Express. The new restaurant comes complete with 25 bespoke chandeliers, eight miles of mirror-polished steel trim and wall panels clad with Japanese bookbinding paper.
They have carried over the 'press for champagne' buttons that catapulted Bob Bob Ricard into the culinary stratosphere, but have translated the text into French: 'presser pour champagne'.
Eric Chavot, the Michelin-starred chef behind Bob Bob Ricard's menu, is also here to head up the kitchen, but he has produced an all-new menu that bears more resemblance to a traditional French brasserie than its big sister, which is a mix of English and Russian cuisine.
The menu is full of French classics such as onion soup and grilled spatchcock baby chicken. It is at risk of sounding rather ordinary, but Chavot has triumphed is striking the perfect balance between comfort and refinement. For instance, the onion soup was a match for any that I have tasted in France, coming complete with the perfect amount (lots and lots) of comté cheese. Meanwhile, the spatchcock chicken was tender beyond comprehension.
The evening's indulgence continues with lobster mac & cheese, served with gruyère, cheddar, mozzarella, and parmesan. It is a simple-sounding dish taken to a commendable height with the help of fine ingredients and experienced hands. It is also a dish that takes you deep into the pits of heartburn, but, as with any French restaurant worth its weight in cheese, leaves you with no regrets.
Dessert is unashamedly pedestrian in its offerings: crème brûlée, lemon tart and a floating island. These are enjoyed across the world but rarely do they find themselves in the realms of fine dining – and what a tragedy that is. The floating island in a crème anglaise served on a bed of soft toffee, is heaven on a plate. I also finally understand why crème brûlée became one of civilization's most popular sweets.
No corners have been cut in the making of Bob Bob Cité and it was a pleasure to see a wine list as accomplished as the food. The champagne selection is extensive but there are also a host of wine vintages to choose from. The restaurant's accomplished sommelier is also ready and willing to provide excellent pairings by the glass with your menu choices.
The interior, the food, even the bathrooms have the ability to make you stand in awe. This is a dining experience like no other. Shutov's vision has not come cheap and it will need to become a mainstay in one of the world's most competitive dining scenes in order to see a return on the money. But Bob Bob Cité was not created with profit in mind; it was created to push the boundaries of what we all thought a restaurant was and could be. That is something it has already achieved.
Contact
Website: bobbobcite.com
Email: reservations@bobbobcite.com
Address: The Leadenhall Building, 122 Leadenhall St, City of London, EC3V 4AB
Tel: +44 203 928 6600