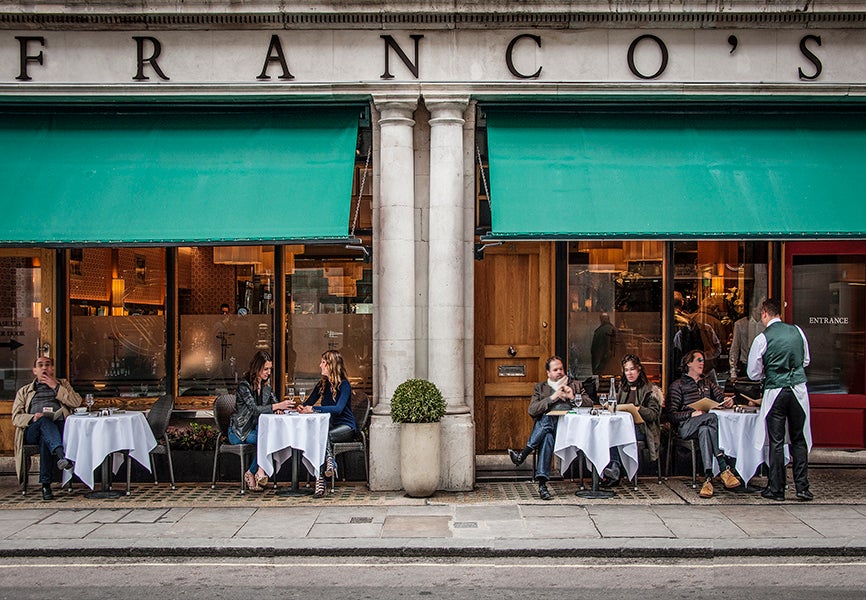 Franco's, a longstanding stalwart of London's dining scene, celebrates the approach of its 75th anniversary with the completion of an extensive redesign that throws one of the city's oldest Italian restaurants into the modern era.
The first incarnation of the restaurant opened on Jermyn Street in 1945. Although it has been serving Italian food ever since, its fortunes changed 15 years ago when it was purchased by the Hambro family. The new owner's brought the restaurant up to speed with its Mayfair location and it is now known for its luxurious Italian cuisine.
No expense has been spared in an effort to modernize the restaurant with renowned interior designers Cheah Rothe commissioned to bring a contemporary sophistication to this much-treasured institution. Cheah Rothe has previously worked with esteemed clients including Claridge's, The Connaught and The Bulgari Hotel.
To celebrate the reopening, head chef Stefano Turconi has developed a host of new dishes and also brought back a few old favorites. Signature dishes on the menu will include a classic Vitello Tonnato to start, followed by Chestnut Tagliatelle with mixed mushrooms; or Pappardelle with lamb ragù, broad beans & pecorino; and for those with a sweet tooth, Sicilian Cannolo with pistachio ice cream, or Gianduja and Lime cheesecake.
Breakfast will continue to include continental offerings alongside a traditional British menu. The Full English signature will prove popular with its string of loyal diners, who come early every morning to seal a highly-prized seat on the street-front terrace.
Director Jason Phillips said: "Over the many years that we have called Jermyn Street home, we have amassed the most wonderful group of loyal diners and guests. Whilst the essence of our restaurant remains very much the same, we are excited that this presents a new chapter for Franco's and hope to welcome new faces and friends as we approach our 75th year."