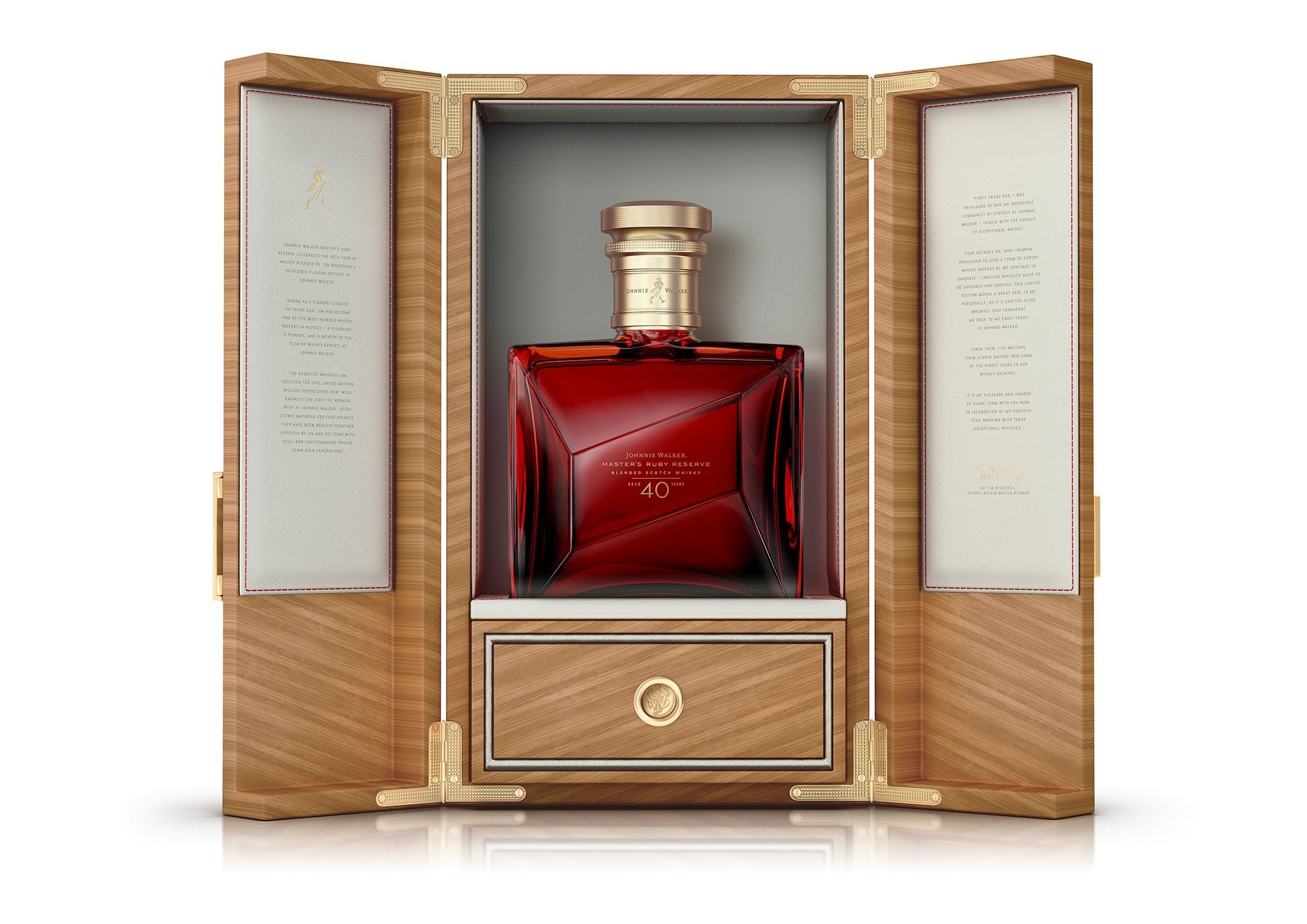 Johnnie Walker has revealed a new extremely limited Scotch whisky to celebrate the 40th anniversary of its master blender, Jim Beveridge.
The Johnnie Walker Master's Ruby Reserve is an ultra-luxurious blend made from eight exceptionally rare whiskies. Each one evokes a different memory from his distinguished career with the company. The result is a unique Scotch that provides an insight into his life's work.
All of the whiskies used are at least 40 years old, and only 398 bottles of the resulting 43% liquid will be released. The incredibly rare blend, crafted by one of the industry's most legendary figures, is priced accordingly at £15,000 (approx $19,450).
Johnnie Walker global brand director, John Williams said: "Jim is a giant of our industry and we wanted to make sure we marked this milestone with a truly special whisky. It was a pleasure to ask Jim to craft a Scotch that paid tribute to those whiskies that have left an indelible mark on his career."
For this fitting tribute, Jim worked closely with his team of whisky makers to select whiskies from 'ghost' distilleries of Cambus, Carsebridge, Pittyvaich and Port Ellen. These highly-sought expressions are combined with aged releases from Talisker, Royal Lochnagar, Glendullan and Cragganmore to produce a truly unique blend.
Jim said: "Every whisky that has gone into the creation of this new expression holds a special place in my heart. I worked at each of these distilleries during various points of my career and the flavors and smells of those whiskies transport me back to very happy times throughout my career at Johnnie Walker.
"The 'ghost' whiskies from Cambus, Carsebridge and Pittyvaich bring layers of rich fruit flavor. We've combined this with the flavors of dark chocolate, plums and cherries found in the wonderfully aged expressions of Royal Lochnagar, Glendullan and Cragganmore and the soft aromatic sea salt notes of Talisker and Port Ellen – creating a beautiful, full-bodied whisky."
The liquid is presented in a decanter befitting of its opulence. The Baccarat crystal decanter has a beautiful, hand-crafted golden-red color to represent Jim's ruby anniversary. It is also a hallmark of Baccarat's finest pieces. To create it, clear crystal is gradually fused with 24-carat gold powder at exactly 540°C to achieve the iconic golden red finish.