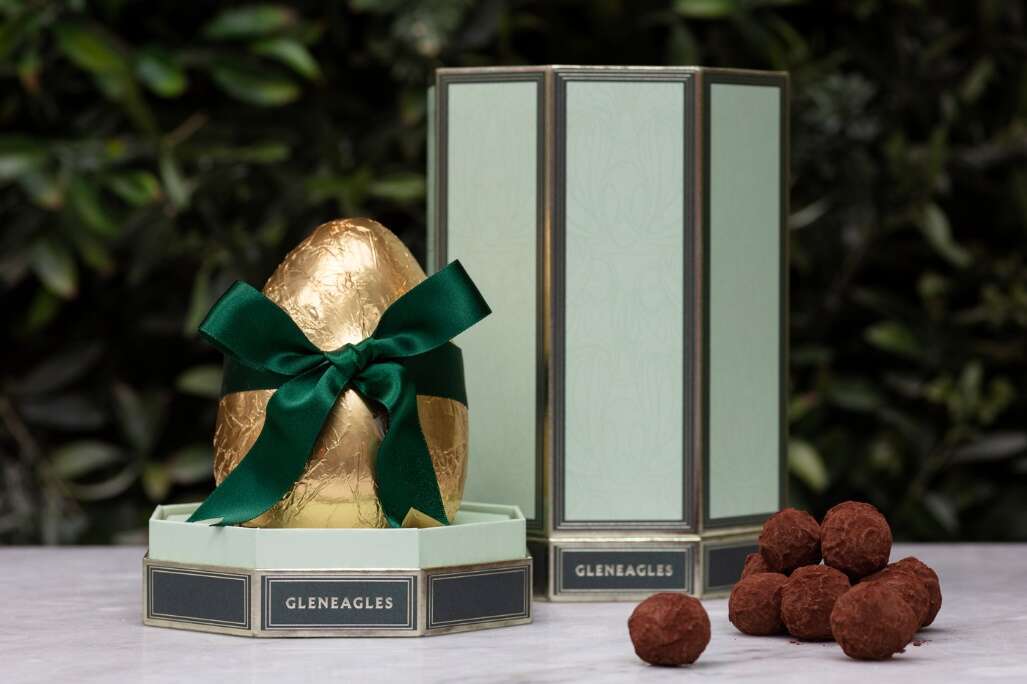 Whether you ditched sugar for Lent or you're in need of some serious indulgence after a particularly long, grueling winter, there's cause for celebration: Easter is just around the corner. The time has arrived to pile your shopping basket high with hot cross buns, roast lamb, and, most important of all, chocolate eggs.
If you're looking for something a bit more special than your average grocery store confectionery, you've come to the right place. Here, Elite Traveler has rounded up the very best luxury Easter eggs that are almost too beautiful to eat.
[See more: The Most Iconic Restaurants of the Elite Traveler Era]
Gleneagles
The iconic Gleneagles hotel has taken inspiration from the great outdoors to create its first luxury Easter egg. Crafted by executive pastry chef Phil Skinazi and his team, the opulent egg (pictured above) is made using Valrhona's dark chocolate with flavors of berries and peat in a nod to the surrounding Perthshire countryside.
When you can bring yourself to crack open the egg, you'll find a selection of handmade whisky truffles created with Gleneagles' first single malt made in collaboration with celebrated local distillery, The Glenturret. If you want to get your hands on this one-of-a-kind chocolate treat, you'll have to move quickly – only a limited number of eggs are being produced and pre-ordering is advised.
$50, gleneagles.com
Le Bristol Paris
Next, we head to the iconic Le Bristol Paris. Here, at the in-house chocolate atelier, maître chocolatier Johan Giacchetti and his team have hand-crafted a stunning sculpture of Socrate (the hotel's feline resident) curled up inside an elegant Venezuelan dark chocolate egg.
Socrate is made with the finest milk chocolate with hazelnut and toasted brown rice, while the sumptuous red cushion he sleeps on has been carved from white chocolate. If that wasn't enough, the delicately crafted egg comes with a selection of Giacchetti's praline treats featuring exquisite flavors such as pumpkin seed, buckwheat and pistachio, enveloped in dark and milk chocolate.
$85, oetkercollection.com/hotels/le-bristol-paris
Ashford Castle
The next luxurious Easter egg on our list is a wonderful celebration of spring. Created by Paula Stakelum, the talented director of chocolate and patisserie at Ashford Castle, the intricate hand-painted egg is inspired by the idyllic cherry blossom avenue at the hotel's 350,000-acre estate in County Mayo, Ireland.
Crafted from Ashford Castle's bespoke Valrhona chocolate couverture giving it a beautiful shine, the indulgent egg delicately balances fresh milk notes with hints of sweet vanilla, biscuit and honey. Eco-conscious buyers will be pleased to hear that the cocoa beans are sourced responsibly, with B-Corp certified Varlhona working with producers to develop a sustainable future for chocolate production.
$78, ashfordcastle.com
[See more: The Most Exclusive Scotch Whisky Experiences]
Fortnum & Mason
Our list of the best luxury Easter eggs would not be complete without mentioning Fortnum & Mason. The high-end London department store never fails to disappoint with its gourmet confectionary delights and this year is no exception.
If you're looking for a truly special gift, you'll be hard-pressed to find better than this hand-painted bunny Easter egg. Crafted by master chocolatiers in Wales, it's made from rich single-origin chocolate couverture from Colombia and coated in a layer of velvety white chocolate. The pièce de résistance, however, is the Easter bunny on the front – hand-sketched using all-natural cocoa butter paints.
$130, fornumandmason.com
Hotel Chocolat
If you're buying for a serious chocoholic, look no further than Hotel Chocolat's Classic Ostrich Easter egg. Weighing in at over two pounds, the extravagant chocolate sphere is (you guessed it) the same size as a real ostrich egg, with a ludicrously chunky high-cacao shell packed with crunchy cookies, puffed rice and crispy feuilletine flakes.
Not for the faint of heart, the decadent egg also comes with a selection of 20 truffles, pralines, caramels and patisserie chocolates ranging from billionaire's shortbread to Eton Mess. Those with a sweet tooth can opt for the classic egg, but there's also a dark chocolate version and even a newly released vegan egg for your dairy-free loved ones.
$129.95, hotelchocolat.com
Melt
Finding a plant-based chocolate treat that still tastes delicious can be tricky but the chocolatiers at Notting Hill-based Melt have managed it with the Wild Egg. Handcrafted using rare cocoa beans from Bolivia, the luscious dark chocolate egg has an extra thick shell and is adorned with gold leaf for a touch of luxury.
Wrapped in plastic-free packaging, the vegan egg also comes with a case of dangerously addictive dark chocolate and sea salt disks.
$65, meltchocolates.com
Pierre Marcolini
Last but by no means least on our roundup of this year's best luxury Easter eggs is the Bird-Bunny – a playful creation from renowned Belgian chocolatier, Pierre Marcolini. Half bird, half rabbit, the mini chocolate creature is handcrafted at the atelier in Brussels from São Tomé milk chocolate and sits on two drawers stuffed with charming Easter treats.
In the first drawer, you'll find a collection of miniature eggs with moreish praline centers and delicate chocolate shells, while the second features delightful animal creations including delicious vanilla-caramel dark chocolate birds and milk chocolate praline rabbits.
$182, eu.marcolini.com
[See more: Michelin Reveals Great Britan and Ireland Guide 2022]