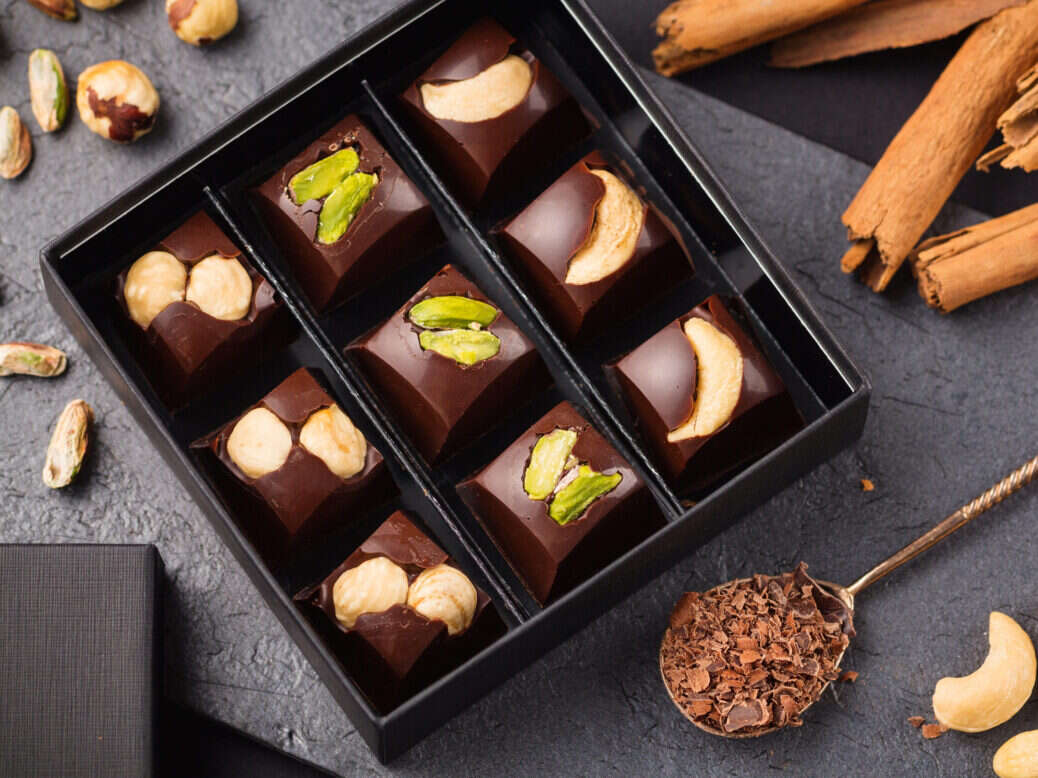 Chocolate fills many roles: for some, it's a sweet treat; for others an ingredient. But for the finest chocolatiers, it's an art form. The artisans behind the best chocolate brands in the world take that approach when crafting bean-to-bar sensory experiences, each with their own unique culinary flairs and adherence to using the best cocoa from Switzerland to Venezuela.
Among these, you'll find in-house specialties in traditional practices or chocolate makers with a world-renowned sense of inventiveness. Whether crafting smooth or sharp, caramel or truffle, indulgent or health-conscious treats, these are the finest chocolate brands in the world.
The finest chocolate brands
Teuscher
Named the Best Chocolate in the World by National Geographic Magazine, Teuscher delivers a divine chocolate experience resulting from years of chocolate passion and tradition.
The Swiss chocolatier, based in Zurich has over 70 years' experience since it started in a small town in the Swiss Alps and is acclaimed as the world's finest by gourmets and critics alike.
Teuscher chocolate is made by mixing the most expensive natural ingredients with each other, including the finest nuts, marzipan, fruits, cocoa and other natural ingredients without adding preservatives, chemicals or additives to the chocolate.
Teuscher's noteworthy house specialty – the champagne truffles are a mixture of chocolate, butter and cream with a champagne cream center.
Richart
The Richart family started making gourmet chocolates and French macarons in Lyon, France in 1925 and has consequently gone on to become one of the world's best chocolate brands. The chocolatier has gained highly coveted accolades for his work: National Geographic's Inside Travel named him one of the world's top chocolatiers, and has been awarded the Ruban Bleu, France's most prestigious confectioner's honor, a total of seven times.
Richart fine chocolates offer unsurpassed taste sensations by bringing together the finest ingredients in time-tested recipes. In addition to other mouth-watering flavors, Richart uses ingredients to add a redolence to the taste, such as balsamic to bring out the original cacao or roasting to enjoy coffee ganaches and caramel coulis.
Valrhona
Hailing from France's Rhône Valley and crafting couverture since 1922, Valrhona is considered the Rolls Royce of chocolate. The brand has perfected techniques for enhancing the flavor of rare cocoa beans that are directly bought from the plantations in South America, the Pacific Ocean and the Caribbean.
As one of the best chocolate brands in the world, Varlhona is dedicated to the creation of unique, artisan-quality chocolate with complex, balanced and consistent flavors.
Each Valrhona single-origin bar bears the name of that bean's terroir on its label, the most exclusive of these being the Vintage Single Origin bars, sold in limited quantities according to crop yield. Valrhona also suggests wine pairings designed to bring out the "notes" in each chocolate's complex flavor profile. From chocolate pearls to tasting squares, the brand's nec-plus-ultra chocolate bar selection is available at specialty grocery stores.
[Read more: Bean to Bar: Behind the Scenes at Le Chocolat Alain Ducasse]
Jacques Genin
Jacques Genin creates delicious chocolates, dainty caramels, sinfully creamy cocoa and many more delicacies, all of them meticulously crafted in the on-site kitchen. He sends his creations off to Alain Ducasse's restaurants, hotels like the George V and Crillon, and luxury-food purveyor Hédiard.
Jacque Genin also supplies chocolates, caramels and petits fours to more than 200 top French hotels and restaurants, including the luxury five-star hotel Plaza Athénée, Hôtel de Crillon, and Le Meurice.
His chocolate factory has been described by the New York Times as "a holy site for connoisseurs." In 2008, he opened a shop selling to the public in the Marais neighborhood of Paris.
In 2010, the Club des Croqueurs de Chocolat named him one of the top French chocolatiers.
Amedei
World-renowned for its effortlessly stylish and impeccably made chocolate, Amedei illustrates Italian excellence and is considered to be one of the best chocolate brands.
Amedei's dark chocolate, Amedei Porcelana, is often called the world's most expensive chocolate. It has won various awards, including "Best bean to bar", "Best Dark Chocolate Bar", and the "Golden Bean award" (Academy of Chocolate Awards).
The dedication to sourcing the finest cocoa beans directly from cocoa plantations makes for indulgent flavors that justify the expense when sampling in their extra smooth chocolates. Amedei has also secured exclusive rights to the Venezuelan plantation where the legendary Chuao cocoa bean is grown.
Flying Noir
Flying Noir of Mendocino, California, offers hand-painted treats from Karen Urbanek, who doubles as an artist. The International Chocolate Salon Awards have awarded her chocolates a rare six-star rating and she was recognized as one of Best Chocolatiers and Confectioners in America.
The packaging is enticing and smart, while the truffles are handmade with all-natural ingredients. The artisan chocolates are made with extraordinary care and fine, fresh ingredients – organic and locally sourced whenever possible. They also feature original paintings in natural colored cocoa butter and mica.
They are as beautiful as they are delicious. Flying Noir's truffles have an exquisite taste, with a fine balance between chocolate and infused flavors.
Esthechoc
The healthy way to eat dark chocolate is to eat bars with at least 90% cocoa solids. However, it is often rare to find bars with 90% and it is not guaranteed to be a pleasurable experience – a problem the Esthechoc was keen to solve with the "World's First Youth Boosting 'Smart' Chocolate".
Clinically proven to improve the health of the skin, Esthechoc uses two very important and powerful antioxidants: v Astaxanthin – a strong anti-inflammatory substance (6000 times stronger than vitamin C) and v Cocoa Polyphenolic Epicatechins.
These ingredients provide antioxidant protection, reduce inflammation, boost microcirculation and maintain healthy oxygen levels, all resulting in healthy, youthful-looking skin.
Esthechoc is vegan, 100% natural and only 38 kilocalories.