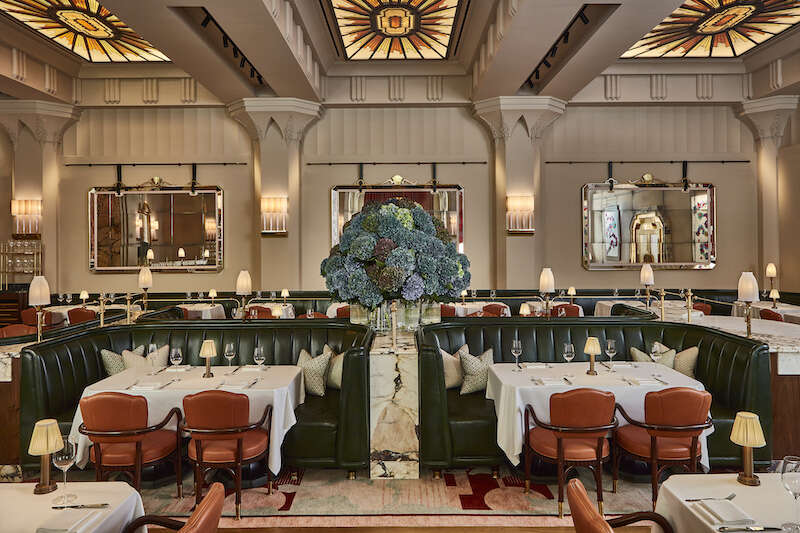 Few hotels hold the same level of prestige as that of Claridge's. A London institution since the 1800s, the hotel is revered for its Art Deco rooms, decadent afternoon tea, swish bars and notable guests. Imagine the gossip that swirled then, when it was announced back in 2021 that Claridge's would be ending its long-standing partnership with Daniel Humm and closing the doors to its signature Davies and Brook restaurant.
What has emerged in its place, however, is a return to the classics. Re-opened late this summer under the simple Claridge's Restaurant name – a name it hasn't held for 20 years – the restaurant is as fancy as always, but still welcoming and convivial – a fine balance that not all hit.
And while this might be a new era for Claridge's culinary division, some familiar faces are back within the fold. The new head chef, for example, returns having previously worked in Humm's kitchen. The floor team, too, is peppered with alumni. In a city where hospitality jobs are abundant, this pays as one of the greatest testaments. 
[See also: Celebrating 25 Years of Restaurant Gordon Ramsay]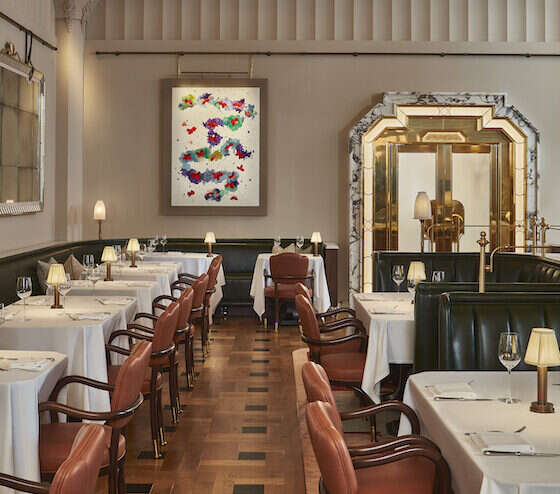 Chef
Heading up the kitchen is Irish chef Caolin Finn, whose culinary career has taken him through the kitchens of some of the UK's finest restaurants. His first exposure to fine dining was at Sketch, where he was encouraged to push the boundaries of cuisine, experimenting with both presentation and ingredients. From here, he had his first jaunt at Claridge's, working under Daniel Humm at the esteemed Davies and Brook restaurant.
The following years saw him head north to Scotland for a head chef role at Inverlochy Castle, during which he was part of the team that relaunched the Michel Roux Jr restaurant. Eventually, London called him back into its throes: Last year, he headed back to Claridge's, assuming the head chef role ahead of relaunch of its iconic restaurant.
Finn's style is straightforward yet elevated, offering updated twists on British classics, with heavy emphasis on quality, local ingredients. A particular signature of the chef is taking one ingredient and interpreting it in several different ways to create a complete dish.
[See also: Elite Traveler Reveals Top Restaurants Readers' Choice 2023]
Menu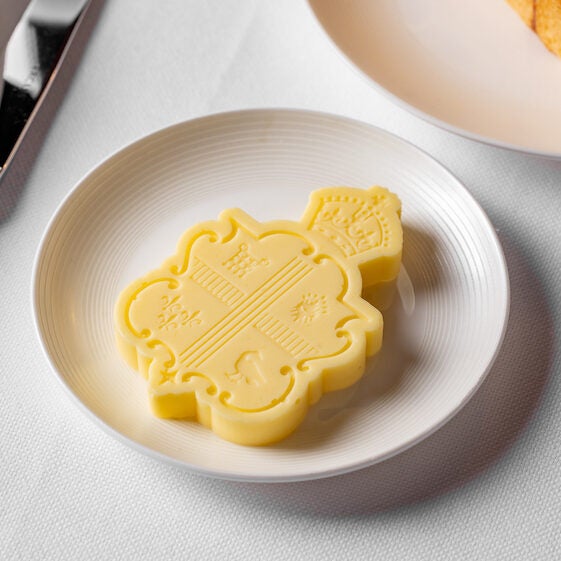 Claridge's Restaurant isn't in the business of pushing boundaries. Instead, its menu is all about taking flavors and ingredients that most diners know and love and adding a posh twist without ever steering too far off a comfort-food course (do not expect a healthy meal here – you will be sorely disappointed.)
Kick things off with a glass of the house champagne (Laurent-Perrier Ultra Brut) and a portion (each – don't try to share) of the Parker house loaf. Served with London's most delicate slab of butter, artfully molded into the Claridge's crest, the bread is buttery, milky, salty and delicious. 
We're here for a carb-fest, so get the crumpets next. Each is slathered with a generous layer of béchamel soubise cream, truffle puree and a heavy dousing of shaved black truffle. If you're in a group (or if you're alone, who's judging) get a bowl of the pumpkin agnolotti to share, too. Rich and silky, and swimming in sage-infused butter, they're like fall in a dish.
[See also: How the Michelin Star System Really Works]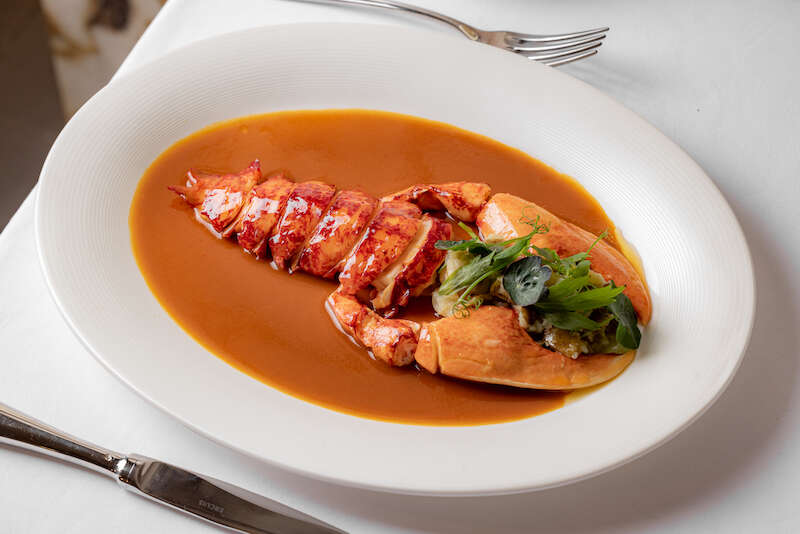 When it comes to mains, the decadent grilled native lobster has been doing the Instagram rounds, but the humble roasted chicken is well worth your attention too. Brilliantly showcasing chef Finn's penchant for interpreting one ingredient several ways, this decadent dish sees a juicy chicken breast topped with crispy skin and stuffed with lemon and brioche, with a side serving of creamy, pulled confit chicken.
Sides are no mere afterthought either – go for the silky-smooth mashed potato and the glazed garden carrots, both of which are doused in an un-holy amount of butter.
By the time you reach desserts, there's a chance you'll be somewhere close to absolutely stuffed but fear not: the citrus baked Alaska is deceptively light. Served to share and with a theatrical flair, delicate whipped meringue sits on top of a fresh lemon sorbet.
Interiors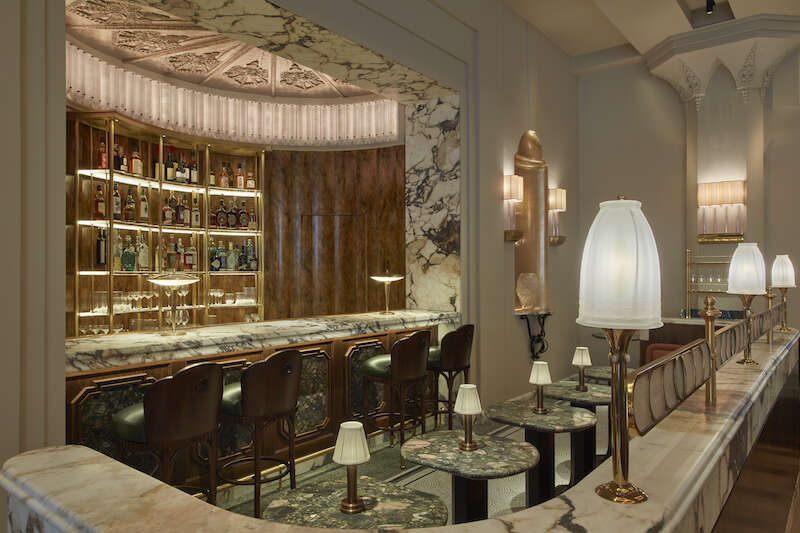 This is Claridge's, so expect glamour in the bucketloads. Leaning heavily into the hotel's Art Deco character, London-based Bryan O'Sullivan Studio (AKA the brains behind the Red Room at The Connaught, The Berkeley Bar and several of Claridge's bespoke suites) has adopted a vintage flair for the space, utilizing a rich color palette of dark green and burnt orange, with brass accents.
Underfoot is a mosaic wooden floor, but the captivating skylights steal the show. Imagined by architectural designer Guy Oliver, each is fashioned from yellow and orange glass, creating a vibrant sunburst effect.
The Calcutta Viola-marble bar, which sits at the head of the room, is a particular talking point. Subtly separated from the main dining room with individual seating yet still in on the action, the unique area draws eyes with its unusual, curved back bar, high-gloss tortoiseshell paneling and tall shelves, stacked high with premium bottles.
Claridge's Restaurant, Brook Street, Mayfair, London, W1K 4HR, claridges.co.uk
[See also: Pavyllon London: Inside Yannick Alléno's New Mayfair Restaurant]