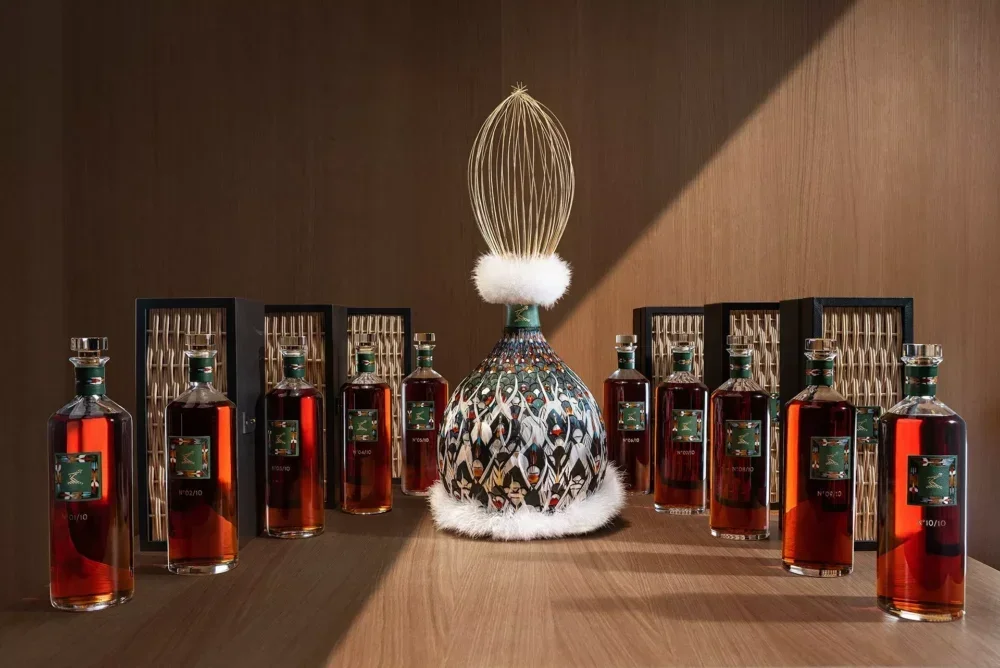 Maison Hennessy has unveiled its most exciting creation yet: an ultra-luxurious, thrillingly artistic Dame Jeanne, crafted by celebrated French plumassière, Nelly Saunier. This state-of-the-art piece, which will retail for £600,000 ($709,780) and is sold alongside 10 filled decanters and boxes, will be sold exclusively at Harrods.
The masterfully designed creation takes inspiration from Saunier's personal passion for nature and birds. Featuring feathers from the most magnificent of birds – think martin pêcheur, tragopan, and rollier d'abyssinie – and gilded gold cock feathers, the end result stands as a tribute to both her decades of industry excellence and stellar personal talent.
And the process of creating such a fine cognac is almost as thrilling as the Dame Jeanne itself. Inspired by the heritage and expertise of eighth-generation Master Blender, Renaud Fillioux De Gironde- and accented by his characteristic creativity within the industry- this is the most precious blend of his career to date.
[See also: The Best Champagne Brands to Try in 2022]
The eaux-de-vie is matured in oak barrels and subsequently bottled in glass to prevent aging, for a refined tasting experience that draws on notes of spice bread, panettone, and marmalade. To preserve the quality and stability of the cognac, the liquid will be transported in ten one-quart bottles, of which the design of each bottle compliments Saunier's creation.
This follows more than 250 years of Hennessy's Editions Rares, a collection of assemblages that represent the most exceptional and extraordinary eaux-de-vie in the Maison's library, of which some of these cognacs date back as far as the early 19th century. Rares are presented in unique creations that reflect the treasure of the cognac itself and are of notably limited quantity.
The Dame Jeanne will be sold exclusively at the Hennessy Boutique at Harrods, a luxury retail outlet exclusively dedicated to the rarest of Hennessy cognacs. Having only opened this summer, the boutique can be accessed on the lower ground floor of the luxury department store, for the ultimate experience for cognac lovers worldwide to experience Hennessy cognac in an exciting new format.
The Hennessy Dame Jeanne x Nelly Saunier is now available to purchase on request at Harrods.