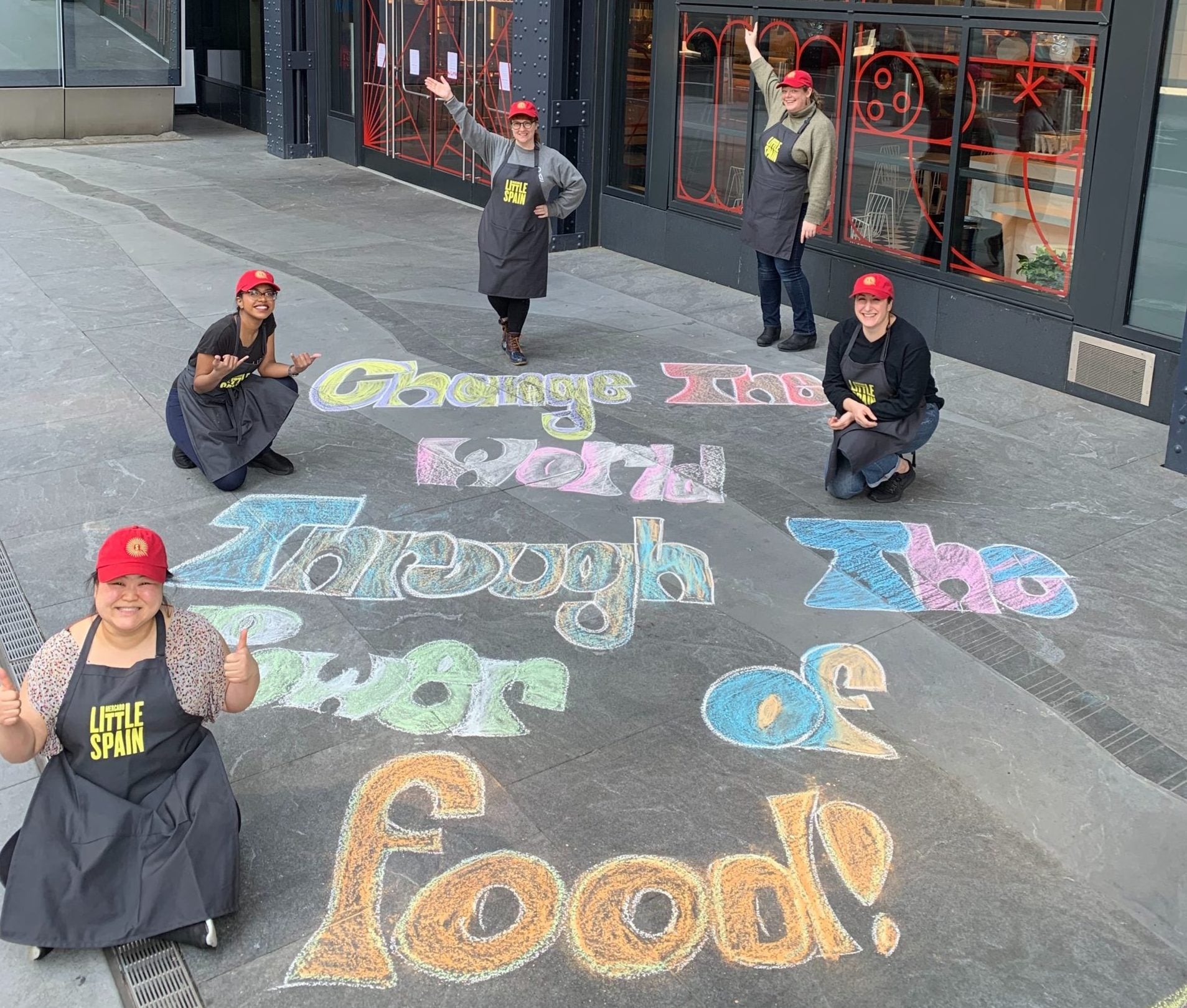 As restaurants across the world temporarily close their doors amidst the Covid-19 crisis (also known as the coronavirus), many Michelin-starred chefs are using this opportunity to do good and support their communities. This unprecedented situation is impacting the food industry immensely for restaurant owners, purveyors and patrons. In these dark times, many chefs are a shining light for those who don't have access to meals.
Michelin-starred chef José Andrés, whose restaurants closed in Washington, DC and New York City, is repurposing six of his restaurants into community kitchens with affordable takeout plates. Operating from his restaurants' side doors (no in-restaurant dining will be offered), the community kitchens will be run by a small team of employees who are volunteering from 12-4pm. Soups and salads will be available for $6, and entrees will be priced at $12, though they offer flexible pricing to those in true dire financial straits. 
"We are in a serious global emergency and people need to take every precaution, including staying home as much as possible," says chef Andrés. "However, we also want to help provide food for those who want it in a safe manner, so we feel these community kitchens can help during this challenging time. And those who cannot afford to pay, we will welcome as well." 
In New York City, Mercado Little Spain at Hudson Yards will operate from the glass garage doors, and in Washington, DC, there will be community kitchens at America Eats Tavern, China Chilcano, Jaleo (in Bethesda, Crystal City and Penn Quarter) and Zaytinya. Chef Andrés' ThinkFoodGroup (the company that oversees his restaurants, catering and philanthropic endeavors) is supporting its employees with paid leave and healthcare benefits, but it just announced the launch of the Employee Support Fund e-gift card program, which directly supports employees and their families through financial hardship. E-gift cards are available for 20% discount at the link here. 
Also in New York, chef Eric Ripert of Le Bernardin closed his New York City restaurant and donated all the leftover food from Le Bernardin to its employees and City Harvest, a food-rescue movement serving New Yorkers where he is an active member of the Food Council. Not only has chef Ripert volunteered in the South Bronx at a City Harvest Mobile Market, but he is also raising awareness through his social media on what the public can do to help.
Citymeals is helping to distribute food by preparing 250,000 emergency meals. Chef Daniel Boulud of Daniel restaurant in New York City has been involved with Citymeals for 25 years and serves as the co-president of the board of directors. He created the Chefs Deliver program, where local chefs make and personally donate meals to the elderly in need. On March 9 this year, he hosted his annual Sunday Supper at Daniel (prior to its closing); the decadent gala typically raises enough money for more than 100,000 meals. 
Also working with Citymeals is Altamarea Group, from chef Michael White who runs Marea restaurant in New York City. They recently announced a gift-card partnership, called A Helping Hand, to help New York's most at-risk population, seniors. A portion of each gift card sale goes directly to Citymeals, and also gives you something to look forward to when we are back to normal. You can purchase a gift card here.
When it comes to your favorite food items from your favorite restaurants, purveyors, many who exclusively distribute to top restaurants in New York City and nationwide, are also selling their food direct-to-consumer at reduced, wholesale prices to keep their businesses afloat. Island Creek Oysters is selling its signature oysters, grown in Duxbury, Massachusetts, via its website at reduced pricing; Michelin-starred restaurant Claro in New York City is selling masa by the pound; and hotspot Rezdôra will be selling Italian wines at retail value, among others. The New York City-based Marky's Caviar will be offering all products at 50% off at its Madison Avenue location. When possible, purchasing gift cards to use in the future (and have something to look forward to) is another way to help local purveyors and restaurants in your community and throughout the world. 
For more information and to donate, visit thinkfoodgroup.com, cityharvest.org and citymeals.org