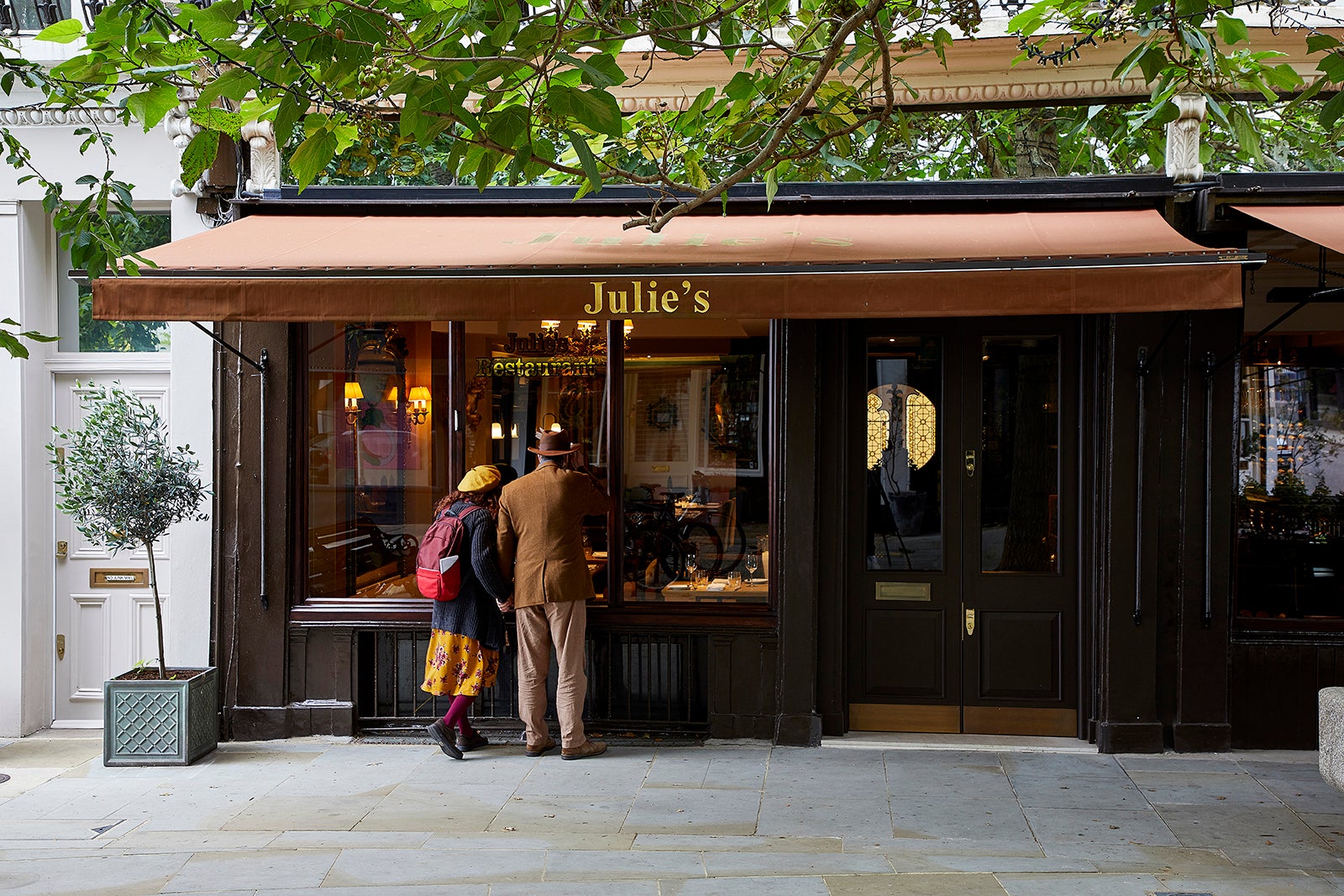 Julie's Restaurant has reopened in London's upmarket Holland Park following a five-year closure. The W11 restaurant has undergone extensive refurbishment and also welcomes a brand new team to the kitchen.
First opened in 1969, Julie's Restaurant became a legend of London's dining scene and counted A-list celebrities among their regulars. That includes names such as The Rollings Stones, Sir Paul McCartney, Sean Connery, and even Princess Diana.
Those glamorous days of incognito celebrity hangouts ended with the rise of social media, and Julie's closed in 2015 with the aim of breathing new life into it. Tim and Cathy Herring, owners of Julie's since the beginning, never intended for it to be shut for so long but it opened this fall just in time for its 50th anniversary.
They appear to have used the time well. The restaurant has undergone a drastic transformation during its five-year hiatus with Julie Hodges – original interior designer and who the restaurant is named after – brought back in to make the space fit for the modern era.
The new and improved Julie's Restaurant retains its Middle Eastern charm with original colorful kilims from Pakistan adorning the banquettes on the lower ground floor. Ms Hodgess has also recycled many of the restaurant's original artifacts such as the distinctive scale-model Albert Memorial, stained-glass windows and Gothic wood carvings and paneling.
A sign of big ambition, the restaurant has also welcomed one of Britain's top young chefs, Shay Cooper, as chef patron. Previously the executive chef at the Michelin-starred The Dining Room at The Goring, Cooper brings his style of quintessential British cooking to Julie's Restaurant with a refined menu.
A select menu includes seasonal dishes such as 'Buttermilk fried quail with white miso emulsion' and 'Salt marsh lamb, pressed cabbage, garlic potatoes, crisp lamb breast, preserved lemon'. A dessert of 'Fig leaf panna cotta, fig preserve, Earl Grey doughnuts' is particularly enjoyable at this time of year.
His aim is to recreate the loyal following that Julie's Restaurant enjoyed for several decades. Although early days, there are already signs of it returning. We were invited to the restaurant on a Tuesday evening, and even then the downstairs dining room was filled with locals. It is clear this local treasure was missed.
135 Portland Road, W11 4LW
juliesrestaurant.com