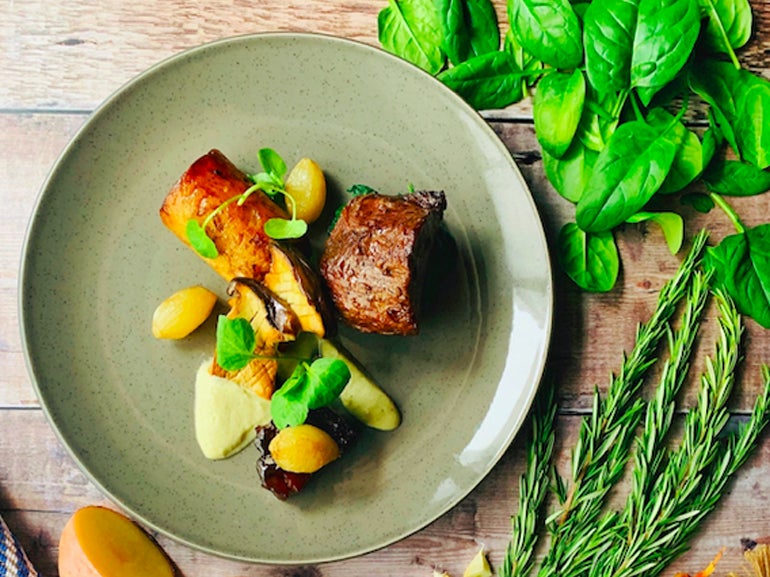 Are you missing your favorite restaurant at the moment? Who isn't? It was not too long ago that we were able to dine whenever and wherever we wanted, but at the same time, my last good meal out feels like a lifetime ago.
Craving a night of Haute cuisine, I jumped at the opportunity to try a night of Haute cuisine from One Fine Dine. This team of fine-dining chefs and hospitality experts have been delivering gourmet experiences to doorsteps all over London.
It is the brainchild of Daniel Hulme, who boasts 10 years of experience in the fine dining sector. More specifically, Hulme developed Michelin-quality meals to private jets. If you've ever eaten a fantastic meal on your way over the Atlantic, there's a good chance Hulme created the recipe.
It was his job to create meals that were of the highest quality and could be recreated at 50,000ft with minimum effort. He developed a series of innovative techniques such as blast chilling to ensure the food tastes exactly as it would if you were dining in a restaurant.
One Fine Dine aims to add an element of fun to the process by giving you the chance to plate the food yourself. All the food is pre-prepared before it is chilled and delivered to you on the same day. It just needs reheating and then you are ready to play chef. The instructions are very detailed and if followed you are guaranteed to create a work of culinary art. Despite having done none of the cooking, it still gives you a feeling of accomplishment.
Once you are ready to eat, set the table, dim the lights and put on some relaxing tunes. You will be instantly transported to a restaurant of the highest order.
We had the 'Seaweed wrapped cured Scottish salmon, pickled Asian radish, avocado and wasabi puree with a soy and honey dressing' to start. The assembly would have been bread and butter for an experienced chef, but it was devilishly tricky for a novice like myself. Still, it was a thrill to find myself reproducing a plate that somewhat resembled the brief.
We ordered a 'Denham Vale beef fillet' for the main course. I wondered how a steak could be reheated and still taste fresh, but somehow it worked. It was as if it had just come off the grill. The steak was served with a braised smoked beef cheek, shallot puree, king oyster mushroom and fondant potato with Madeira jus. A delicious triple chocolate fondant brought the meal to a decadent end.
One Fine Dine also has its own concierge team, who are on hand to personally source additional items to enhance your dining experience. There are a selection of canapes and a long list of fine wines. It is also currently offering a Dom Perignon paired menu experience for those looking for a particularly special evening.
The company was not created for life in quarantine, but it has found itself able to provide the perfect service for epicureans in lockdown. If like me, dining out was your favorite pass-time before lockdown took hold, One Fine Dine provides transports you back (and ahead) to normal times.
One Fine Dine costs £59.95 ($75) per head for three courses. onefinedine.com, orders@onefinedine.com, +44 20 3733 2303