Movement within London has once again been severely restricted due to the Covid-19 pandemic. Throughout November, people will only be allowed to leave their homes for specific reasons, and eating in Michelin star restaurants is not one of them. All restaurants and bars will be forced to close until at least December 2, but many will be restarting deliveries in an effort to keep business alive.
With the help of online delivery services like Supper and Deliveroo, you can still get your fine-dining fix from the comfort and safety of your own home. We have pulled together a list of amazing restaurants that are offering a home delivery service.
The Game Bird
Few restaurants deliver classic British dining as well as The Game Bird, and now the talented chef Ben Tish is bringing it to your doorstep. Tish, who is also behind the widely acclaimed Norma, has developed several delivery boxes (including a Valentine's Day feast) but it is the Classic Box that contains what The Game Bird is really about. This four-course menu includes the restaurant's most famous dishes, including the wonderfully-Instagrammable 'Pot roast guinea fowl served with crushed celeriac and foie gras sauce'. The menu also contains the restaurant's signature soda bread and butter followed by  'Jerusalem artichoke velouté, Westcombe cheddar and truffle rarebit' to start and a 'Rhubarb Bakewell tart with clotted cream' for dessert. All orders also come with a selection of petit fours to bring a delectable end to a night of fine dining.
Muse by Tom Aikens
After winning its first Michelin star in the 2021 guide, Muse by Tom Aikens continues to redefine the meaning of takeout with its superb delivery box. Aikens has developed two boxes for delivery, but our pick is the 'Seven-hour slow cooked shoulder of lamb served with spring onion mashed potato, balsamic onions and French beans with confit shallots and garlic'. The two-course menu is completed with a decadent dark chocolate mousse. The other box offers three courses with a main of '24-hour braised short rib'. Whichever one you choose, you cannot go wrong with this Michelin-starred meal.
Hame by Adam Handling
Adam Handling is best known for his work at the wonderful Frog in Covent Garden, and more recently for the food-waste-focused (yes, really) Ugly Butterfly. Handling's Hame packages are designed specifically for home deliveries but still reflect the signature style of Frog. The new dishes include 'Honey-roast whole salt-aged duck, hasselback potatoes, braised red cabbage', 'Beef cheek ragu pappardelle', 'Fresh truffle and pea linguine', 'Beef Wellington' and a new a 'Vegetarian Wellington'. All orders are prepped by Adam and his team and boxes arrive ready for you to cook and plate at home using the video instructions.
Marianne Lumb
Marianne Lumb specializes in hyper-seasonal cooking that utilizes the very best of what nature has to offer. Lumb has developed two menus, but the one we're most taken by is a four-course vegan feast, which delivers so much more than spicy bean burgers and cardboard-flavored seitan to your door. The menu includes the very best of British winter produce, including an 'English ratatouille of celeriac served with artichoke and Bramley apple, kale salsa verde and pearled spelt. Dessert is a delectable 'coconut and mango crème caramel with macadamia and mandarin.
Sartoria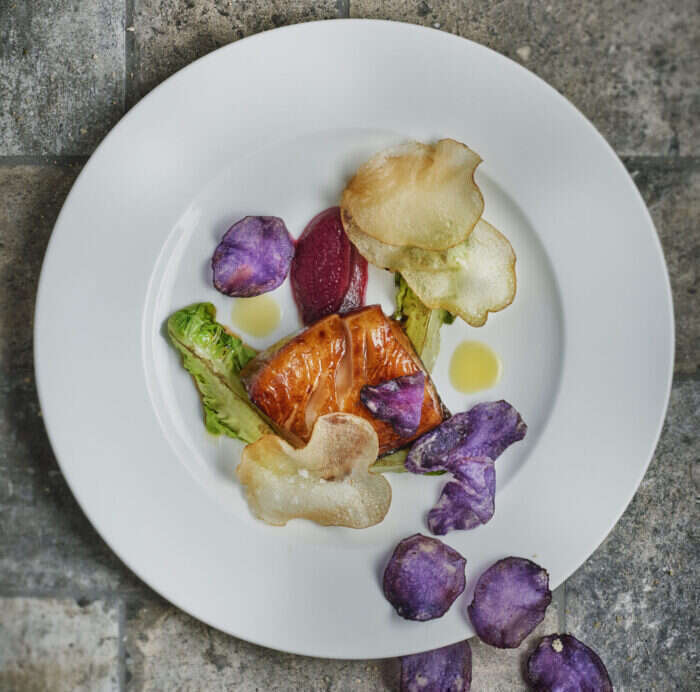 Francesco Mazzei has been serving some of the best Italian food in London from this Savile Row location. Now, the acclaimed chef patron is bringing it to your home. Mazzei has designed a traditional four-course menu inspired by his Italian roots. For £60 ($80) per person, you get a comprehensive meal kit that gives you everything you need to recreate the Sartoria experience. Dishes include a slow-cooked lamb ragu and a delectable pistachio cake with almond sauce. Mazzei has written easy-to-follow instructions for both reheating and plating the food, ensuring it looks just as good as it would if it had come from his own kitchen. Mazzei has also developed a vegetarian menu, including wild mushrooms and truffle ravioli and traditional tiramisu. Delivery is available Thursday-Saturday.
Sketch
Home to one of London's only three-Michelin-starred restaurants, the ever-evolving Sketch recently launched an 'at home' meal kit available for collection or delivery seven days per week. The options include a four-course and a special two-course Sunday lunch menu. A wine flight is also available. The meal kits come with two-step instructions on how best to reheat and present the dishes. The four-course 'Mmmm menu' has been devised by executive chef Frederic Don, with seasonal and fresh ingredients at the core of each recipe and is priced at £75 ($97) per person. The Sunday lunch is a côte de boeuf for two to share, served with Yorkshire pudding, Bearnaise sauce and Bordelaise jus and is priced at £120 ($155).
Hide
The one-Michelin-starred restaurant has brought fine dining into the modern era. It is certainly one of the city's best restaurants, but its doors are closed until further notice. However, head chef Ollie Dabbous and his team continue to work hard in the kitchen, and they are now offering a delicious menu for delivery. You can order dishes such as Suckling pig with mustard fruit puree or roast scallop with Jerusalem artichoke and black truffle through the Supper app. Hide is also a very popular breakfast spot and is famed for its fresh bread and pastries. Those too are available for delivery.
Kitchen Table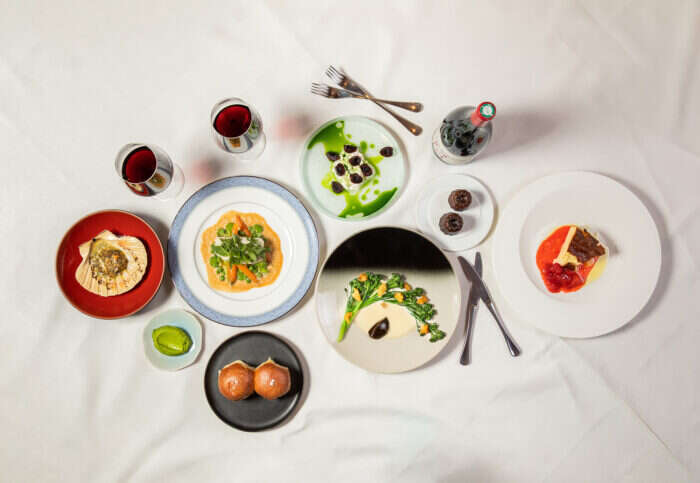 As a small and intimate venue in the heart of London, Kitchen Table has only recently been able to welcome guests back to enjoy the two-Michelin-starred cuisine from James Knappett. With just 20 seats available per sitting in normal times, it is now even harder to get into this amazing space, but from August 5 guests will be able to recreate the experience at home with a new takeout menu. The & Home by James Knappett menu uses the same independent and trusted suppliers who have been the cornerstone of Kitchen Table since its opening, The chef has designed two accessible tasting menus, a seven-course menu priced at £75 ($98) and an 11-course menu priced at £125 ($163) to be finished at home. The menus will change every month and will be available across London.
Six by Nico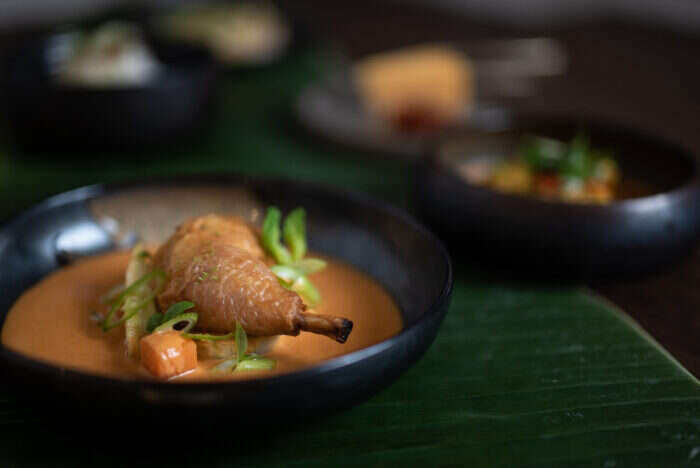 Six by Nico was one of the few restaurants to open in London this summer. The novel concept offers a six-course tasting menu that changes every six weeks. It was a huge success with many diners having to wait weeks for a reservation. It also earned rave reviews from critics. This November saw the launch of his new Bangkok menu, but with Lockdown 2.0 closing its doors, the restaurant has transformed it into a takeout service, Home by Nico. The meal offers four courses designed to take you to the street food markets of Thailand's bustling metropolis. Dishes include a Panang red curry made with slow-roast chicken and a fresh pork pad thai. A vegetarian menu is also available.
Available from November 18 via digital platform Home-X
COYA Mayfair
London's leading Peruvian restaurant is bringing South American cuisine to your doorstep through November. Coya en Casa will be available for lunch and dinner and include a vibrant selection of signature fresh ceviches, main courses, desserts and pre-mixed cocktails. As well as a wide selection of refined ceviche, the menu also includes some classic comforts, such as the Wagyu Bun and Chips. The restaurant has also launched La Bodega COYA, which allows guests to order exclusive wines at special prices.
Novikov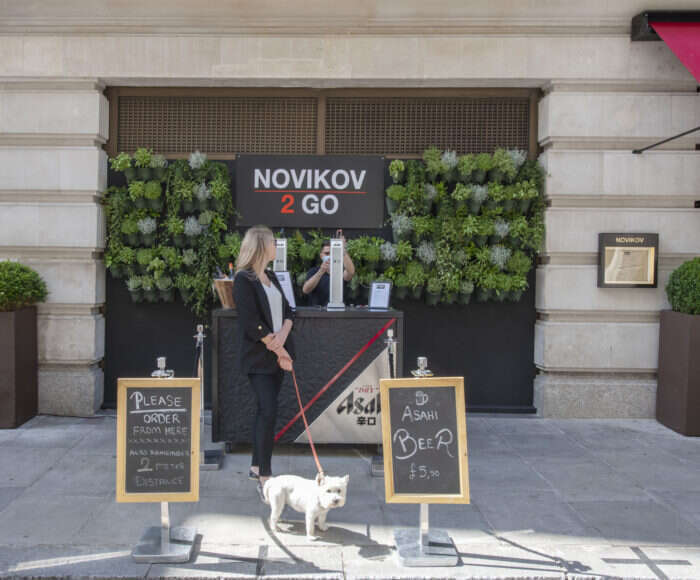 One of Mayfair's most-loved fine dining restaurants reopened on July 4 but will continue to offer a selection of its amazing Asian and Italian creations for order and collection. The Novikov2Go menu allows you to enjoy signature dishes from both the Asian and Italian side of the menu, such as King Crab Leg Gratinated with Wasabi Cream and Seabass with Spinach & Crudaiola Sauce. The restaurant offers complimentary delivery to homes and businesses in the immediate area or you can collect it yourself. It can even deliver private jet orders direct to the runway. Alternatively, if you are venturing out there is a casual food stall offer elevated burgers, paninis and chicken skewers that can be enjoyed in nearby Berkeley Square for an alfresco feast (if the sun is shining!).
Aquavit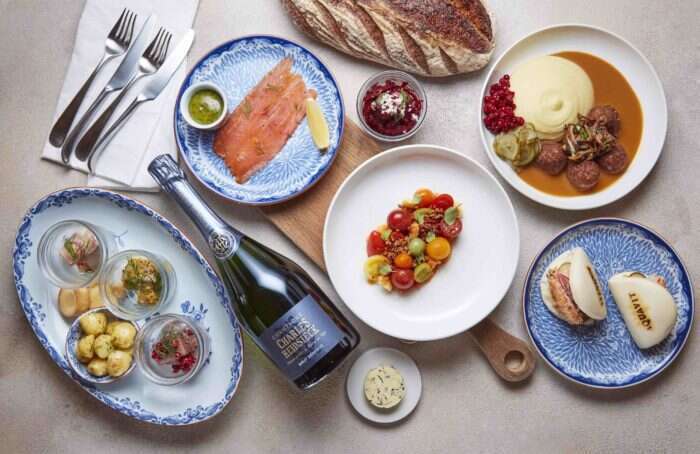 The Michelin-starred Scandi restaurant is bringing the hygge (a Danish concept for feeling warm and cozy) into your home with a new takeout menu. Sister to the two Michelin-starred Aquavit New York, Aquavit London's new menu is full of fresh, locally sourced ingredients and Nordic-inspired dishes, for an elegant yet casual fine-dining Scandi lunch or supper at home. Stand-out choices include the Nordic salad with hot smoked salmon, shrimps, pickles, lettuce and rye; and traditional Swedish meatballs served with mashed potatoes, pickled cucumber, mushrooms and lingonberries. Available on Supper.
 The Ledbury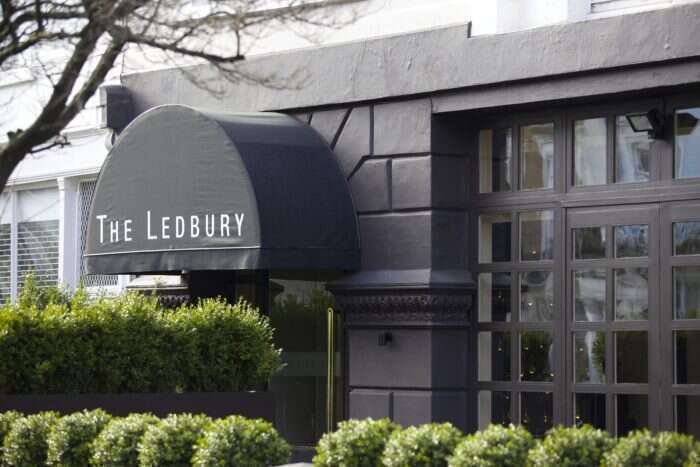 The two-Michelin-starred restaurant is one of London's finest dining destinations with chef-patron Brett Graham winning the loyalty of some of the city's highest flyers. Those regular diners have had to live without Graham's seasonal fare for some time, but they can now get their fix at home by ordering the new Provisions Box. Created by the Cornwall-based butchers, Philip Warren, The Ledbury Provisions Box contains a number of products to fill your meat draw and larder with a range of premium ingredients.
Everything has been carefully selected by Graham from farmers and suppliers that he works closely with. He has also prepared several of the contents himself. The Ledbury Provisions Box includes ingredients including, whole Pekin duck aged in hay with confit duck legs, The Ledbury's truffle cream and beer vinegar, Coombeshead Farm sourdough, and much more. Priced at £170 ($215) and available for nationwide delivery, the box also includes cooking instructions from Brett and tips on how to use the other ingredients included.
Available via digital platform On The Pass
Jean-Georges at The Connaught
Jean-Georges Vongerichten is one of the most successful fine-dining restaurateurs in the world, boasting sites in some of the most exclusive hotels in major cities across the world. Many of them are now offering a delivery service, including his restaurant at The Connaught hotel in Mayfair. You can order signature dishes such as the Lobster and fried squash flower stuffed with prawns and his Pizza of Fontina cheese and rich black truffle.
the-connaught.co.uk/jean-georges
Kahani
Kahani is one of the best Indian restaurants in London with the Michelin-starred chef Peter Joseph producing a beautiful fusion menu of classic Indian recipes made with fresh and organic British ingredients. Choose from a wide range of small dishes and large plates, including Tandoori broccoli, Lobster tail tossed with shallots and the gorgeous Hyderabadi biryani.
Trishna
Michelin-starred Trishna will resume delivery service from its Marylebone Village base on May 22, with its menu inspired by the south-west coast of India. Customers will be able to choose from old favorites including Hariyali Bream, Chicken Pepper Fry, and Seafood Biryani, as well as indulging in a choice of Feast menus. Delivery radius including Marylebone, Mayfair, Paddington, St John's Wood, Fitzrovia, Euston via Deliveroo.
Sumosan Twiga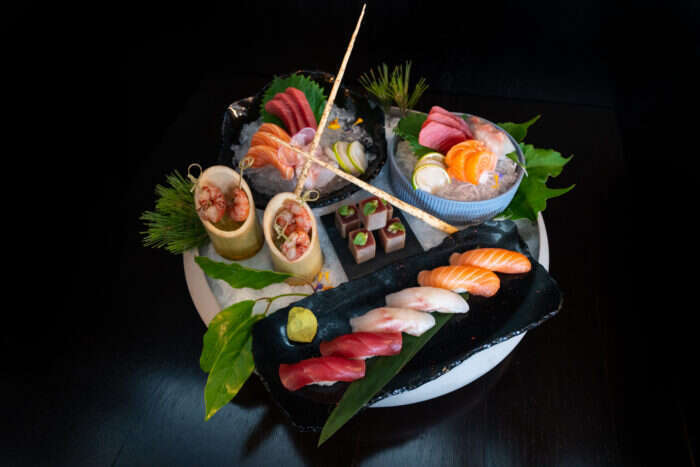 Situated in Knightsbridge, Sumosan Twiga is best known for its unusual fusion of classic Italian dishes paired with the finest Japanese cuisine. The fine-dining restaurant is now on delivery app Supper, giving residents the choice of a selection of its most popular dishes. For a romantic evening in, try either the Taste of Sumosan or a Taste of Twiga taster menus. Both have been designed as a meal for two and include favorites from either the Japanese or Italian menus for £100 ($127). Each combination features six-eight dishes to share. Alternatively, for the ultimate dining experience, order the winning combination of both Sumosan & Twiga classics for £130 ($165).
Gymkhana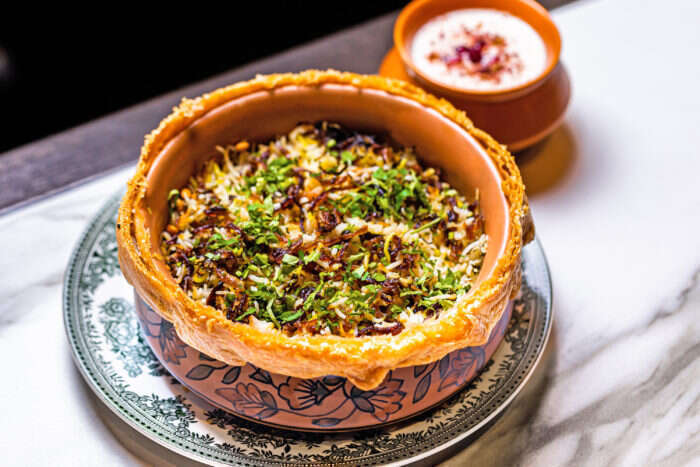 Last year, the hugely popular Michelin-starred Gymkhana was forced to close following a devastating fire. It reopened earlier this year with a new look and revamped menu and was booked for weeks in advance. Now, it has been forced to close again, but from May 22 will be offering delivery for the first time. The takeout menu contains favorites such as its Tandoori Masala Lamb Chops, Butter Chicken Masala and Wild Muntjac Biryani. A bespoke Feast Menu for Two has been curated, and its four courses include the likes of Gol Guppas & Aloo Papri Chaat and Kid Goat Methi Keema. Delivery radius including Marylebone, Mayfair, Paddington, Knightsbridge, Victoria, Sloane Square, St. John's Wood, Camden, Primrose Hill, and King's Cross launches May 22 via Supper.
Scalini
Scalini is an institution of London's dining scene and has been serving elevated traditional Italian cuisine for decades. Located in the heart of Chelsea, it has been a place to be seen for London's power elite, and that same clientele can now experience gorgeous Italian food at home. Supper recommends the Chef's Special, Spaghetti Gennaro. The delicious dish is an Italian staple: Spaghetti tossed in garlic, chilies, white wine with a tomato sauce with julienne of raddicchio and courgettes finished with Parmesan.
Farzi Café
Farzi Café is a modern Indian Bistro that specializes in modern variants of traditional Indian cuisine. The restaurant itself is a hotspot on London's social scene and it has a loyal following amongst young professionals. You can now order many of the restaurant's best dishes, including the Tandoori goat shoulder served with a cumin puff and the famous Dal Chawal arancini. There is also a selection of vegan dishes for those inclined.
Motu Indian Kitchen
Motu Indian Kitchen comes from the same team who run to one-Michelin-starred Gymkhana, which was fully booked for weeks and weeks until the crisis kicked off. As one of Delvieroo's Edition Kitchens, Motu was made for home delivery and there is no option to dine in. That means the menu has been completely formulated to travel well.
Le Comptoir Robuchon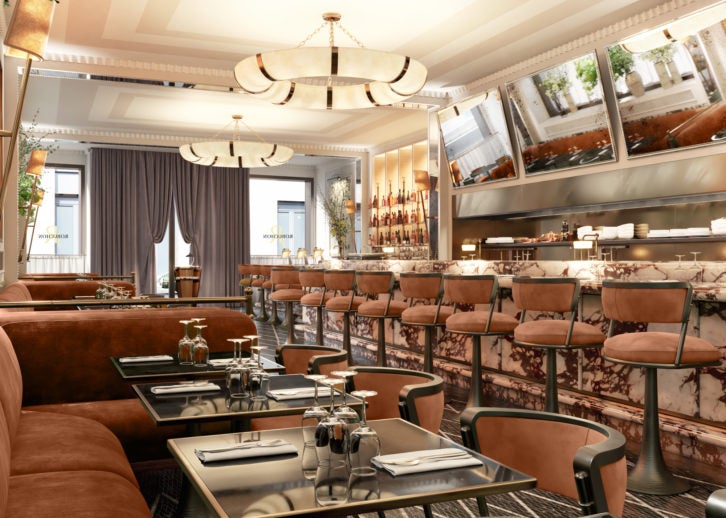 Le Comptoir Robuchon is a very new restaurant in London, but the food it is serving will be recognizable to many gourmands. As the name suggests, the restaurant serves world-class French cuisine that honors the legendary Joël Robuchon. The menu offers a selection of simple yet sophisticated sharing plates and a selection of some of Robuchon's most famous recipes.
Brat
Brat serves beautiful dishes from the Basque Country, and in response to the coronavirus lockdown, the chef Tomos Parry has opened a Farm, Grill and Wine shop. You can choose from a selection of the menu's signature dishes to go as well as the fantastic produce the kitchen would usually use for lunch and dinner.
Hakkasan Mayfair
Hakkasan Mayfair is one of London's most popular Chinese restaurants. It is one of the only Chinese restaurants to boast a Michelin star and serves some of the best dim sum in the city. Supper offers a range of Hakkasan's set menus, including handy meals for one, two or four people.