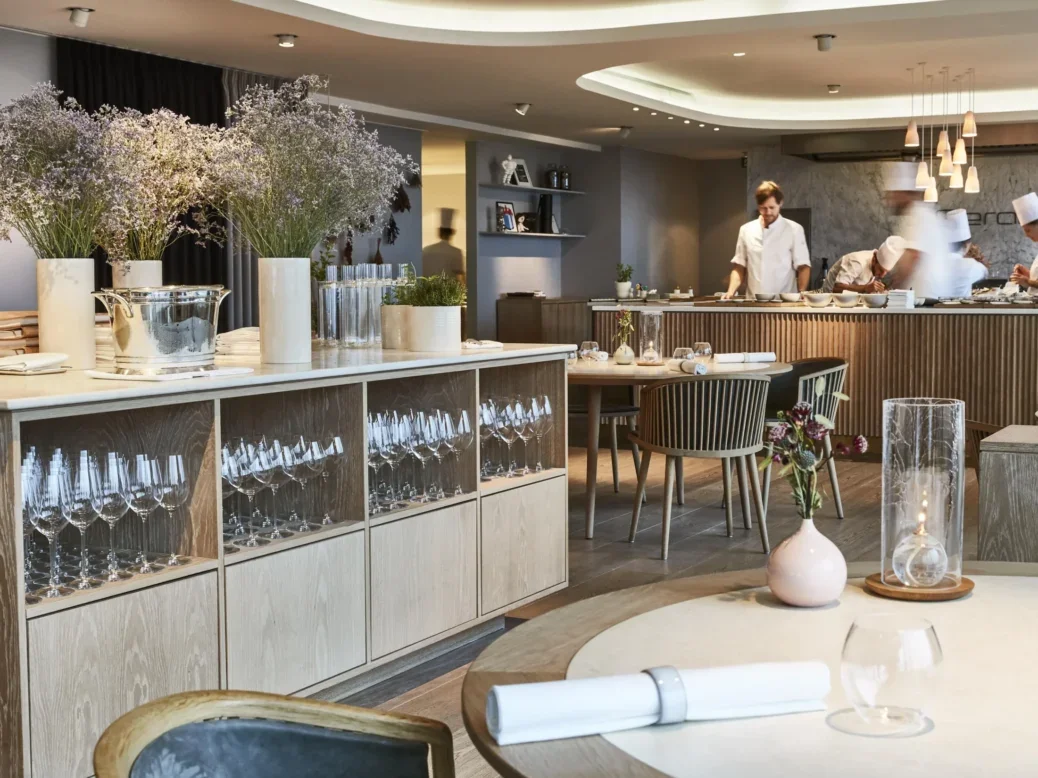 Unless you've been living under a rock for the past twenty years, you'll know about Copenhagen's flourishing food scene. The birthplace of New Nordic cuisine and a pioneer of sustainable fine dining, the city is among the absolute best in the world for foodies, with chefs, diners and critics from around the world clamoring to experience the best restaurants in Copenhagen.
The beauty of the city's food scene is that there's something for everyone; from casual eateries to Michelin-starred showstoppers, Copenhagen has it all. Each restaurant is a lesson in gastronomy, with culinary experiments happening on every corner.
With new restaurants cropping up all the time (most of which have some kind of connection to Noma), there's never been a better time to dive into the Danish capital's culinary world. These are the best restaurants in Copenhagen. Attempt to get a table at your own mercy.
[See also: Chefs Fighting to Make Fine Dining Sustainable]
Noma
There is little we can say about Noma that you won't already know. The long and short of it, however, is that Copenhagen owes its place on the world culinary stage to René Redzepi's groundbreaking restaurant. While Noma of course did not invent the concept of 'foraging', it was one of the first to show how wild ingredients can find a home in a fine dining setting. Since the launch of Noma in 2003, the culinary world has been set alight.
Noma has been awarded the coveted 'Best Restaurant in the World' title an impressive five times, with its latest 2021 win proving that even nearly twenty years later, the concept is just as revolutionary. Redzepi's menus vary throughout the year depending on what he and his team of chefs can get their hands on; the start of the year tends to champion veg, summers are for seafood and game takes center stage through winter. As you can imagine, a ticket to the moon is probably easier to get than a seat here. Signing up to Noma's newsletter is your best bet for a table.
Geranium
While Noma may have kickstarted Copenhagen's culinary status, there are plenty more restaurants to be explored in the city, starting with Geranium. Sitting at the top of Denmark's national soccer stadium, Geranium has an unlikely location, but the accolades speak for themselves: Rasmus Kofoed's restaurant was the first in Denmark to achieve three Michelin stars and in 2021, it came second only to Noma in the prestigious World's Best Restaurant ranking. Not too bad at all.
Hyper-seasonality is the aim of the game here, with a lengthy 16-course menu reflecting the very best of Denmark's bounty of wild ingredients. The dishes themselves are nothing short of artwork, with Kofoed going to great lengths to ensure the presentation truly reflects the quality of the ingredients he uses.
[See also: Inside Villa Copenhagen, Denmark's Newest Grande Dame]
Alchemist
If you're looking for a dinner that verges into a theatrical experience, Alchemist is the place to be. Routinely named as one of the best restaurants in Copenhagen, the two-Michelin-starred destination, led by Rasmus Munk, serves a 50-course (yes, you read that right) menu, separated into five acts. Each elaborate dish is designed to convey a message – be it highlighting the issue of plastic pollution or battery farming.
The setting itself is just as impressive as the food, with the enormous restaurant spread across 22,00 sq ft in Copenhagen's super-cool Refshaleøen area. A particular highlight is the cavernous planetarium-style dome, where projections of ghostly sea creatures swirl above diners' heads. The only advice we can give ahead of a meal at Alchemist is to expect the unexpected.
Marchal
While many of the best restaurants in Copenhagen are on a mission to push the boundaries of the avant-garde, others look to more traditional techniques for their inspiration. One such spot is Marchal, which sits within the historic Hotel D'Angleterre. Executive chef Jakob de Neergaard centers his cuisine on the foundations of classic French cooking but adds a touch of modern flair in his presentation. His efforts have been deservedly rewarded with a Michelin star.
Wine has a big focus here too, with a floor-to-ceiling display of some of the most coveted bottles in Copenhagen. The Champagne list is especially impressive and perfectly complemented by an extensive caviar offering. During the summer months, make the most of Copenhagen's sprawling hours of daylight with a reservation on Marchal's alfresco terrace.
Aammanns 1921
Although experimental fine dining is an undeniable thrill, when visiting a new country, not much can beat eating as the locals do. One particular Scandi favorite, popular in Sweden and Norway as well as Denmark, is smørrebrød – a traditional open-faced sandwich. For some of the best in the city, head to the iconic Aammanns 1921, a bright modern restaurant that has made a name as one of the most popular in Copenhagen.
Here, a gorgeously long menu of smørrebrød is on offer all day long, with everything from matured herring with elderflower and pickled onion to beef tartare. Tradition dictates that smørrebrød should be drunk with schnapps – Aammanns makes its own, so be sure to order the full pairing.
[See also: The Most Iconic Restaurants of the Elite Traveler Era]
Bæst
Like all too many restaurants, Christian Puglisi's influential Relæ fell victim to the pandemic and shuttered its doors for the final time in 2020. However, Copenhagen hasn't been fully deprived of the Noma alum's cooking, with his three other spots still alive and well. Among this trio is Bæst, an Italian-inspired restaurant in trendy Nørrebro with a firm focus on organic sourdough pizza – pizza so good, in fact, that many call it the best in the city.
As is Puglisi's signature style, Bæst is ingredient-forward. What can be made in-house is, with the team churning out an impressive amount of produce, from the daily cheeses to veggies from its own farm. Even the charcuterie is cured on site. The restaurant itself is beautifully rustic – think exposed brick and concrete flooring, warmed up with moody lighting.
Jordnær
Led by husband and wife duo, Tina and Eric Kragh Vildgaard (the latter of which is another ex-Noma vet), Jordnær is a special little restaurant with humble beginnings. It first opened in 2017 and was unexpectedly awarded its first Michelin star a year later. Since then, it has filled out to become a star on the Copenhagen restaurant scene, despite being much further out of town than a lot of its competitors, and a second star was bestowed in 2020.
While Tina runs a tight (but warm) ship out in the main dining room, Eric mans the kitchen. As is a running theme in this city, his dishes are ingredient-led, with the seasons dictating his menu. Expect creative combinations with a focus on big, bold flavors and impeccable execution.
[See also: The Most Anticipated Restaurant Openings of 2022]