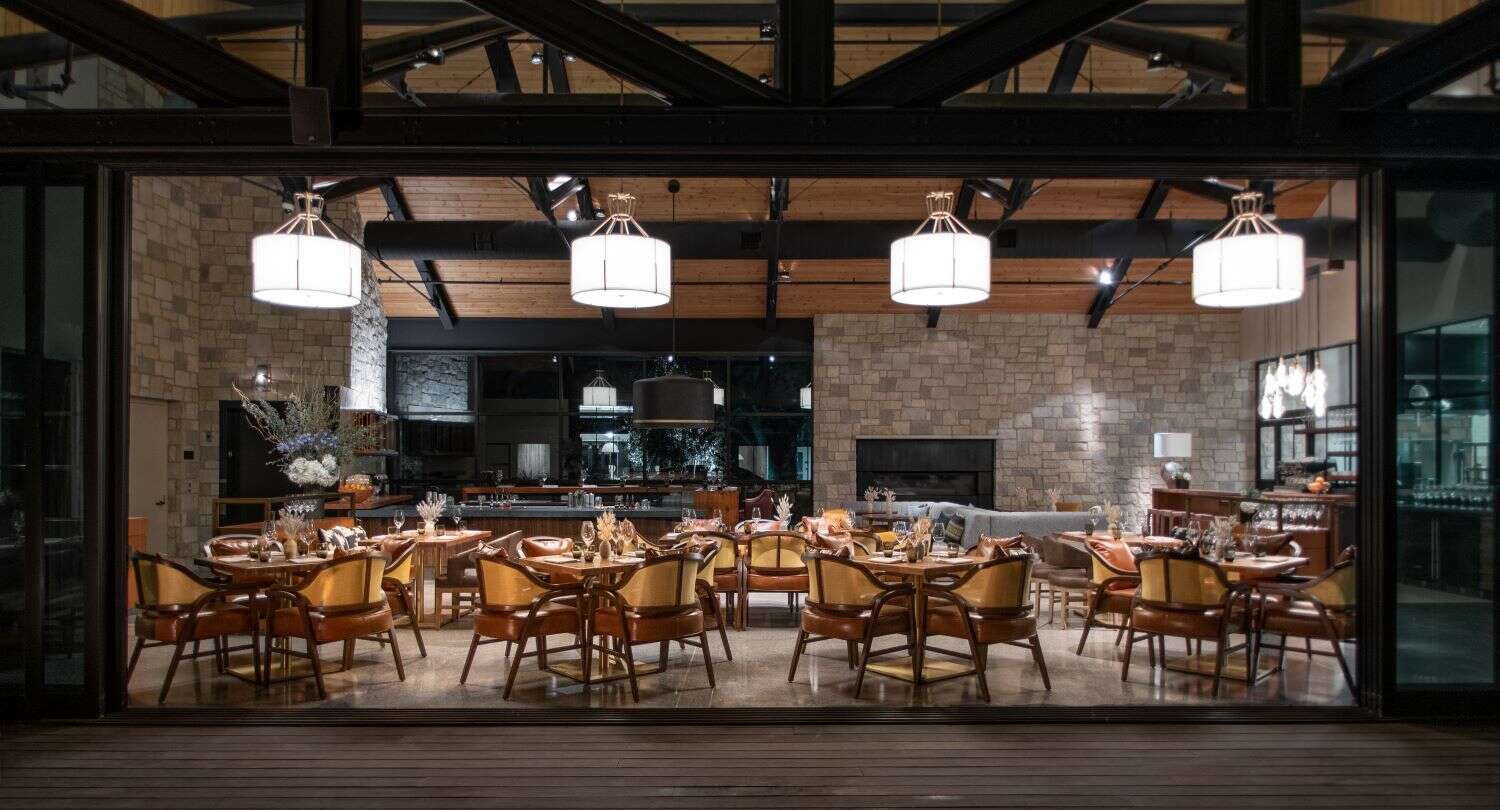 It's no secret that the past two years have been trying for the global hospitality industry but there are signs of recovery underfoot, and the arrival of 2022 brings the promise of new restaurant openings. 
Building on some of the most notable openings of 2021 which included new ventures from the likes of Massomi Bottura, Hélène Darroze and Jean Georges to name a few, 2022 marks the start of a new chapter in an industry still healing. 
Though our shortlist might not be quite as abundant as it would have been in a pre-pandemic era, it's safe to say that there are more than a handful of distinguished chefs and restaurateurs planning new ventures in the year ahead. We take a look at the most hotly anticipated openings from across the US and beyond. 
Kono, New York — Early 2022
Kono is the debut solo restaurant from highly-praised Japanese yakitori chef, Atsushi 'ATS' Kono. Previously heading up New York's Michelin-starred Yakitori Torishin, chef Atsushi honed his skills in Japan before heading stateside.
Located within Bowery's Canal Arcade, Kono promises to be an intimate and authentic Japanese affair. The 14-seat chef's counter will act as chef Atsuhi's stage as he prepares a kappo-style (cut and cook) yakitori omakase, rooted in tradition and seasonality.
Diners will be treated to sizzling cuts of organic Amish chicken, grilled over prized binchotan charcoal. Expect a multi-course menu featuring appetizers, skewers, seasonal vegetables, and dessert.
TRUSS, Napa Valley – Early 2022
The much anticipated Four Seasons Napa Valley recently opened in the historic town of Calistoga. As Napa's first resort to be located within a working organic winery, it provides the perfect base to enjoy the world-class food and wine found in this gastronomically-rich region. 
The resort's signature restaurant TRUSS encompasses two distinct concepts: The more casual TRUSS Living Room (already open) and the elevated yet approachable TRUSS Restaurant. It's the latter that is causing much excitement. Slated to open in early 2022, TRUSS was originally set to be helmed by acclaimed US chef Erik Anderson, who is now said to be launching a new venture of his own. 
While the Four Seasons is in the process of hiring a new chef, the resort's talented executive chef, Shaun Acosta will oversee TRUSS  as it transitions. We expect another notable culinary name to take up residence at this enchanting indoor-outdoor venue so watch this space. 
[See also: The Most Anticipated Hotel Openings of 2022]
Duck House by Boon, Houston – Early 2022 
Hot on the heels of the critically-acclaimed opening of Empress by Boon in San Francisco, chef Ho Chee Boon — best known as the international executive chef of Michelin-starred Hakkasan — is set to open Duck House by Boon at the new Blossom Hotel Houston.
Chef Ho will deliver his own brand of elegant and authentic modern Cantonese cuisine using fresh, locally sourced ingredients to produce contemporary dishes. As the name suggests, succulent duck dishes will take pride of place on the menu which will also feature traditional favorites such as stir-frys, dim sum, and soups.
"Through Duck House by Boon, I hope to build on the cuisine's legacy while also bringing guests together over a meal where guests can create lasting memories with friends and loved ones," says the Malaysian-born chef.
Blossom Hotel Houston is set to also feature restaurant AB Sushi, a Japanese restaurant by renowned chef, Akira Back.
Osteria Mozza, Singapore – Early 2022 
Osteria Mozza, the uber-sustainable one Michelin Star Hollywood restaurant helmed by chef Nancy Silverton, is set to make a comeback in the Lion City after its hugely popular Marina Bay Sands outpost shuttered for the last time in 2018.
Located in the soon to open five-star Hilton Orchard (a rebrand of The Mandarin Orchard Singapore, which already hosts two-Michelin star Shisen Hanten), Silverton's Asian branch is scheduled to open its doors in early 2022 and will offer similar delicious fresh Italian fare and creative cocktails to its US counterpart as well as some specially created dishes for its new home. 
Apricity – Spring 2022
Chantelle Nicholson, the inventive chef behind the now-closed Tredwell's — a much loved green-Michelin-starred restaurant in bustling Covent Garden — will be opening a new restaurant in March 2022. 
Apricity is set to pioneer the principles of a circular economy and plate up dishes that symbolize regeneration, warmth, generosity and light.
Continuing with her skilled brand of veg-forward sustainable cooking, Nicholson with Head Chef Eve Seemann are working to create a menu centered around hyper-seasonal, sustainable produce from small-scale farmers and locally foraged ingredients, with a zero-waste approach to cooking.
Wakuda, Las Vegas – Spring 2022
Famed Japanese chef Tetsuya Wakuda is set to shake up the Las Vegas dining scene when his new restaurant opens at The Venetian Resort in Spring. 
One of the most exciting new restaurant openings of 2022, Wakuda Las Vegas will be the chef's third restaurant joining a growing empire which includes his two-Michelin-Star Japanese fine-dining eatery Waku Ghin at Marina Bay Sands Singapore and French-Asian spot Tetsuya in Sydney. Wakuda Las Vegas will offer an authentic but approachable menu that includes some of the chef's signature omakase.
Located in the resort's Palazzo Tower (taking over the former space occupied by Morels French Steakhouse & Bistro) it will include a patio overlooking the lights of the famed Las Vegas Strip, making it a unique spot to sample some of the finest traditional and modern Japanese culinary craftsmanship the US has seen. 
Naro, New York – Spring 2022
Junghyun and Ellia Park opened Atomix in 2018 in New York's Gramercy Park as the fine-dining answer to their hugely successful innovative Korean restaurant, Atoboy. The husband and wife duo's vision was to create a restaurant that honored Korea's traditional cuisine and its history while taking inspiration from modern global influences. 
Within a year of opening the restaurant had received its first Michelin star with a second soon following thanks to a revolutionary 10-course tasting menu offering the best of new Korean cuisine.
In 2022, the couple plan to launch their third restaurant, Naro. The new venture will be located at the reinvigorated Rockefeller Center, which is swiftly making a play to become one of New York's top dining destinations with a swathe of notable restaurant openings scheduled for 2022. 
"The menu will be focused on providing warm, bright, and healthy dishes with a focus on seasonal vegetables and ingredients. There will be an application of the Korean tradition of fermentation, preservation and jang to add depth to the brightness," says chef Junghyun Park.
[See also: Our Favorite Restaurant Openings of 2021]
Pastis, Miami – Summer 2022
Summer of 2022 will see another New York hotspot open a second outpost, but this time in Miami. Pastis, Keith McNally and Stephen Starr's iconic Parisian bistro — credited with helping to transform Manhattan's Meatpacking District into one of the city's most stylish corners — will open in the hip enclave of Wynwood. 
No stranger to a Big Apple import, Miami is already home to a swathe of New York-founded eateries (Carbone and COTE are just two to have both set up shop in the city) and even more chefs are likely to arrive with the recent announcement that the Michelin Guide is to start awarding stars in Florida.
Starr says: "For the last few years, I've had my eye on Wynwood. I've witnessed the vibrant and artistic neighborhood transform into a booming cultural hub with an incredible dining scene. People want great food, energy, and a great location; Pastis Miami will be a perfect addition to the community."
Peter

 

Luger

Steak House, Las Vegas – Late 2022
If any restaurant could be described as a New York City institution, it's Peter Luger Steak House. Commonly regarded as the Big Apple's original steakhouse, it was founded in 1887.
The family-owned Brooklyn restaurant holds a Michelin star, and the new 2022 Las Vegas restaurant marks its first domestic expansion in over sixty years.
Located in Caesars Palace, the new restaurant is penned to open towards the end of the year and will offer the same high-quality USDS Prime dry-aged steaks, the same mouthwatering sides (the special German fried potatoes are a must-try) and same old-world charm, as its New York counterpart.
The Aubery, London – Date TBC 
One of London's most exclusive hotels, the Mandarin Oriental Hyde Park, has just announced a new immersive dining and drinks concept to replace Daniel Boulud's Bar Boulud.
The Aubrey London will be the first UK venture of Maximal Concepts, the award-winning Hong Kong restaurant group behind Chinese fine-dining favorite Mott 32 (with locations in Hong Kong, Las Vegas and Vancouver).
The team already launched The Aubery in the Mandarin Oriental in Hong Kong with the eccentric Izakaya restaurant proving a huge hit.  The Aubrey London is set to follow suit with menus that showcase traditional Japanese cooking techniques with a focus on sustainable, locally sourced produce, as well as an exciting cocktail menu.
[See also: Onjium: Seoul's Michelin Star 'Institute' Comes to New York]