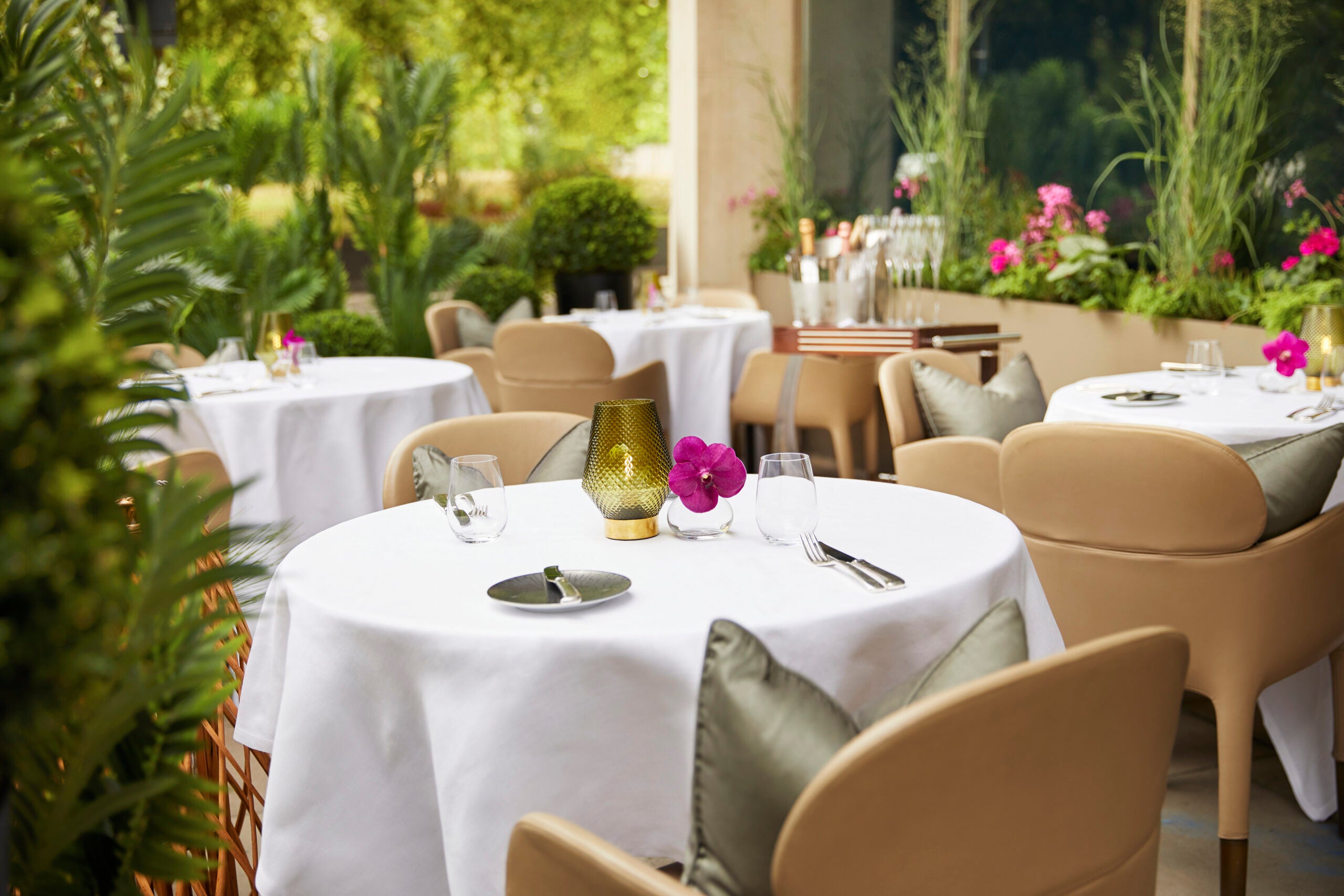 Last week, in London, temperatures approached 100°F six days in a row. Today, as I write this, the rain has been hammering against my window for four hours straight. Summertime in England is nothing if not utterly unreliable. As such, London has never really been a place for alfresco dining, but in the era of Covid-19, outdoor seating has become not only preferred but necessary.
A number of restaurants have turned underused patches of outdoor space into delightful terraces, allowing diners to enjoy what is likely to be their first meal out in months in relative comfort (the risk of transmission is not zero, but significantly lower if you are outside). CUT at 45 Park Lane becomes the latest to join the alfresco movement, launching a charming dining terrace called CUT OUT.
The Wolfgang Puck outpost has been feeding Mayfair locals and well-heeled tourists for almost 10 years. Puck has nothing like the celebrity status in the UK that he enjoys in the US (he was even on The Simpsons), but CUT is widely regarded as one of the best Ameican steak restaurants in the city. Usually bustling with tourists staying at the nearby Dorchester, this part of London remains unusually quiet even as lockdown has eased. Combined with the UK government's Eat Out to Help Out scheme, it is now the perfect time for Londoners to experience this renowned dining destination.
Space is hard to come by anywhere in London, but especially in Park Lane. The people at CUT have had to get creative with CUT OUT, utilizing a thin stretch of pavement at the back of the building on Curzon Street. There's enough room for four, perhaps five, tables with social distancing. A small space has also been reserved for the restaurant's famous negroni cart (they make one of the best in London, I hear).
A lot of effort has gone into separating the terrace from the outside world, although little can be done about the dual carriageway that sits just feet away. Luckily, this road–usually one of the busiest in London–is well below its usual traffic levels. The odd siren cuts through the atmospheric music, but following months of lockdown, I daren't bemoan what is little more than a few seconds of disturbance. We are, after all, living through a time where huge sacrifices have been made, and the fragility of our lives put in plain sight. The CUT OUT terrace is doing exactly what we should all be doing at this time, making the very best of difficult circumstances.
As the sun sets and the traffic quietens to a gentle hum, the lanterns are lit and CUT OUT becomes a truly relaxing place to eat exceptional American cuisine. Despite months of closure, its world-class standards have not slipped one iota. The amuse bouches are delectable, the ultra-premium steaks are cooked exactly to order, and the meticulously crafted Baked Alaska offers a welcome sweet finish to a hearty meal.
This outdoor terrace may find itself mothballed by next summer, but it is certainly welcome at a time where the most important thing for diners and staff is not just being safe, but feeling safe too. Many will not feel ready to dine inside a restaurant just yet, but on the few days when the sun does decide to shine in London, CUT OUT is the perfect place to welcome one's self back to the world of fine dining.