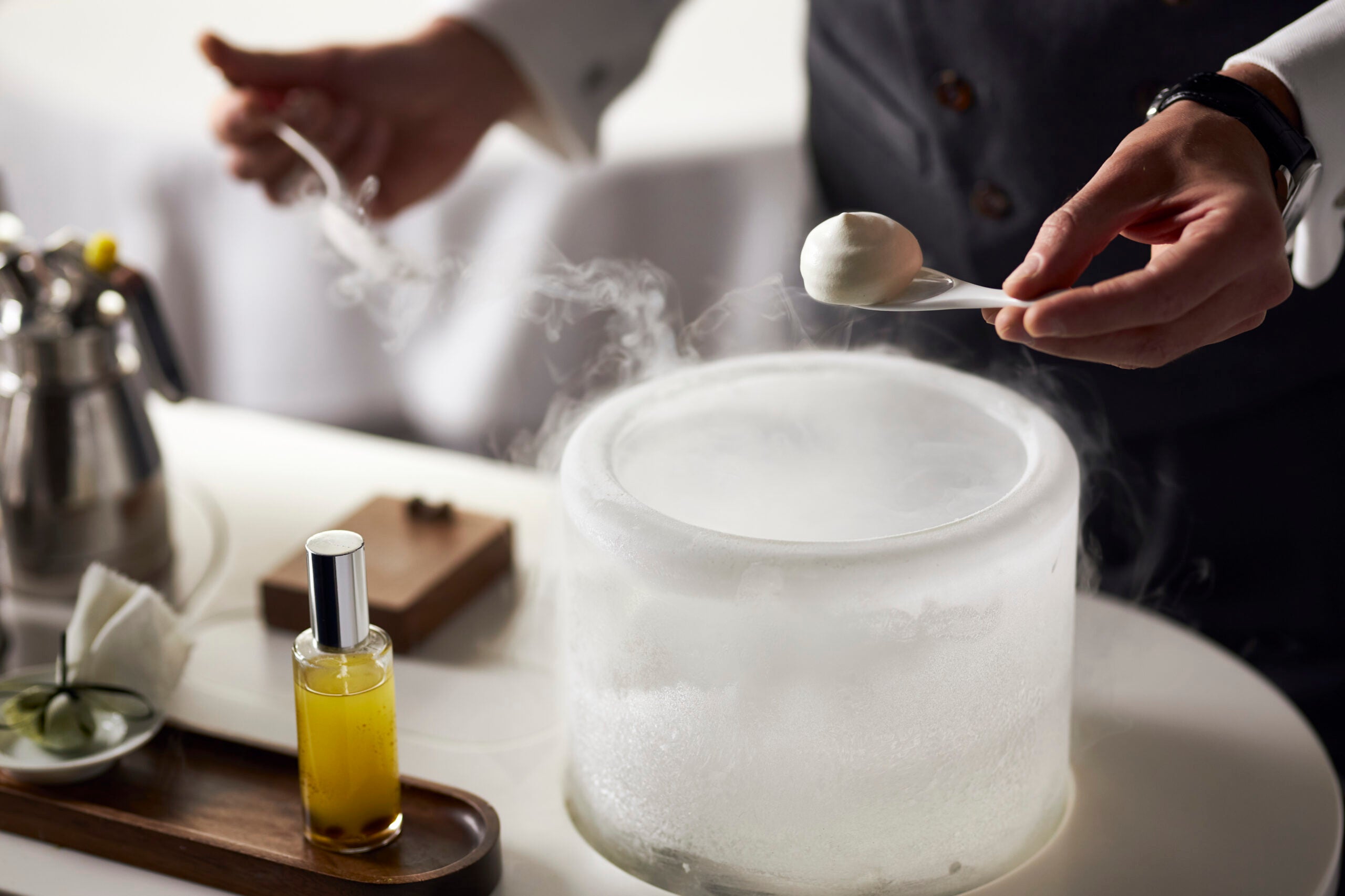 One of the world's most iconic restaurants, The Fat Duck, has announced it will reopen its doors on August 15 to coincide with its 25th anniversary. The three-Michelin-starred restaurant marks the start of a yearlong celebration with its first service in over five months and the release of a new series of menus called Anthology.
The brainchild of Heston Blumenthal, The Fat Duck has long been considered one of the best fine dining restaurants on the planet. Through his passion for art, science and food, Blumenthal pushed molecular gastronomy into the mainstream. The British chef pioneered the use of outrageous scientific techniques that produced previously unimaginable flavors, textures and effects.
Its doors have been closed for five months due to the global pandemic but during that time Blumenthal and his talented team have been working on a new series of menus that will provide a year of celebration to mark 25 years of fine dining success. Anthology will comprise a new, multi-sensory experience, where guests will tread in Blumenthal's shoes and be taken on a journey through his culinary history, experiences and influences, walking in the footprints of his career and experiencing some of the dishes which led to The Fat Duck's world-famous success. It means diners will once again have the opportunity to sample some of his most famous dishes, including snail porridge and crab ice cream.
The journey begins with Volume 1, which will launch as soon as the doors reopen on August 15. The menu has been designed to embody Blumenthal's ethos to 'question everything' by harnessing the power of perception and memory. The menu itself will feature milestones of The Fat Duck's illustrious history, such as Nitro Poached Green Tea and Lime Mousse, the first dish Blumenthal ever developed using liquid nitrogen in the kitchen. Snail Porridge also features in Volume 1, marking its return to The Fat Duck kitchen for the first time since 2015. There are also some brand new dishes, such as Blumenthal's take on Beef Royal, a long-time favorite of his.
The Fat Duck's success is all the more extraordinary for the fact that Blumenthal had never worked in a traditional kitchen before opening its doors. But it was due to this lack of experience that he was able to see things so differently from his peers. His child-like imagination lead him to become one of just a few chefs in the world to hold three Michelin stars for over 15 years.
Blumenthal said: "I am absolutely thrilled to be reopening The Fat Duck after so many months of closure, and even more thrilled that this reopening marks our 25th anniversary. The Fat Duck is my pride and joy; it has made me who I am today. It has allowed me to explore my curiosity, develop new techniques and concepts and understand more about the role of our senses, our imagination and ultimately our relationship with food.
"I am so honored and humbled to be celebrating 25 years and I want to say a huge thank you to The Fat Duck's phenomenal team – past and present – and to all the guests who have walked through our doors over the years, who I hope have been left with a little of the magic that we strive to deliver. It's been an incredible journey so far, and I cannot wait to share what the next phase will bring."
The yearlong Anthology journey will comprise four different menus coinciding with the seasons, and a special Christmas menu. For those who want to experience the entire Anthology journey, diners can book a Season Ticket, giving them access to all five of the Volumes throughout the year.