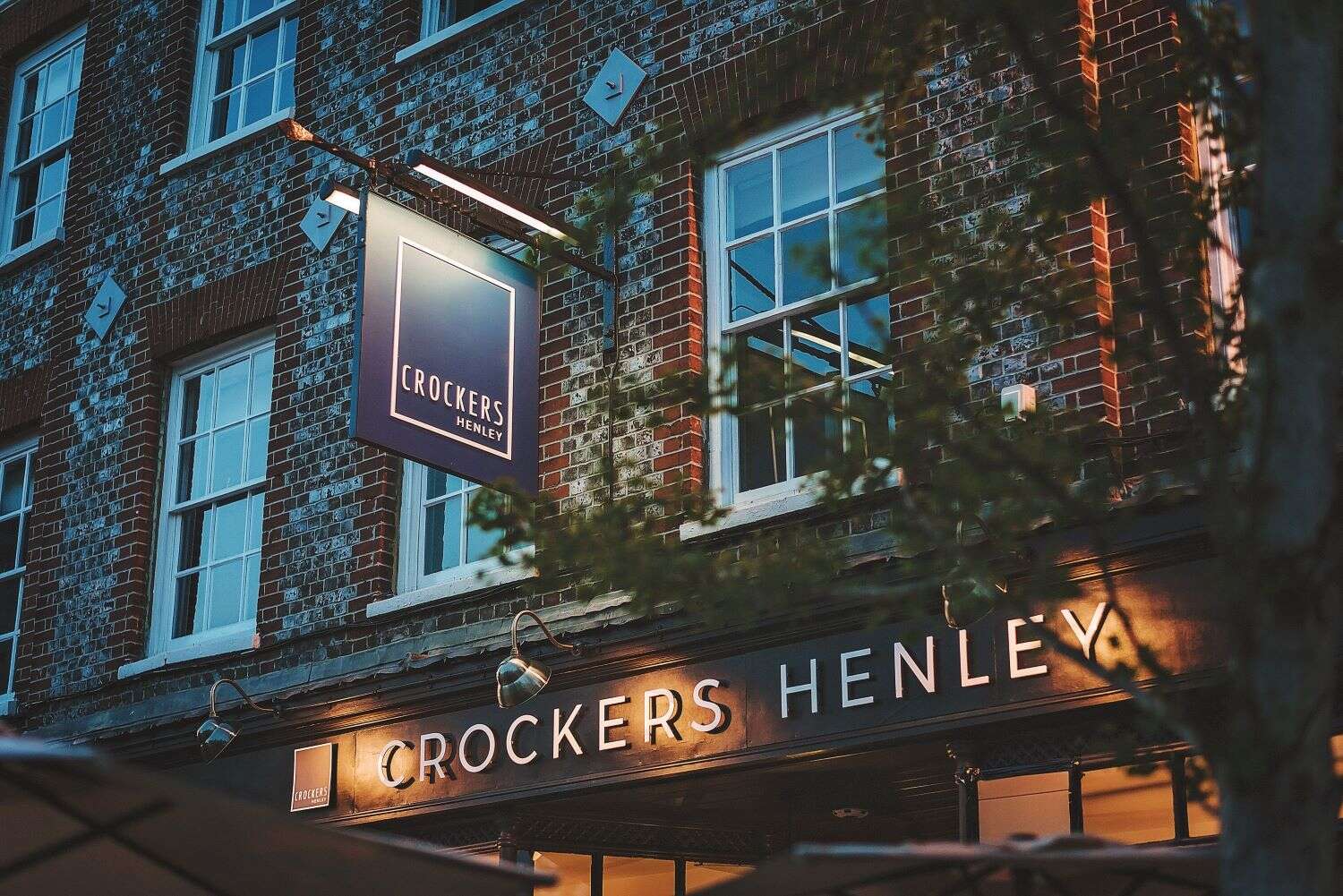 There's an instant warmth to Crockers Henley, especially on a cold fall evening. Before you even reach its front door, it's hard to ignore the glow from the cozily lit interiors peering through the glass-fronted windows of its Grade II listed Georgian facade. As you enter, this warmth emanates in the staff that greet you and lead you through a tardis-like ground floor to an unassuming door. Behind it, the evening's entertainment is about to unfold in the form of pure culinary theatre at the Crockers Henley Chef's Table.
Opening in the historic Thameside market town in August 2020, as well as its newly launched  Ember restaurant, Crockers Henley features not one, but two Chef's Tables — the pan-Asian Gardiner Table and the locally inspired Thames Table.
With an intimate setting of just 16 seats set around an open kitchen, diners are given a ring-side view of the action. Elite Traveler pulled up a chair at the Thames Table helmed by rising star 29-year-old chef Alex Payne. Payne and his team — who are all under 30 — utilize the finest produce to create a seven-course tasting menu offering the best of British, but not as you know it. 
Chef 
If Payne looks familiar, it's because you likely saw him as a fresh-faced contestant on the UK's Masterchef: The Professionals in 2018 where he wowed hosts Gregg Wallace and John Torrode with his raspberry souffle. 
With stints working under some of Britain's best chefs, including Heston Blumenthal and Gordon Ramsay, Payne stepped into his first leading role as head chef at The Thames Chef's Table at Crockers Henley in the summer. And, although he's only a few months into the job, the chef has already garnered widespread critical acclaim for his modern approach and an impressive lightness of touch.
[See also: Olio at Homewood: A Restaurant Growing its Own Success]
For those who think British food means boring, Payne's cooking will make you think again."By using the best possible seasonal and local ingredients, to produce bold flavors, I want to create an experience for our guests that they will warmly remember for years to come," says the chef. 
When it comes to produce, Payne says he likes to take a "quality first" approach. This means the restaurant tries to source as much as it can locally, but wouldn't dismiss a superior product if it could be found elsewhere. 
Menu 
Proceedings start with a glass of fizz as an unpretentious Payne makes his way around the diners, introducing himself and his sociable team — something, you get the impression, the young chef takes genuine pleasure in. 
He shares a hint of what his seven-course tasting menu has in store. Seven courses turn out to be more like eight and a half as the meal begins with a delightful trio of 'snacks'. Diners are presented with playful savory takes on sweet classics: a zingy lemon and avocado crab 'ice cream cone', a mouthwatering 'Jammy Dodger' made from crispy chicken skin and what can only be described as a truffle and gruyere 'profiterole'. 
This is then followed by fresh sourdough made from a 120-year-old sourdough starter, served with fresh Irish butter and local beef dripping.
Diners have the choice of either the Classic or Premium wine pairings and a knowledgeable sommelier is on hand to introduce each of the international and British offerings,  as well as a refreshing gin cocktail. The latter is served alongside the first of the seven courses – a Porthilly oyster dressed with cucumber, elderflower and aromatic herbs. 
Before diners can tuck in, Payne rings a brass bell then proceeds to talk a captivated audience through the intricacies of the dish, something which continues throughout the evening. 
Oyster is followed by beetroot three ways accompanied by bitter leaves and horseradish which slice through its earthy tones. Next diners are treated to Anjou pigeon breast as they watch the chefs concoct and plate up the next course of Cornish line-caught cod with apple and celeriac. 
The star of the show arrives at course number five in the form of the ridiculously tender Packington chicken breast. This is stuffed and then wrapped in a cornflake crumb before being draped in a truffle dew and served with Scottish girolle mushrooms. Chicken never tasted so good.
Those with a sweet tooth will be pleased to learn that there are two deserts. The first is a medley of blackberry, pear and tonka bean. Once served, Payne makes his way around the table individually spooning steaming blackberry snow over each diner's plate. Palate suitably refreshed, the finale is a dark and intense Inaya chocolate mousse with peanut and passion fruit.
Interior and rooms
Statement lighting provides a theatrical ambiance at both Chef's Tables. These are dressed with sleek velvet chairs positioned around a gold-topped U-shaped counter overlooking a spotlit kitchen. 
After an evening of wining and dining, guests can opt to stay in one of Crockers Henley's seven elegantly appointed guest rooms complete with four-poster bed and roll-top bath. Naturally, breakfast the next day is a three-course affair prepared using quality local ingredients.
The Chef's Table at Crockers Henley, 20 Market Pl, Henley-on-Thames RG9 2AH, henley.crockersuk.com
[See also: Enjoy a Scottish Staycation at Fonab Castle Hotel and Spa]