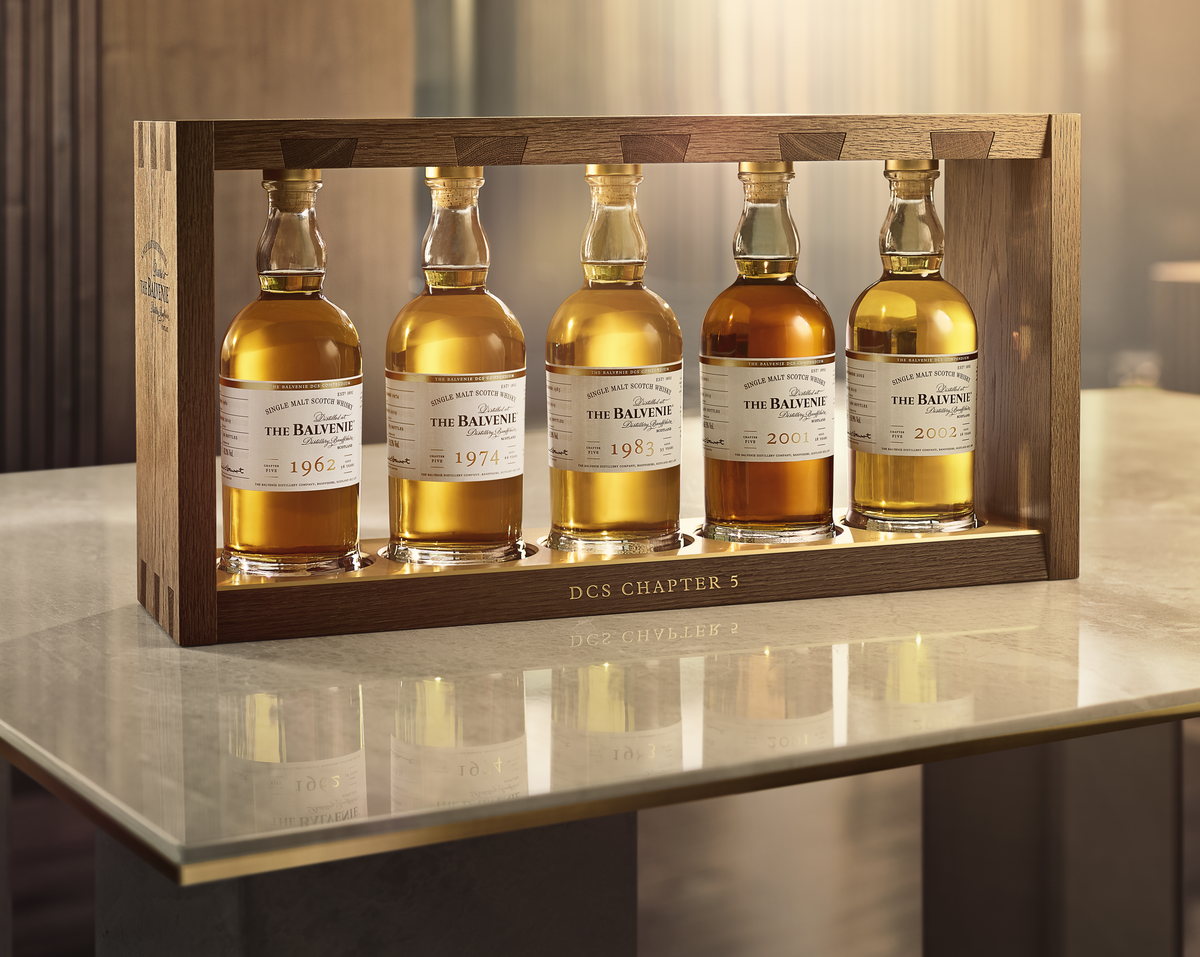 Single malt scotch whisky specialist, The Balvenie, has unveiled the final chapter in its DCS Compendium series. Named 'Chapter Five: Malt Master's Indulgence', the collection of five rare scotch whiskeys is valued at $80,000.
The collection has been crafted by Malt Master David Stewart for their significance to his career. It begins with a 56-year-old liquid – the oldest ever released by The Balvenie – which was laid down in 1962, Stewart's first year in the industry.
Stewart is one of the industry's longest-serving Malt Masters with almost six decades of experience. His selection is an ode to his greatest indulgence – giving himself the time and freedom to earmark casks through instinct alone. These whiskeys only exist because of Stewart's ability to spot potential at an early stage in a liquid's maturity.
"It takes a good deal of time to understand how each cask differs and how whisky maturation is affected by various wood types," said Stewart. "You need confidence to select casks and know which are likely to achieve greatness.
"Working for a family company, I've been lucky enough to have been given the freedom to make stock decisions based on my preference and vision, with the free rein to pick casks and hold on to whisky, not always knowing what I'm going to do with it, for no other reason than thinking one day it will be extraordinary. For me, this is indulgence in its truest form."
The set is comprised of a wide spectrum of single malt whiskeys from the aforementioned 56-year-old to one as young as 16 and is the last in the five-chapter series. As with all the past releases, Chapter Five is presented in a handcrafted frame with each one engraved with an individual number, showing it as one of just 50 sets available.
Each set is accompanied by The Balvenie DCS Compendium book, which is signed by David. This book, written by former Balvenie Global Ambassador Dr. Samuel J. Simmons, features rare archive imagery from the distillery's history.
The Balvenie DCS Compendium Chapter Five
– 1962, Aged 56 years – Cask No. 5575, European oak Oloroso sherry hogshead, filled June 29th, 1962: 42.1% ABV, SRP $47,000
– 1974, Aged 44 years – Cask No. 17706, Refill American oak barrel, filled December 9th, 1974: 51.3% ABV, not available for individual sale
– 1983, Aged 35 years – Cask No. 4483, Refill American oak hogshead, filled September 27th, 1983: 42.0% ABV, not available for individual sale
– 2001, Aged 18 years – Cask No. 9325, European oak Fino sherry butt, filled April 25th, 2001: 63.5% ABV, not available for individual sale
– 2002, Aged 16 years – Cask No. 12147, First-fill American oak bourbon barrel, filled September 18th, 2002: 53.9% ABV, not available for individual sale
thebalvenie.com/dcs-compendium/