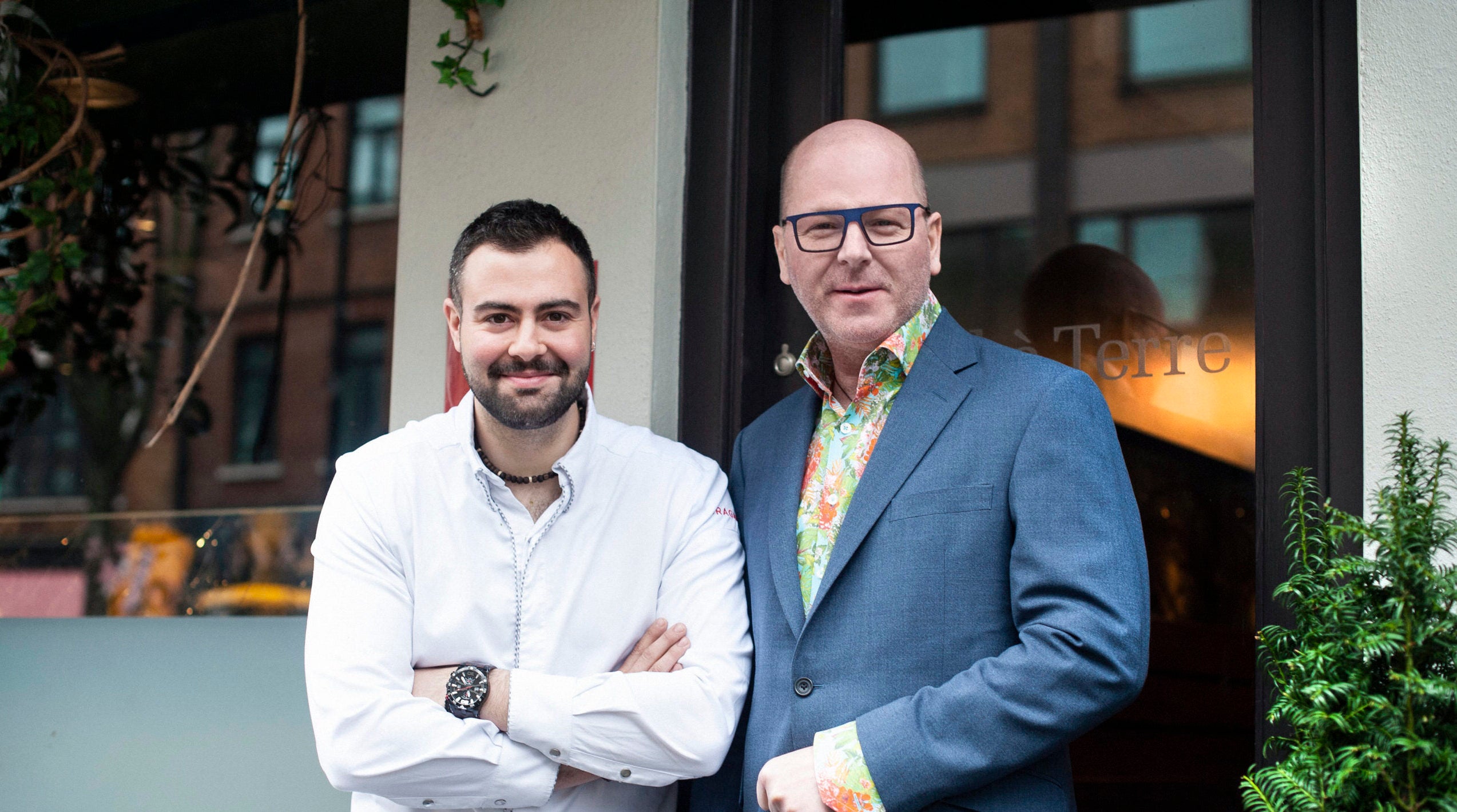 David Moore is the man behind London's longest-standing Michelin star restaurant, Pied à Terre, so he knows a thing or two about staying in the game. But this year has been groundbreaking for London's dining industry and even this most adaptable of restaurants in under severe strain.
Opened by Moore in 1991, Pied à Terre achieved its first Michelin star just over a year later and has held onto that status ever since, even attaining two stars from 1996 to 2000. During its 29 years, there have been some monumental challenges, but it has always come through with flying colors.
Some of London's most famous chefs have worked in the kitchen, such as Richard Neat and Tom Aikens. Since opening with Neat at the helm, Moore has always hired the successor internally. Asimakis Chaniotis took over in 2017 after years of learning his trade at the restaurant. Like his predecessors, Chaniotis is young, ambitious and wasted no time bringing his own style to the menu. His fusion of Greek and French cuisine, with a focus on raw ingredients, is unlike anything currently on offer in the city.
Fresh off a refurbishment in 2019 and with burgeoning talent in the kitchen, Pied à Terre went into 2020 with a spring in its step. But just as the restaurant began to prepare for its glorious 30th anniversary, London went into lockdown and one of the world's most vibrant city's fell silent. Today, with Covid-19 in resurgence, it appears a return to normal life is someway down the road.
Despite a newly-installed 10pm curfew and massively decreased footfall, the restaurant remains open for business. I was invited to visit Pied à Terre on London's culinary hotspot Charlotte Street to find a restaurant filled with diners, many of them regulars, and all of them adhering to the guidelines (mask, face, space). David, who has run this restaurant from day one, was at the door greeting these guests as they filed in, ready to offer a night of relative normality. He spoke candidly about the challenges he has faced, such as the anguish of cutting his staff, and voiced strong opposition to the UK government's curb on hospitality.
Here, Moore reveals how Pied à Terre has adapted in the face of extraordinary challenges and reveals that the big 30th anniversary in 2021 is still very much in the diary.
London's restaurant scene has changed dramatically since 1991. What are the biggest changes you have seen and how has the Pied à Terre stayed relevant?
Dining in the UK now is unrecognizable if you try to compare it to the 1990s. When Pied à Terre opened there were just four one-Michelin-star restaurants in London and now we have over 60 (67). Customers have greater knowledge and bigger expectations. London is probably the greatest city in the world and it's really exciting to be part of its eating culture and history.
The restaurant celebrates its 30th anniversary in 2021. Have you got anything special in the works to mark the occasion?
Project 30. This is reaching out to the alumni who have passed through the door here at 34 Charlotte St. A recognition of what they were part of and, for me, a chance to see what we helped carve out in the world of gastronomy. This will embrace all team members and we will have a website linking all the people who have worked here and made the restaurant what it is today.
You have always taken particular pride in your front of house. What are the key principles that the staff live by at Pied à Terre?
I have been blessed with great cooks, but I think front of house is actually more important. We need to be welcoming, professional and knowledgeable but never disrespectful or condescending. We tread a fine line, trying to be approachable, yet still doing our job.
What does the executive chef Asimakis Chaniotis bring to the kitchen that his predecessors have not?
Asimakis has some very large shoes to fill, but fill them he does. I think Asimakis is a chef who knows his own mind.  He has worked with some of Pied à Terre's previous head chefs but he understands our customers. He is a keen forager, hunter and fisherman and is very passionate about the raw ingredients that he uses. He has a very keen eye when stylizing his plates, a very fresh look and touch.  Yet, whilst being a young chef, he looks back more to classics for inspiration than modern distractions and gimmicks.
You traditionally choose your head chef from within. What is behind the ethos and have you ever been tempted to look outside?
I have often been asked where do I find such talented chefs, and my response is, they are in the kitchen. The restaurant has a tradition of promoting from within and I guess that is attractive to young chefs coming to the restaurant, so maybe we attract more talented chefs because of that approach.
Pied à Terre is one of the only fine dining restaurants in London doing vegan food properly. What was the decision to put a concerted effort into the menu?
I have always wanted the restaurant to be a fully inclusive restaurant in every sense. Twenty years ago it was about having a good vegetarian menu and now I can see that veganism is not a trend, it is a real thing and is only ever going to get bigger. So let's lead the way instead of jumping on a bandwagon.
Besides earning and retaining a Michelin star, what is your proudest moment, or biggest achievement, with the restaurant?
There have been many awards and achievements, but the most precious are very simple. It's when a regular says his son wants his 21st birthday with you; when someone chooses the restaurant as a place to propose or, my most nervous times are when we host a wedding. It is when people put their trust in you to deliver on the most important milestones in their lives.
This year has been devastating for London restaurants. How has Pied à Terre weathered the storm caused by the lockdown?
Lockdown was surreal, a time in our lives never to happen again (we hope). I had a great lockdown with my wife and kids. I put the finances to the back of my mind and really tried to make the most from it. The restaurant has come back strong – a new regime, open four days a week, serving all day to counter the curfew, and with almost half the staff we had before. It gave us the opportunity to totally rethink and reset everything that we were doing before. During lockdown, I kept the marketing and PR budget so as to communicate and connect with our customers and I believe that has contributed massively to our current success – pent-up demand from a loyal regular customer base.
London life has been slow to return to normal. How challenging will the next few months be and what is the plan to endure them?
I have to say that there is no plan, we are really just making it up week by week. For example, when the government introduced the 10pm curfew, we reacted with all-day dining. It has been successful, but unfortunately not as successful as having a restaurant open with the usual hours. I'm sorry to say that I think there will be many, many more casualties in the hospitality trade as we go forward. The dining-out landscape will be very different this time next year and the plan is to stay in the game. Forget about profits and shareholders, just stay in the game.