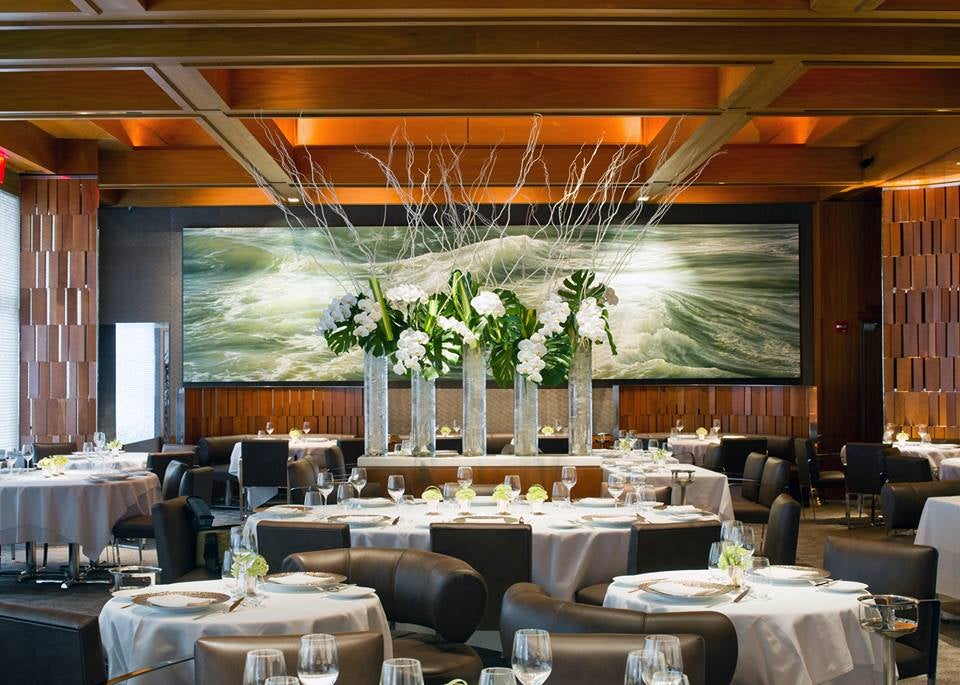 By Kelsey Llewellyn
Alinea
Chicago, Illinois
Modern art show or mouthwatering cuisine? At Alinea, Chef Grant Achatz dazzles guests with both. Deriving its name from a word meaning the beginning of a new train of thought, Alinea defies traditional culinary expectations. Prepare for a euphoric stimulation of the sense, as a display of fire, smoke, ice and tree bark incorporates smell and touch into Achatz's seasonal tasting menu. During this striking presentation, you'll be served deftly displayed and interactive dishes. Take our advice and don't pass up on the restaurant's renowned edible floating balloon.
https://www.alinearestaurant.com/ 
Benu
San Francisco, California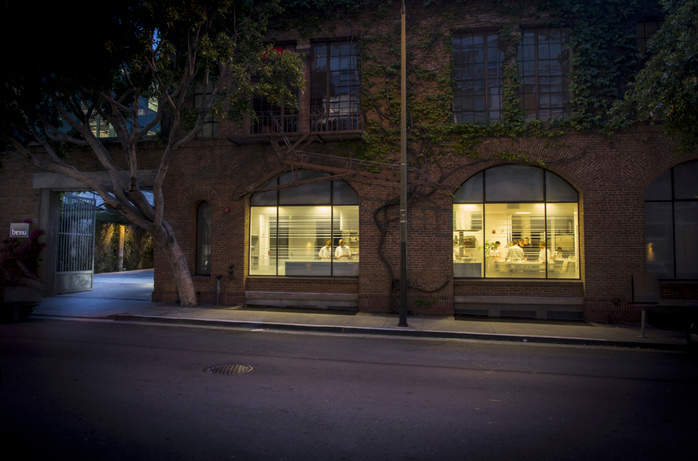 Born of contemporary-Asian influence, Chef Corey Lee's nightly tasting menu at Benu is served within a polished yet modest dining area and features distinct combinations (like sea urchin marinated in a delectable fermented crab sauce) that will make the trip to San Francisco well worth the journey.
Chef's Table at Brooklyn Fare
New York, New York
Take a seat next to other foodies who have made the pilgrimage to Brooklyn at Chef Cesar Ramirez's kitchen counter, featuring Japanese-inspired cuisine prepared with French artistry. Primarily focused on seasonal seafood and shellfish, the tasting menu at Chef's Table at Brooklyn Fare transforms dining into a roughly two-and-a-half hour gastronomic experience that will leave you blissfully filled and ready to make your next reservation. If detailed dishes like sea urchins over toasted brioche don't send you running for Brooklyn Fare market, then maybe the restaurant's 7,000-bottle wine cellar (highlighting classic European regions, like Burgundy and Rhone), will. 
https://www.brooklynfare.com/pages/chefs-table
Eleven Madison Park
New York, New York
While Eleven Madison Park may be closed for the summer to develop a new culinary concept, this contemporary American restaurant run by Chef Daniel Humm is one of New York's culinary crown jewels.
https://www.elevenmadisonpark.com/
The French Laundry
Yountville, California
Serving its world-famous classic French cuisine in Yountville, California since 1994, The French Laundry is a flagship of phenomenal gastronomy. With Chef Thomas Keller (the only American-born chef to be celebrated with two three-starred Michelin restaurants) at the helm, no single ingredient is ever repeated within the entire meal. So, whether you order the nine-course chef's menu or the nine-course vegetarian menu, you're in for an impeccable experience. To complete your rapturous repast, ask for wine or spirit pairing.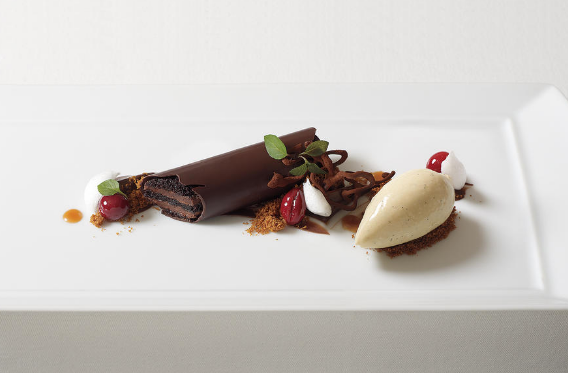 https://www.thomaskeller.com/tfl
Grace
Chicago, Illinois
At his elegant eatery in Chicago, Chef Curtis Duffy constructs two seasonal tasting menus. "Flora," for vegetarians, spotlights an array of vegetables as the menu's protagonists in dishes combining Australian black truffle, sweet corn, pecorino and a sprinkle of parsley. This menu certainly distinguishes Grace, as it is rare and refreshing for a restaurant to treat vegetables with the same reverence as meat. Meanwhile, those interested in meat may opt for "Fauna," a menu accentuating Asian-inspired flavors (like the dish with Miyazaki beef, grains and hon shimeji dressed in kaffir lime). Either way, choose the wine pairing and let the experts do the rest of the work.
https://www.grace-restaurant.com/
Jean-Georges
New York, New York
Sensational service, spectacular views of Central Park and Columbus Circle, and a menu starring a unique blend of French-, American- and Asian-influenced cuisine has kept Jean-Georges opened (and celebrated) since 1997. Chef Jean-George's offers two seasonally dynamic menus for equally exceptional experiences: the traditional tasting menu of the chef's signature dishes (like lobster tartine) and the seasonal tasting menu featuring fresh market ingredients (including kanpahci sashimi dressed in sherry vinaigrette and peppered with toasted pecans).
https://www.jean-georges.com/restaurants/united-states/new-york/jean-georges
Le Bernardin
New York, New York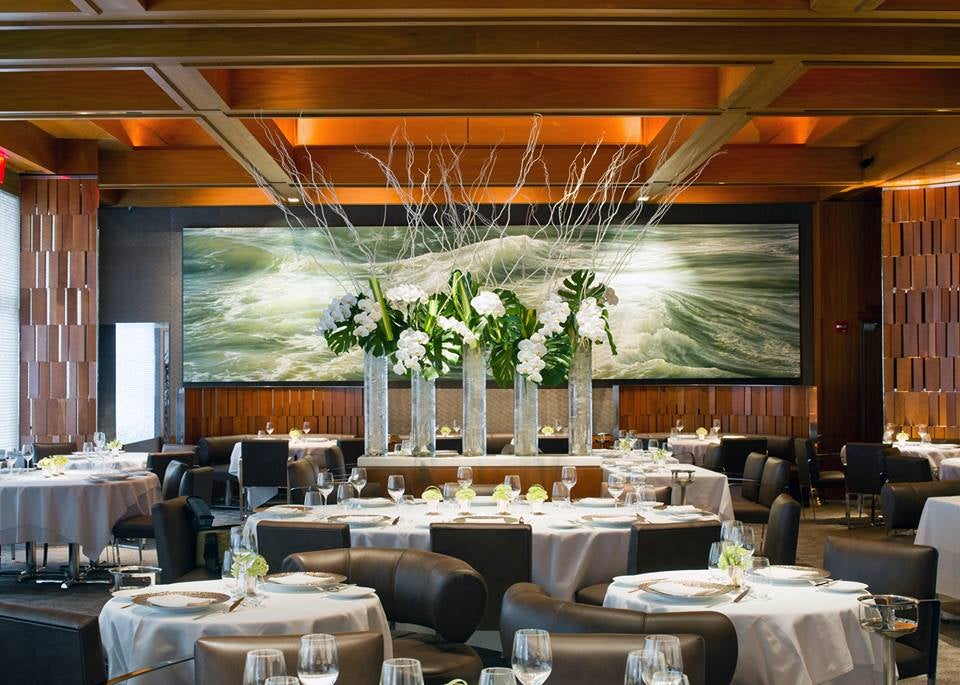 Serving heavenly French-inspired seafood since 1972 and earning its first Michelin star in 1976, Le Bernardin is New York's premier venue for perfectly prepared and sauced seafood. Just fall captive to Chef Eric Ripert's ingenious tasting menu (including striped black tartare with baby zucchini and parmesan-lemon confit sauce vierge) to see what we mean.
https://www.le-bernardin.com/home
Manresa
Los Gatos, California
With a dash of European culinary tradition, a splash of American gumption, and an abundance of high-quality ingredients from Californian farms, Chef David Kinch, owner of Manresa, offers luxurious and locally sourced food at his New American venue. Located in Los Gatos, CA, this splendidly stylish eatery offers mysterious tasting menus. In other words, the nightly tasting menu arrives at the table when you do, guaranteeing ethereal surprises for you and your palate.
http://www.manresarestaurant.com/
Masa
New York, New York
Everything from Masa's sparse decor to its sushi's simple ingredients enthralls guests with subtle yet sublime qualities that make eating here such a heavenly experience. Chef Masa calls it shibui, but we're calling it perfection. For 20-25 exceptional courses, choose the omakase menu, changing daily to ensure that only the freshest ingredients make the cut. Expect to be awed by dishes like delicately grilled shiitake mushroom nigiri as well as a fabulous piece of Japanese hairy crab sitting upon buttery tomalley and lightly decorated with a tangy yuzu.
Per Se
New York, New York
Enter Per Se, a culinary temple in Columbus Circle, to treat yourself to Chef Thomas Keller's New York interpretation of The French Laundry. The chef's nine-course menu features dishes like Slow-Cooked Tai Snapper "Farci Au Homard," while you can expect dishes such as Mascarpone-Enriched Sweet Corn "Agnolotti" on his nine-course vegetarian menu. Don't leave without trying the renowned "Oysters and Pearls," a delicious dish of buttery tapioca pudding beneath caviar and oysters. The award-winning wine list is comprised of over 2,000 bottles, starring older collections along with rare wines from small producers.
https://www.thomaskeller.com/perseny
Quince
San Francisco, California
Quince's champagne carts, stylish-brick interior, and 6,000-bottle wine collection inspire a refined ambience that is even more dazzling when paired with Chef Michael Tusk's daily-modified Summer and Quince menus. While the deftly crafted courses are inspired by Italian and French cuisine, each flavor combination is charged with contemporary twists, ensuring that every dish (like the Tsar Nicoulai Caviar with brioche, hollandaise and rooftop flowers) is not only distinctive but also divine.
http://quincerestaurant.com/home
The Restaurant at Meadowood
St. Helena, California
A temple of locally sourced cuisine, The Restaurant at Meadowood is a Modern American restaurant exhibiting ingredients from the best foragers, artisans, and growers of Napa Valley. Gathering additional fresh produce from its 2.5-acre Culinary Garden as well as wine from nearby lauded vintners and growers, this eatery is a farm-to-table paradise.
http://www.therestaurantatmeadowood.com/
Saison
San Francisco, California
While the ex-warehouse dining space playing '80s-pop music draws its aesthetic from past eras, the gastronomy of Saison is anything but out-of-date. Each morning, the critically lauded chefs invent a new menu, capitalizing on the proximity of fresh ingredients from the local fisheries, farms and ranches in the San Francisco Bay area. The artisans never disappoint and neither do the chefs, who reject the conventional boundaries dividing kitchens from dining rooms. Visiting each table, the culinary wizards directly describe their unique dishes, including flawless combinations, such as ember-grilled black cod presented in zesty yogurt with makrut lime leaves.