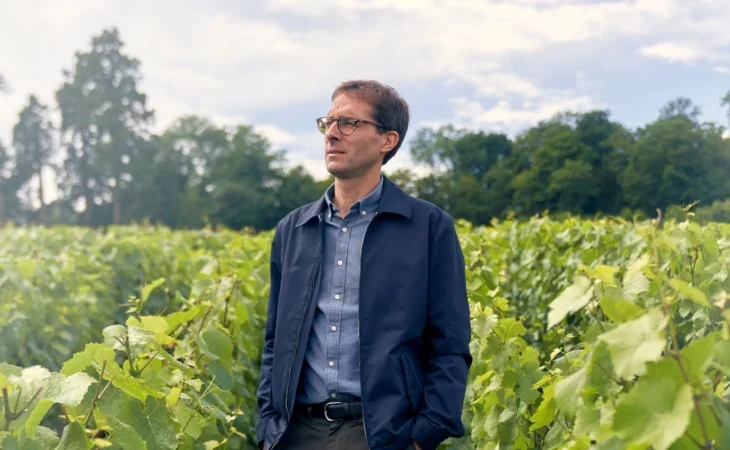 "We are gardeners," says Vincent Chaperon, Dom Perignon's chef de cave, describing his and his team's role within the process of formulating a bottle of what is one of the world's most iconic champagne brand.
And with the impending September launch of Dom Perignon Vintage 2004 Plentitude 2 — a champagne that has been maturing for 18 years now — this is, admittedly, some very patient gardening.
An unorthodox approach to the perception of one of the most senior roles within any champagne brand, sure. But it comes as no surprise that Chaperon describes both the process of creating a vintage wine, and his role overseeing it, as akin to a horticulturist.
[See also: The Best Champagne Brands to Try in 2022]
"We are linked with nature," he explains. At one point, the Bordeaux-raised cellar master compares the operation to putting together a bouquet of flowers.
"Making a bouquet is not just making a bouquet. It's not just choosing flowers. Every flower has a meaning, in term of emotion, origin, possession… I think that the wine in the western country… Well, I say western country, it started in the Middle East 3,000 years ago… Wine means something very special to many people."
"I love the technique, I love science," he continues. "But for me, wine is much bigger than that. I discovered progressively, that when you fall in love with someone or something… For me, that's wine."
Chaperon's love for wine is transparent. "I am from Bordeaux, from a wine family," he explains, smiling.
"My father and mother did not walk in the wine, but my grandmother used to run a wine estate in Bordeaux. My grandfather and all his friends would drink wine… From my early childhood, I was surrounded by wine. The wine was part of our day to day life."
"There was a bottle of wine everyday on the table," he continues. "Always, an open bottle of wine. But it was not just a matter of consumption, but a matter of culture. My grandfather would always tell me the story of France, the story of our family…"
Yet crafting vintage wine is, for Chaperon, not just a nostalgia fueled labor of love, but one that propels him to face the future. "I am always telling the team, don't tell me about 2005, 2006. Let's talk about 2032," he laughs. "Everything is done for me in 2032."
The role of nature within making wine is not a new concept to Chaperon, who was 21 years old when he first decided to follow in his family's footsteps and join the industry. "We all have a mission in life," he explains, somewhat determinedly. "As a winemaker, there is a mission, perhaps, to talk about the beauty of nature, the quality."
The relationship between wine and environment is not transactional, but one of dependency; the taste, the flavor, the palate of the wine is wholly contingent on the nature of the nature, so to speak.
No bottle encapsulates this relation more so than the Vintage 2004 Plentitude 2. Presented with themes of renaissance and calm, and inspiring a similar sentiment upon first sip, the 2004 is a celebration of the year the grapes were grown in; a considerable contrast to 2003, a summer characterized by dramatic frosts and a historic heat wave.
And in the year following the peak of the Covid-19 pandemic — and the subsequent lockdowns, implemented across almost every corner of the globe — there is, perhaps, a relevance to Dom Perignon 2004's themes of renaissance and calm, eighteen years on, which follows its own year of turbulence and extremes.
So following almost two decades of uninterrupted residence in the cool, dark cellars of Champagne, what can we expect from the Vintage Plenitude 2? "Citrusy notes of pink grapefruit and blood oranges," details Chaperon's notes, with a gentle allusion to figs. And, of course, the brand's trademark ripeness, the result of Dom Perignon's commitment to maximizing longevity for maximum radiance and vitality.
"The additional time on the lees elevates the minerality of the vintage with the sublime maturity that is Dom Perignon's signature," Chaperon's notes discuss. "Cocoa, mocha, roasted nuts, brioche and honey… The wine balances on the edge with immediacy and surprise, evolving between tension and weightlessness."
Lest the relationship between nature and Dom Perignon under Chaperon's leadership be portrayed as exclusively one of taking the latter from the former. When asked about the brand's approach to sustainability, Chaperon is clear to stress Dom Perignon's commitment to the environment their wine is so dependent upon.
"We are doing hundreds, thousands of things," he explains. Investing in electric tractors is one move he uses as an example. Top of the agenda for the champagne house is minimizing greenhouse gas emissions and water waste management.
Even the iconic bottle itself is being recalibrated for environmental purposes. "The name, the shield, the bottle… The bottle is so iconic… This is the identity." Yet, "today, we are doing very technical things… We are working, today, to work with the glass maker, to [find] different directions… We are working on different things to find a good balance."
"The important thing is to look at it, and not be narrow in how we address it. We need to try and see very large." Chaperon speaks of sustainability within the brand with passion.
"I love nature," Chaperon says, simply. "This is the reason why I am in wine."
This is not just a commitment made by Dom Perignon; the Champagne region at large has vowed to become fully sustainable by 2030. Moët Hennessy, owners of Dom Perignon alongside Veuve Clicquot, Ruinart, Mercier, and Krug, banned herbicides in their vineyards in 2020, and has invested 20 million euros in an environmental research centre that opened in 2021.
The commitment to the future of sustainability is reflected in Chaperon's commitment to the future of the world of wine. When asked about the impact of the pandemic upon the company, he patiently explains he is not in sales, so cannot speak on behalf of the whole company, but does admit it was a time to "return to nature".
"The first lockdown really helped the team get closer than ever," Chaperon says. "We all faced this uncertainty, this big question mark together. But we had to plan, we had to empty the vat for the next harvest. Why? Because life is going on."
"We are working with nature," he explains. "And nature doesn't stop."