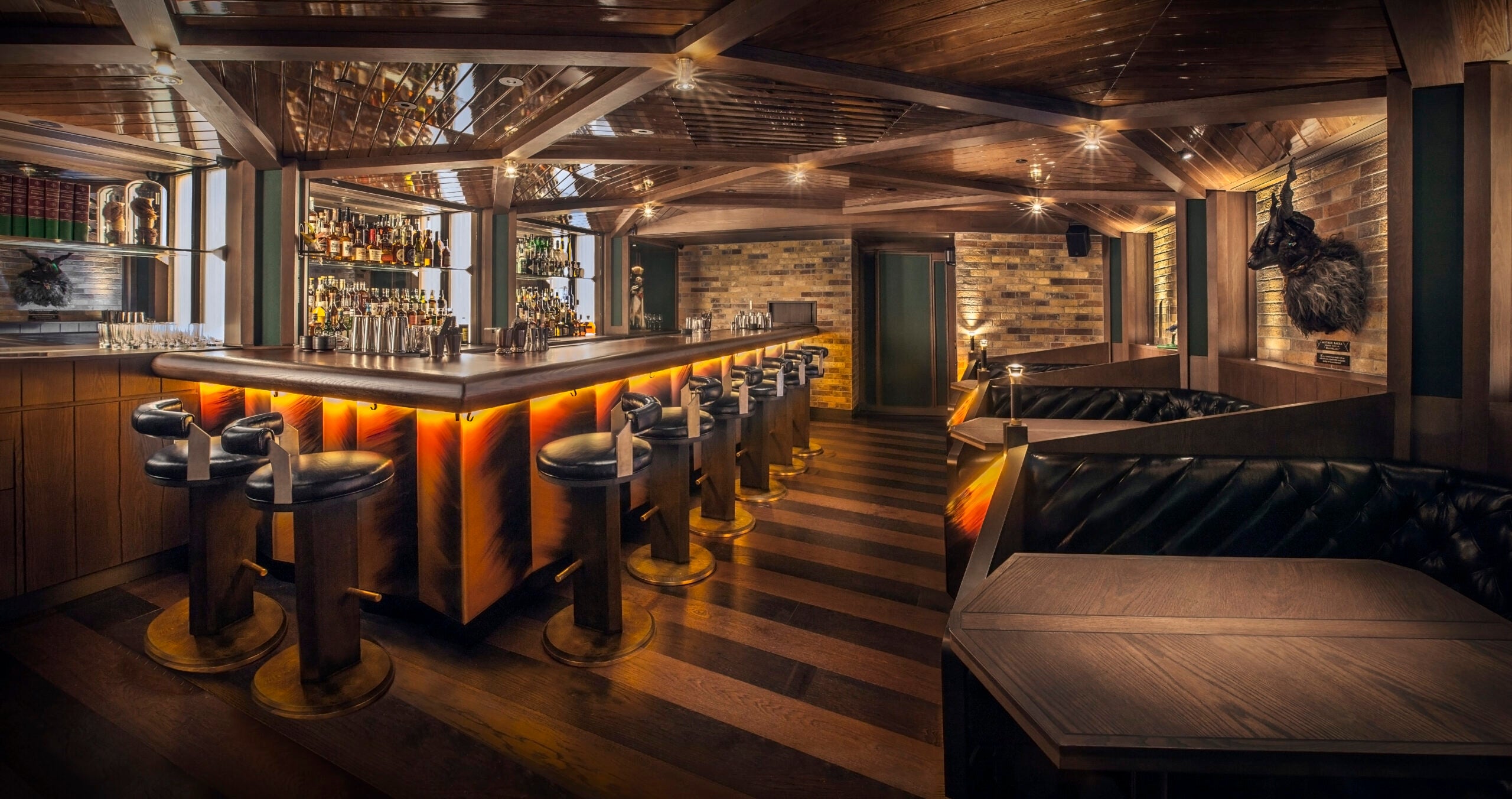 Bad Hunter at PDT, The Landmark Mandarin Oriental, Hong Kong
1.5 oz Chivas Regal 12 whisky
1 oz Fernet Hunter
1/2 oz lemon juice
1/4 oz 'dragon eye' syrup
1 oz Moët & Chandon Impérial Brut champagne
To create this cocktail of the week, simmer 32 oz simple syrup with 8 oz longan fruit (also known as 'dragon eye') over medium heat for five minutes. Fine strain, cool and bottle. Shake Chivas Regal 12 blended Scotch whisky, Fernet Hunter bitter spirit, lemon juice and dragon eye syrup with ice. Top with Moët & Chandon Impérial Brut champagne. Fine strain into a rocks glass over a large ice cube. Garnish with nasturtium leaf.
Through a vintage telephone booth within an East Village hot-dog joint hides one of the coolest cocktail bars in all of New York City. PDT, short for Please Don't Tell, has taken its chic speakeasy concept overseas for a permanent residence in The Landmark Mandarin Oriental, Hong Kong. Following a successful pop-up at the luxury hotel in 2016, PDT's Jim Meehan and Jeff Bell partnered with the team of chef Richard Ekkebus (whose on-site restaurant Amber made the Elite Traveler list of Top 100 Restaurants) to open the bar's first permanent location outside New York City.
PDT Hong Kong maintains the intimate ambiance set by its original location, seating just 25 guests on the mezzanine level above MO Bar. And, yes, the secret entrance is still part of the PDT experience even away from St Marks Place. At the top of a hotel staircase, a telephone booth leads to the cozy bar with recollective design elements such as a copper bar top, herringbone-patterned wood ceiling and taxidermy adorning the walls.
Renowned for its creative mixology, PDT has brought many of its cocktail classics across to Hong Kong as well as new recipes crafted especially for the location. This week's Bad Hunter is a twist on the traditional John Collins, debuting on the PDT Hong Kong cocktail menu. Joining the Bad Hunter as new additions are the Big Fan, made with Cabeza tequila, and the Milky Tea Punch, featuring Ron Zacapa Centenario rum, Hennessy VSOP cognac and Rickshaw tea.
"After our month-long pop-up exactly two years ago, Jeff Bell and I were over the moon when our hosts at The Landmark floated the possibility of bringing us back permanently," said Jim Meehan, cofounder of PDT, in speaking to Elite Traveler. "We've waited patiently and worked tirelessly with chef Richard Ekkebus's food-and-beverage team and designer Nelson Chow to build a new-and-improved, permanent version of the bar where we worked, overseen by longtime PDT New York staff members Malaika Suarez and Adam Schmidt. Jeff and I look forward to writing the next chapter of PDT with our partners at the Mandarin Oriental."
PDT Hong Kong is open Monday-Thursday from 5pm to 1am and Friday-Saturday from 5pm to 1:30am. For reservations, contact +852 2132 0110, lmhkg-pdt@mohg.com.
For more information on PDT at The Landmark Oriental, Hong Kong, please visit mandarinoriental.com. For more information on the original PDT in New York City, please visit pdtnyc.com.
Celebrate the year of the dog with our round-up of Where to Eat for Chinese New Year.