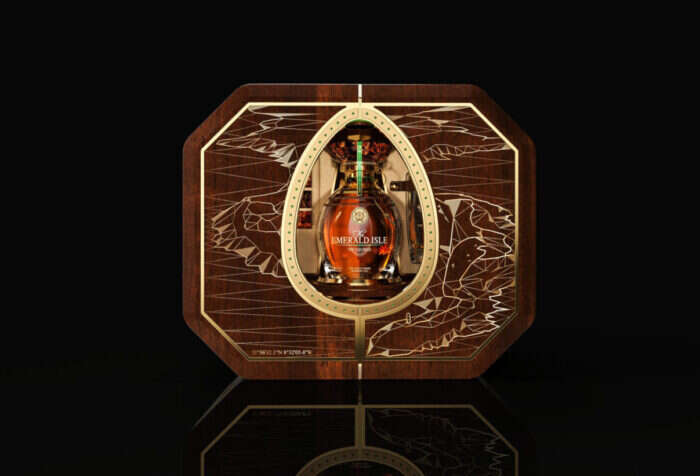 The Craft Irish Whiskey Co. has taken the concept of collectable whiskey to a whole new level with the release of an exclusive set. The Emerald Isle Collection not only contains two bottles of one of the rarest Irish expressions ever but two bespoke Fabergé pieces, as well.
This is the second release to come from The Craft Irish Whiskey Co. following the release of its debut Devil's Keep Whiskey, which made headlines in November after becoming the most expensive debut release ever. The Emerald Isle Collection, of which only seven will be released, is similar to the first in that it is an aged, tripled-distilled Irish whiskey presented in a beautifully crafted box alongside other pieces. It is in those pieces where the real difference lies.
To celebrate the Seven Wonders of Ireland, The Craft Irish Whiskey Co. asked fabled jeweler Fabergé to design two pieces to complement the prized single malt. The first is a beautiful Celtic egg handcrafted from 18K yellow gold and its signature guilloche enamel. The seven eggs feature a different gemstone on their exterior, making each one genuinely unique. Inside, there is a rough uncut Zambian emerald responsibly sourced from Gemfields, presented on a gold guilloche base with an intricate claw setting.
The other item will pique the interest of any fine-watch collector: a bespoke, one-of-a-kind Fabergé Altruist 18K rose gold timepiece with a self-winding movement from Vaucher Manufacture. Each dial is unique to that timepiece, echoing the gemstone found on the Celtic egg and celebrating a specific part of Ireland.
The whiskey itself will feel just as valuable to avid collectors. The 30 Year Old single malt has been matured in an ex-bourbon barrel before being finished in a rare Pedro Ximénez sherry barrel. Those hoping to collect this rather than drink it will be delighted to find a sample of the liquid in a bespoke hip flask.
Each set also includes a humidor with two ultra-rare Cohiba Siglo VI Grand Reserva cigars, a gold-plated cigar cutter, gold plated water pipette, pure obsidian whiskey stones and a carafe filled with Irish spring water from the same region where the whiskey was made.
Charity auction
The inaugural release will be auctioned in private in Houston on February 2, with all the proceeds committed to charity. The donation is expected to be a significant sum, with 50% going to the Correa Family Foundation, which supports disadvantaged children and their families who are affected by illness, and the other 50% donated to the buyer's charity of choice.
Speaking to Elite Traveler about the decision to donate such significant funds, Jay Bradley, the founder of Craft Irish Whiskey Co., said: "Correa Family Foundation is a cause that is close to both mine and Fabergé's hearts; my own daughter was diagnosed with a rare cancer, neuroblastoma, when she was just five months old. Thankfully, she went into remission when she was five years old and is now a healthy and happy 19-year-old, but it was a very scary and stressful time for my family."