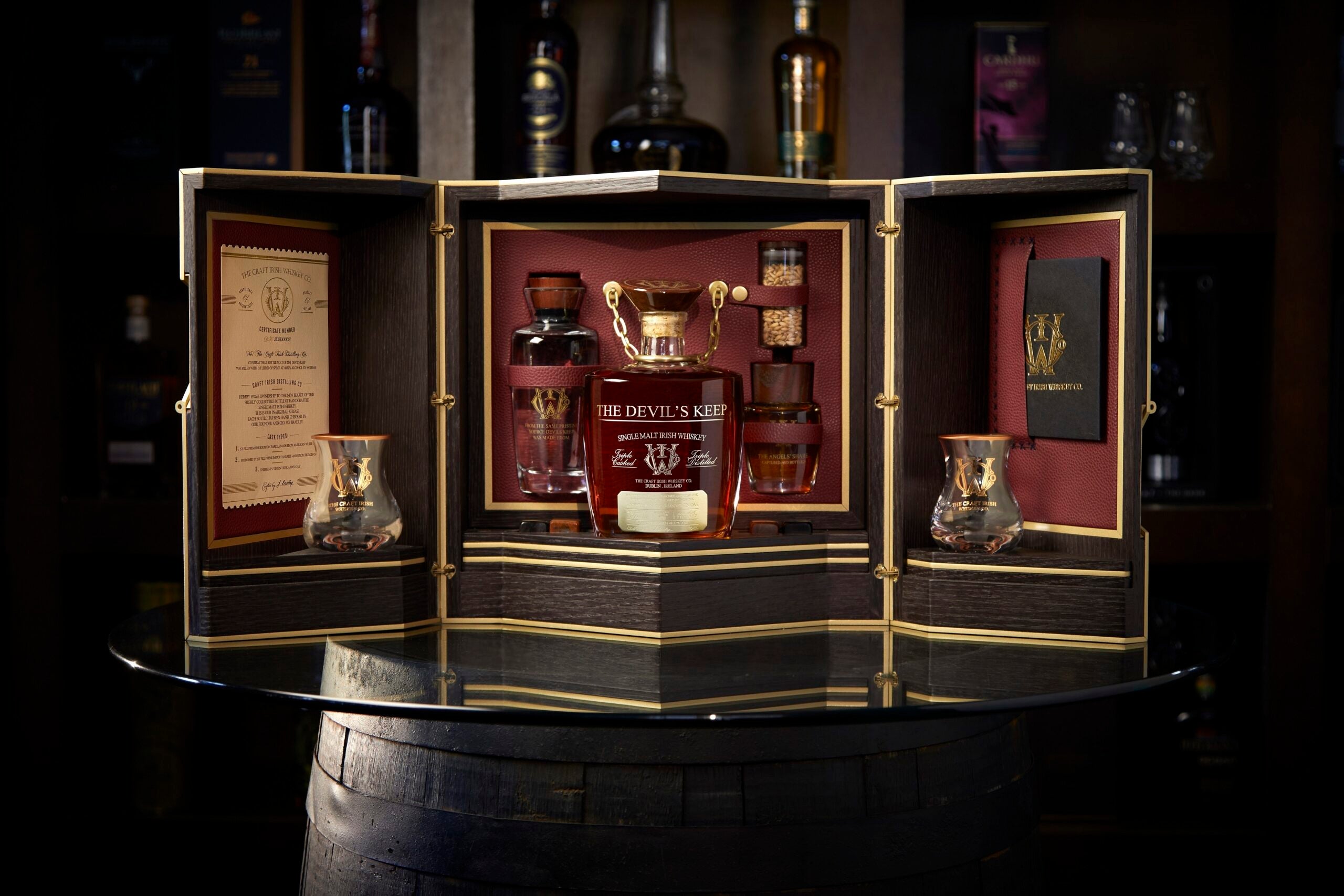 The Devil's Keep whiskey has become the most expensive debut release in history after the Craft Irish Whiskey Co. made 333 exclusive bottles available for €10,000 ($12,000). The whiskey already holds the record for the most expensive inaugural bottle at auction after the first decanter sold for $60,000 in Houston.
Scotland is the dominant force in fine and rare whisky. The huge variation in its offering and its storied distilleries has left Ireland, the original homeland of the spirit, in the shade. The introduction of this new rare and aged liquid is supposed to some way to changing that, ushering in a new golden age for Irish distillers.
The Devil's Keep is a 29 Year Old, triple-distilled whiskey that has been aged in rare casks to create one of the most unusual flavor profiles to come out of the country. The liquid was aged in first fill American oak casks before a second maturation in rare French Oak barrels that held tawny port and a final finish in virgin Hungarian oak. The result is a decadent whiskey that offers hints of vanilla, caramel, toasted sugar and the rich smokiness of toasted oak staves.
[See also: Midleton Very Rare Releases Most Expensive Irish Whiskey]
Founder Jay Bradley said: "We're thrilled to be celebrating Ireland's whiskey resurgence by launching The Devil's Keep, which has been a crusade sparing no expense to source the finest ingredients, and the most sublime flavors – it truly is the culmination of our devotion, passion and craft."
While there has been tremendous effort put into the whiskey itself, the Craft Irish Whiskey Co. has one eye firmly on the investment market. The value of collectible whiskey has gone through the roof in the last decade with Scottish distilleries taking the lion's share of the growth.
With just 666 bottles made available, The Devil's Keep Whiskey is aiming to pique the interest of the most discerning collectors by placing the liquid in the most striking of decanters created by designer Tiago Ruso. The decanter is presented in a beautiful box along with a small bottle of water taken from the same region that the whiskey was made from. A gold-plated pipette allows drinkers to apply the water with the necessary precision.
Also found within the case are whiskey stones that have been crafted from obsidian to be used in place of ice to avoid further dilution — as well as an atomizer containing the essence of the whiskey captured by expert perfumer Sarah McCartney.
[See also: The Most Exclusive Whiskies in the World]
The Devil's Keep is available for €10,000 (approx $12,000) here.