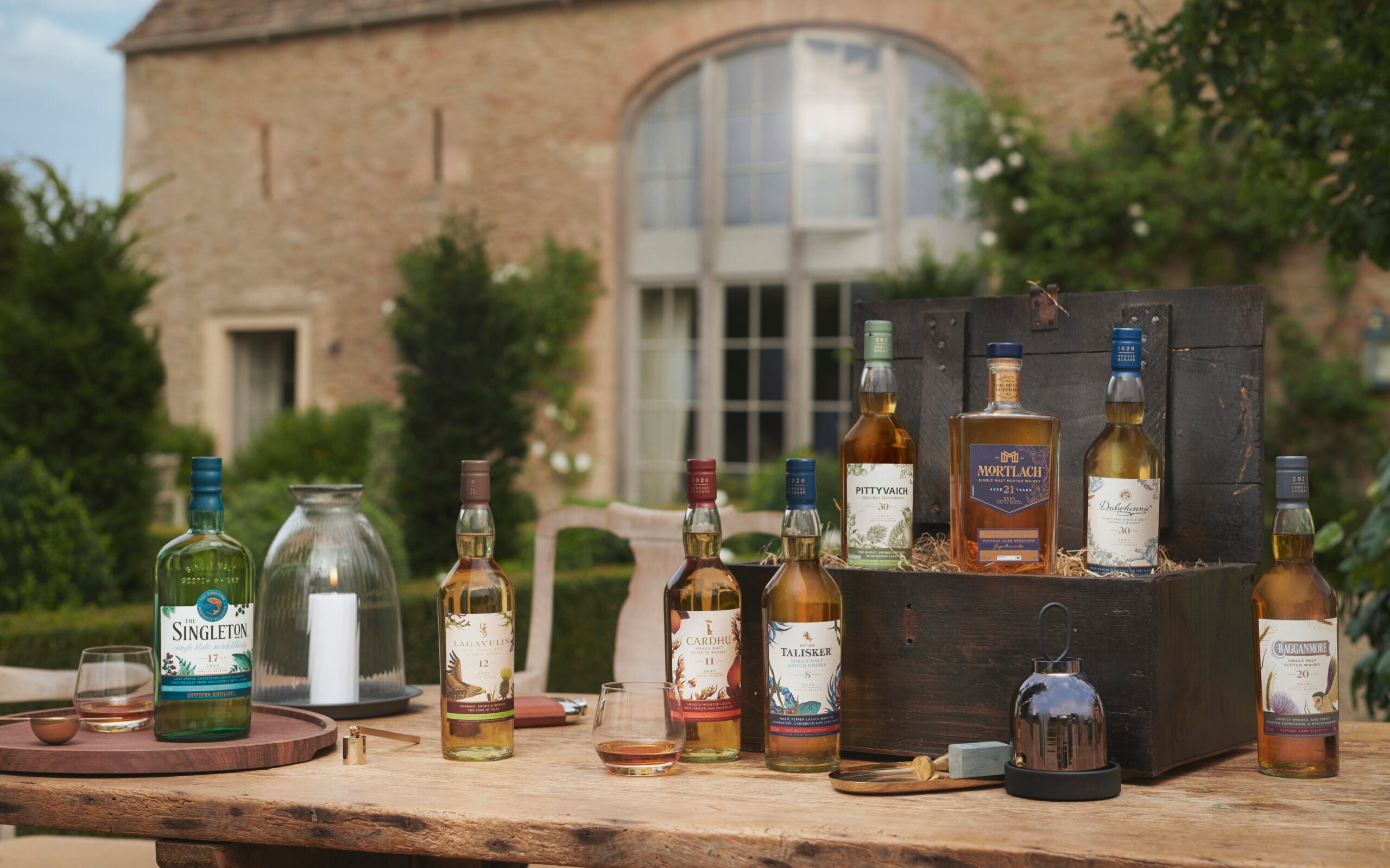 Diageo has announced the line-up for its 2020 Special Releases whisky collection, offering connoisseurs the opportunity to bulk out their cabinet with eight rare and sought-after single malts. The Rare by Nature series features some of Scotland's best-known distilleries, but there are also bottles from under-the-radar locations including the ghost distillery Pittyvaich.
The annual release has become highly-anticipated due to the unusual nature of the whiskies included. The series is curated by Diageo master blender Dr. Craig Wilson, who searches through Diageo's huge portfolio to find uncommon age points and experimental flavor profiles.
This year's collection marks the continued trend of atypical cask finishes. Liquids such as the Talisker 8 Year Old is Diageo's first-ever rum cask finished single malt. These experimental finishes have become quite common, particularly with Glenfiddich, after a relaxation in Scotch regulation paved the way. The Talisker combines the tropical nature of a rum finished with the intense smokiness that it is known for. The result is an unusual flavor profile that defies its comparatively young age.
On the other side of Scotland, the Mortlach 21 Year Old is likely to prove popular, combining one of Speyside's biggest names with a Pedro Ximenez & Oloroso Sherry seasoned cask finish. A more intense version of this whisky was included last year and this one delivers on its promise to dial down the sherry influences. It shows distilleries are still finding their way to the sweet spot with some cask finishes.
Other more notable inclusions are the Dalwhinnie 30 Year Old, which is matured in refill hogshead and combines a deep oakiness alongside the typical fruity aromas. The Pittyvaich 30 Year Old marks the only whisky taken from a closed distillery, making it particularly interesting for the collector.
Dr. Wilson said: "I've created this year's Special Releases Collection, from some of my favorite distilleries across Scotland, with whisky enthusiasts in mind. For those who enjoy spicy flavors, my recommendation would be to try our Cardhu, and for those who favor rich, intense and smooth flavors my choice would be Mortlach 21 year old. If you are curious about discovering something very rare, the Pittyvaich – the single ghost distillery in our Special Releases Collection this year is an unforgettable dram."
The 2020 Diageo Special Releases Collection
– Cardhu 11 Year Old (ABV: 56%; SRP: $111)
– Cragganmore 20 Year Old (ABV: 55.8%; SRP: $171)
– Dalwhinnie 30 Year Old (ABV: 51.9%; SRP: $722)
– Lagavulin 12 Year Old (ABV: 56.4%; SRP: $164)
– Mortlach 21 Year Old (ABV: 56.9%; SRP: $755)
– Pittyvaich 30 Year Old (ABV: 50.8%; SRP: $522)
– Talisker 8 Year Old (ABV: 57.9%; SRP: $119)
– The Singleton of Dufftown 17 Year Old (ABV: 55.1%; SRP: $145)
The 2020 Diageo Special Releases Collection will be available in the US in extremely limited quantities at select retailers beginning late Fall 2020. malts.com